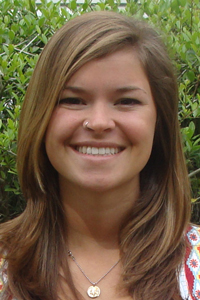 Stetson University junior Heather Grove has been named a 2010 Udall Scholar for her commitment to environmental awareness and to a career in sustainable development as a way to help end environmental and social injustice. She is one of 80 students from 63 colleges and universities to receive one of the nationally competitive 2010 scholarships from the Morris K. Udall and Stewart L. Udall Foundation.
"I'm honored to not only be named alongside students of high prestige, but to also represent Stetson University," Grove said.
Grove, from Orlando, is pursuing a Bachelor of Arts degree in environmental science and Bachelor of Science in geography. In 2008, she started a nonprofit organization, the John Grove Memorial Fund, to continue funding her late grandfather's humanitarian efforts in Central America and the Caribbean. An advocate for local economies and healthful living, she is one of the co-founders and co-presidents of the Stetson Hatter Harvest organic garden.
"I'm so grateful for the experiences I've been blessed with here at Stetson," Grove said. After graduating next year, Grove plans to earn a master's degree in international sustainable development.
The Udall Foundation is an independent federal agency. Established by Congress in 1992 to honor the legacy of former U.S. Rep. Morris K. Udall's 30 years of political leadership, the foundation was enhanced in 2009 to also honor former Congressman and Secretary of the Interior Stewart L. Udall's public service. The brothers represented southern Arizona in Congress and worked together on environmental and Native American initiatives.
Along with a monetary award toward academic expenses, the scholarship also includes a trip in August to Tucson, Ariz., where recipients will accept their awards and meet policymakers in fields related to their interests. Udall scholarships are awarded to students based on their commitment to careers in the environment, health care or tribal public policy; leadership potential; and academic achievement. A record 537 students were nominated for the 2010 awards.
This is the third time in 10 years that a Stetson student has won a prestigious Udall scholarship. Previous recipients were Kristen Marshall-Mattson '04 and Brenda Brooks-Solveson '03. Both earned bachelor's degrees at Stetson in environmental science.