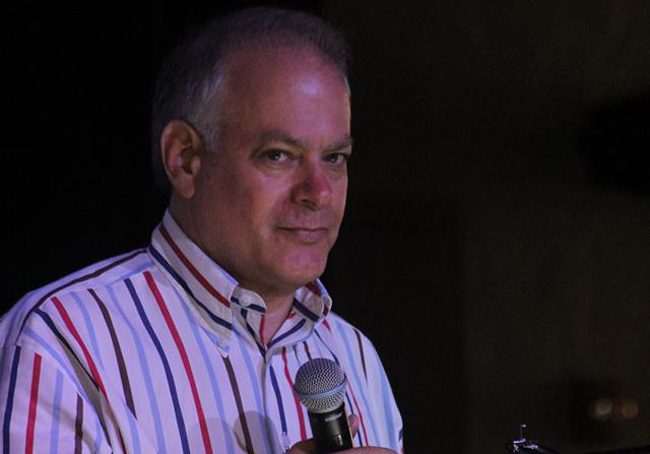 Florida Democratic Party Chairman Stephen Bittel abruptly resigned Friday, just hours after a news report accused him of creating an uncomfortable work environment by leering at women and making suggestive remarks.
The hurried exit of Bittel, a veteran fundraiser chosen to head the state party in January after a fractious leadership contest, comes as Democrats were reveling over two recent hard-fought victories and gearing up for critical elections — including an open governor's race — next year.
In the Politico Florida report, six unidentified women said Bittel never physically touched or threatened them. But they alleged he made aides and consultants feel so ill at ease they did not want to be alone with the party boss.
"When my personal situation becomes distracting to our core mission of electing Democrats and making Florida better, it is time for me to step aside," Bittel said in a statement released early Friday afternoon on Twitter. "I am proud of what we have built as a party and the wins we have had for Florida families, but I apologize for all who have felt uncomfortable during my tenure at the Democratic Party."
Bittel said he is working with party leaders to set a date for an election to choose his successor. For now, he will be replaced by party Vice Chair Judy Mount, a worker in the state House of Representatives Minority Office who wants the permanent post.
Bittel's boorish behavior was hardly a secret in Democratic circles. But it was impossible for him to remain the chairman after all four Democratic gubernatorial candidates Friday morning demanded that he step down.
"It's not survivable. The sooner that we can move forward in a new direction, the sooner we can begin the healing process," Democratic consultant Steve Schale said shortly before Bittel resigned.
U.S. Sen. Bill Nelson, who had supported Bittel in the leadership race, also supported his exit.
"As Stephen Bittel said, he's stepping aside for the good of the party. Sexual harassment is never acceptable," Nelson said in a statement issued by his campaign.
County party leaders were deeply divided earlier this year before eventually settling on Bittel as chairman. He's received praise for his efforts to organize a state party that had been harshly criticized, even among party loyalists, for being ineffective.
Florida Democrats were pumped up after flipping a Miami state Senate seat in a hotly contested special election in September and for holding on to the St. Petersburg mayor's post in a vicious race. Many viewed the victories as a promising sign that Democrats could make significant gains in races next year.
But Bittel is the second party leader to quit in disgrace in less than a month.
Jeff Clemens, a Lake Worth Democrat who was in line to lead Senate Democrats after next year's elections, resigned from his Senate seat on Oct. 27 after admitting he had an extramarital affair with a lobbyist.
Even after the latest scandal, Democratic insiders remained optimistic that Bittel's departure would have a minimal impact on next year's elections, which include a crucial battle for the governor's mansion and the possibility of a brutal race for the U.S. Senate. Republican Gov. Rick Scott is leaving office next year due to term limits and is widely expected to challenge Nelson.
"I don't know that (Bittel's resignation) hurts going forward," Schale told The News Service of Florida. "You've got the four candidates for governor are all working and raising money. The Senate Democrats and House Democrats are organizing and raising money and recruiting candidates as they should."
State Democrats are "going to address these immediate issues and heal the wounds," Mount said in a lengthy text message.
But the battle earlier this year about who would be chairman, continued friction between progressive and moderate Democrats and the potential for another heated leadership race could leave Democrats limping.
"This is obviously a setback, but we've got a lot of good people who care deeply about the party who I know will come together at a time like this and make sure the party keeps moving forward," said Scott Arceneaux, a consultant who served as executive director of the state party for more than seven years and who was ousted after Bittel took over as chairman in January.
Mount could face off against at least one contender for the leadership post. Alan Clendenin, who has twice lost out in leadership races, said he's considering making another attempt.
"I think there's a lot of folks, including myself, that are talking to folks about this. That will flesh out in the next week or so. People will look at the lay of the land and see where folks' support is," Clendenin, chairman of the Democratic National Committee Southern Caucus, said in a telephone interview Friday. "I've always felt that with my background and experience that I've brought a skill set and a vision to change the Democratic Party of Florida to be a more effective organization."
But the election of Mount, who is black, could send a "powerful message," Schale predicted.
Mount agreed.
"The focus is not on me. But it's very important to say a black woman leading the Florida Democratic Party for the first time is perfect for this time," Mount wrote in the text message.
The party's executive committee, which elects the chairman, will meet Dec. 9, the party announced late Friday.
Mount appears poised for a fight.
"Don't be fooled. There are a lot of people in times past who have underestimated Judy Mount and the Florida Democratic Party. I'm here to tell you that's a mistake. We're going big and we intend to win," she wrote.
Some insiders have questioned whether Mount, a veteran party activist, will be effective as a fundraiser, with a slew of pricey races on the horizon and given Republicans' history of outdistancing their opponents in collecting contributions.
"Money is always key, but I think rather than depending on one individual it will take a village of folks coming together to make sure the party has the money it needs next year in what should be and what I believe will be a good year for Democrats," Arceneaux said.
–Dara Kam, News Service of Florida