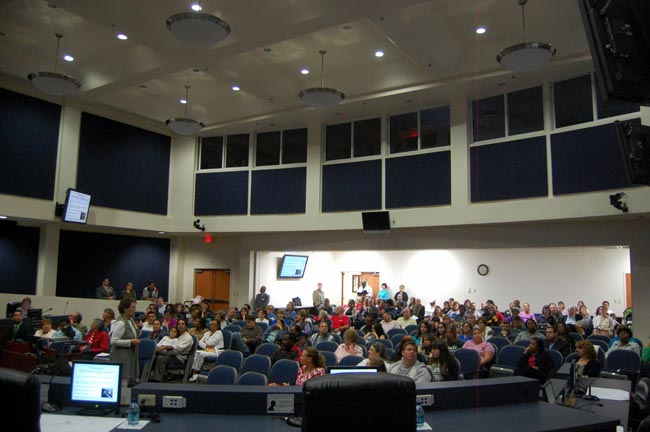 The state of education in Flagler County may be strong. It's not going to stay that way if the state continues on its course of refusing to invest more responsibly in public education while balancing the state's books on the back of local school districts. But parents can make their voices heard if lawmakers are to be swayed by the reasonable advocacy of those who see the effects of good-and not so good—policy decisions in schools.
That's the message of "a very angry momma bear," as Colleen Wood was described in her introduction before a State of Education forum by the Flagler County school district at the district's board chambers Thursday evening.
"Why I'm angry is because I'm seeing people making decisions for our schools that are changing our schools, and it's my babies," Wood said. She started to advocate in Duvall County. She then spread to St. Johns. She now leads 50th No More, a statewide bi-partisan advocacy organization "designed to fight back against budget cuts to our great public schools."
The forum had a two-fold purpose. Superintendent Janet Valentine started it with a sum-up of where the district stands academically and financially, and where it may be headed should funding decrease. Wood followed, after an introduction by Colleen Conklin—the school board member—who called herself all for reform. But "you can't call it reform if it doesn't work."  Wood reminded the assembly that the Florida Constitution calls education "a fundamental value" and "a paramount duty of the state to make adequate provisions" for a safe, secure, high-quality and free system of public education.
And she contrasted that constitutional mandate with realities that don't match up, from legal requirements lawmakers impose on school districts without paying for them to testing standards and such things as the "adequate yearly progress" standard that often defies logic. Blaming professional educators, Wood said, is no solution. Sending "nasty-grams" to legislators won't do, either. The way to make a difference, she said, is to be aware of what's being cut, to be conversant with consequences of state laws (or proposed laws), and to advocate on behalf of what matters locally.
"Get involved, ask these questions and don't let anybody including me off the hook," Wood said.
Meetings in the school board's chambers at the Government Services Building take place before mostly empty seats, except at the beginning of meetings, when spotlights featuring the district's prized students and programs draw an audience. That audience files out when the board gets down to its own fine print, leaving just administrators and other staffers scattered around the room. Tonight, at least two out of three seat was filled. There were parents in couples or alone. There were grandparents, too, this being Flagler County, a district where a disproportionate number of children live with grandparents or in otherwise non-traditional households. There were numerous parents with their young children. There were four of the five school board members and a former school board member (Evie Shellenberger, who chaired the board until November). There were numerous teachers, principals and other administrators.
Mostly, there was concern: concern that what has enabled the district to make itself stand apart from most with its lower drop-out rate, its higher graduation rate, its slightly stronger standardized test results, its blue-chip programs such as the Advanced Placement program, which yielded 370 college credits last year, and the International Baccalaureate diploma program at Flagler Palm Coast High School—one of just 70 such programs in the state (there are 448 high schools in the state).
During the question-and-answer period, someone asked: Will gifted programs, IB and AP offerings continue without cuts? "We haven't even talked about cutting IB, gifted and AP this year," Valentine said. "Certainly we'll have to look at the costs of those and look at how we can make them more efficient."
There are serious problems, too. Some 3,891 of the district's students, or 30 percent, are reading below grade level.  They're not going to improve with fewer tutoring sessions, a shorter school day and a more harried teaching staff. There are 250 homeless children in the district. That's not a small number. It's almost 2 percent of the student body. "I'm telling you, it was probably four or five years ago, we didn't have any homeless children in this county," Valentine said. And over the past four years, the proportion of poorer children—children who qualify for free or reduced lunch at school—has grown from 42 percent to 59 percent.
Over the last three years, the district's staffing has fallen from 1,900 to 1,740, even as enrollment has risen by 400 students. Services have been stretched. Summer school has been all but eliminated, 75 percent of afterschool clubs and activities have been eliminated, most transportation for what activities remain has been eliminated, tutoring programs have been cut. And more cuts are ahead as the district plans to reduce the school day in middle and high schools by about 48 minutes.
Questions focused particularly on the survivability of the district's IB program and strings program, on the future of the district's alternative program at Pathways ("at this point we're not looking at closing that but we are looking at reducing the size," Valentine said), that the future of electives, including high school band, will be (that's in question: many electives may be cut if the district reduces the school day), what the district will do for its students who are not college bound. "We're going to continue to have options," Valentine said. "They're just going to be reduced. At this point that's all that we can do."