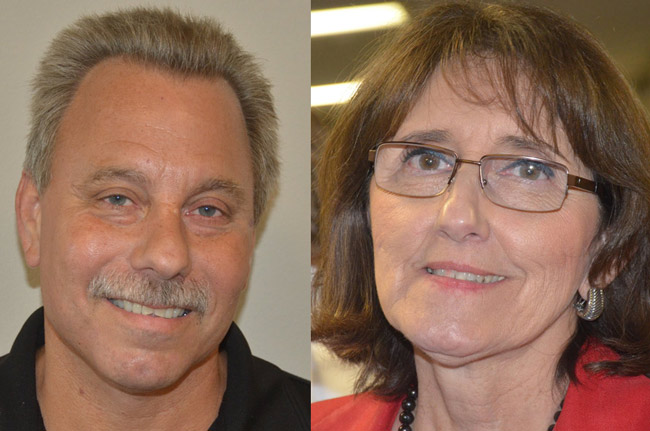 In the race for State Attorney for the 7th Judicial Circuit, the Aug. 14 election will decide it all, and all voters, regardless of party affiliation, may cast a ballot.
State Attorney R.J. Larizza, a one-term incumbent elected four years ago when he defeated John Tanner, is running against Stasia Warren–a Volusia County Court judge for over 20 years. Both are Republicans. The winner will be the state attorney regardless, because only two candidates of the same party are running in the race.
Therefore, all registered voters in Flagler County as well as St. Johns, Putnam, and Volusia are eligible to cast a ballot in this case–whether Democratic, Republican, Independent or from a minor party. You may cast a vote regardless of the district, the town or the subdivision you live in.
The 7th Judicial District is one of 20 districts in Florida. The 7th covers Flagler, St. Johns, Volusia and Putnam. The state attorney is the top cop in the district–the chief prosecuting officer in all criminal courts, representing the state and building criminal cases against defendants, deciding the severity of the charge, dropping charges when evidence is deemed insufficient, and initiating investigations, including grand jury investigations. (See a full list of responsibilities.)
Larizza, a Jacksonville native, worked 13 years at the Florida Department of Corrections, rising to supervisor, mostly in the St. Augustine office. He then got his law degree at Mercer University's Walter F. George, School of Law in Macon, Ga., before working for several years as a prosecutor in the 7th Judicial District, in the St. Augustine office. He went into private practice in 2003, then, in 2008, ran for State Attorney against Tanner, who by then was facing mounting criticism for his handling of certain cases (including one involving his daughter and the Flagler County Sheriff's Office), and diminished support among law enforcement's rank and file. Larizza is in somewhat of a similar situation today, having lost much of the broad support, among that rank and file, that had mobilized for him four years ago.
Warren, a Michigan native, is the widow of Dan Warren, the former State Attorney for the 7th Judicial Circuit, and a legend in Florida history for his role in defeating the grip of the KKK on law enforcement in St. Johns County in the 1960s. Stasia Warren, once a teacher, got her law degree, moved to Volusia County, and started working at the State Attorney's office as a prosecutor for six years before going into private practice.
Warren was elected Flagler County Court judge in 1990, and served more than 20 years before deciding to run for the State Attorney's office.
FlaglerLive submitted 15 identical questions to Larizza and Warren, who replied in writing, with the understanding that some follow-up questions may be asked, and that all exchanges would be on the record. Click to their individual interviews in the table below.