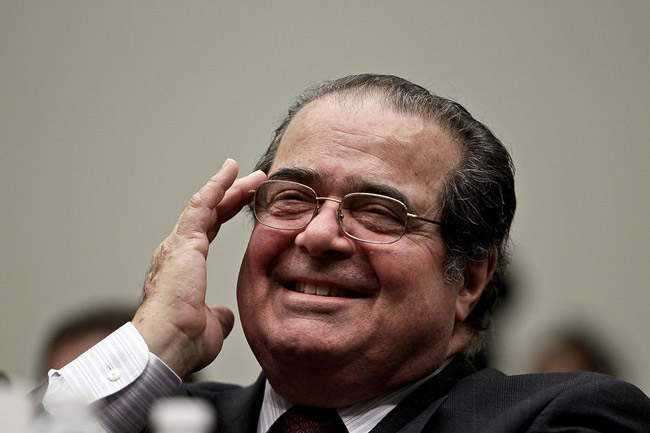 By Martin Dyckman
If the underlying issue weren't so serious it would be great fun watching the Republicans spin on a dime to become passionate defenders of an independent judiciary.
Scorn for "activist judges" has been a staple of the party's playbook ever since it was Earl Warren's Supreme Court. Now that it's John Roberts's court–or should we say Antonin Scalia's?–and a Democratic president is calling them out, the rhetorical roles have reversed overnight.
Wasn't it just a month or so ago that Newt Gingrich was proposing to ignore decisions he didn't like and arrest judges who refused to explain them?
And where on that occasion was Senate Minority Leader Mitch McConnell to decry "a fundamental lack of respect for our system of checks and balances?"
Let's agree, however, that President Obama misspoke, as even he has acknowledged. It would indeed be one of the worst decisions in history for the court to overturn or eviscerate the health care act because Scalia thinks it ought to have been written differently. But it would be neither "unprecedented" nor "extraordinary." The court has been overturning acts of Congress since Marbury v. Madison in 1803 and state laws since McCulloch v. Maryland in 1819. The Constitution is what the court says it is, even when the court is wrong.

Some of those decisions, however, have been not merely wrong but also heedless of the vital principle of judicial restraint. Courts aren't supposed to go out looking for fights to pick or to rule more broadly than necessary to resolve the cases brought to them. Above all, they should respect the policy decisions of the elected branches of government unless they are convincingly unconstitutional.
As Chief Justice William Rehnquist once said, "Conclusory second-guessing of difficult legislative decisions is not an attractive way for federal courts to engage in judicial review." Quoting those words in the current New Yorker, columnist Jeffrey Toobin observed that the Roberts court "acts as a sort of supra-legislature, dismissing laws that conflict with its own political agenda."
It did so most notoriously in the Citizens United case two years ago, which unleashed corporations to spend directly, without limit, to elect their friends and defeat their foes. That wasn't even an issue in the case before the court, so the majority simply changed it to accomplish their political goals.
The court will be legislating again if it savages the Affordable Health Care Act. The unpopular mandate to purchase health insurance of your choice was an honest, essential attempt to compromise with the powerful lobbies resisting a one-size-fits-all single-payer plan like Social Security and Medicare. Comprehensive health care can't work on a strictly voluntary basis any better than Medicare could. For the Supreme Court to reject that compromise could lead, ironically, to single-payer eventually becoming a reality. On the other hand, the court's opinion conceivably could undercut even Social Security and Medicare, and that truly would be monstrous.
Obama's preemptory strike on the court is a timely reminder of one of the critical issues at stake when we vote for president. We elect a new one every four to eight years, but their Supreme Court appointees serve for life. Andrew Jackson, who was devoted to the Union, nearly destroyed it by appointing Roger Taney, the chief justice whose Dred Scott opinion–a classic example of judicial overreach–brought on the Civil War by ruling that Congress was powerless to prohibit slavery in any territory. The two Presidents Bush campaigned as centrists but gave us radical activist justices whose promises to practice judicial restraint have so far proved false, and who may yet destroy what respect remains for their court.
We know what President Obama expects of his Supreme Court appointees. They have practiced judicial restraint, if–regrettably–mainly in dissent. What sort of people would Mitt Romney nominate?

Martin Dyckman is a retired associate editor of the newspaper formerly known as the St. Petersburg Times.