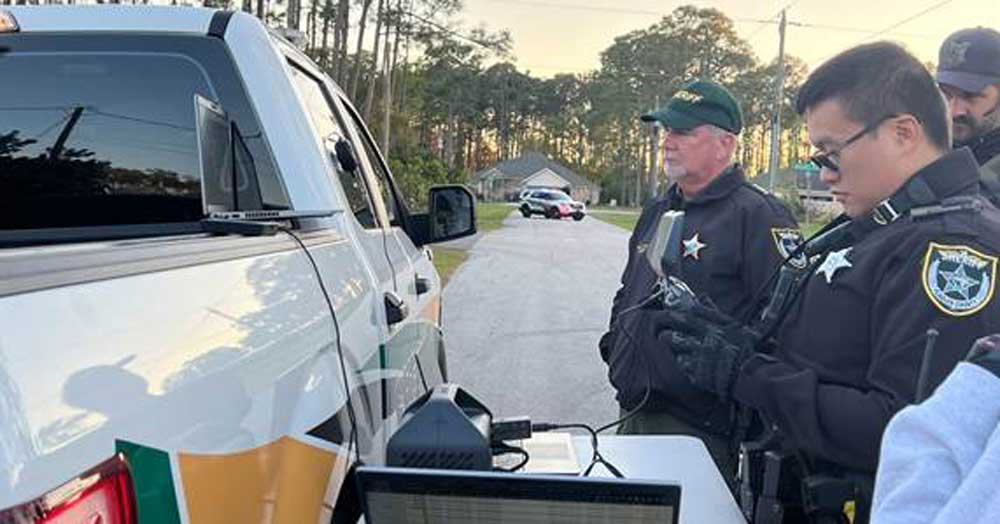 Last Updated: Tuesday, 2:05 p.m.
Luis Ramirez, the 56-year-old man who held Flagler County Sheriff's deputies at bay for two days before his arrest late Monday night, was severely depressed, intoxicated and threatening self-harm, and had fired at least one round from a firearm Sunday night while family members were in the house, but not at anyone in particular, sheriff's reports say.




After a stand-off that had stretched between Sunday and Monday, with a long period in between when deputies desisted, sheriff's deputies used a drone, gas and a SWAT team at 14 Ricker Place sometime between 8 and 9 p.m. Monday before Ramirez, 56, was seized in a bedroom, conscious but not fully in command of his capacities. He was taken to AdventHealth Palm Coast. He was served with an arrest warrant there.
Ramirez faces a charge of aggravated domestic assault, a felony, and a count of discharging a firearm in a house, a first degree misdemeanor. He is being held on $50,000 bond. (A sheriff's release put the bond at $25,000, likely before Ramirez's first appearance before judge. County Judge Melissa Distler set the higher bond.) Ramirez has been ordered to have no contact with his wife and to surrender all firearms to the sheriff's custody.
Deputies first responded to the two-level Ricker Place house at 8:35 p.m. after Ramirez's wife reported to 911 that he'd fired off a round. Ramirez's wife told deputies that her husband of 34 years,a retired law enforcement officer from New York, was drinking heavily every night, and had come home with two bottles of Bacardi rum and a 24-pack of beer. His wife took the rum away, to limit his consumption, angering Ramirez. He went to his bedroom. Then his wife heard a gunshot. She walked into the room to find him with a gun in his hand.




Ramire waved his gun around, demanding the rum. His wife got scared and left the house with her 27-year-old daughter. They did not return to the house as deputies tried to negotiate with Ramirez, who gave indications that he would turn himself in. He did not do so on Sunday night. In an attempt to de-escalate the situation, deputies broke down their perimeter, keeping only visual contact with the house.
They returned the next day with more resources, including a Humvee, drones and a negotiating team. The drone, referred to as X2-82B2 in the report, flew nine times, for a combined 202 minutes, according to an incident report. "After windows to the residence were cleared by munitions, X2-82B2 was able to locate the suspect laying on a bed within the suspect's bedroom," the report states. "X2-82B2 was able to maintain visual
surveillance on the suspect through the second story bedroom window as agency Special Weapons and Tactics (SWAT) units moved to secure the suspect."
"Thankfully, our SWAT Team, CNT, and Drone Unit were able to take this man into custody without anyone being injured," Sheriff Rick Staly, who was at the scene Monday, said. "Incidents like this are why our teams train extensively and why we have our tactical and armored equipment. With our technology, equipment, and training we were able to successfully resolve this high-risk situation without anyone being hurt; although there was some damage to the home so that we could safely deploy communications equipment and tactical gas. Thank you to the nearby community that sheltered in place to allow our deputies to do their job safely. Finally, I hope Mr. Ramirez gets the medical help he obviously needs."
See the previous account below.

Sheriff's Deputies in Long Stand-Off With Barricaded, Armed Man on Ricker Place in Palm Coast
March 20, 9 p.m.–Flagler County Sheriff's deputies, including a SWAT team and drones, have been in a stand-off with a 56-year-old man at 14 Ricker Place since late this afternoon, in what started as a response to a domestic dispute and another standoff Sunday night.
The standoff appeared peaceably over shortly after 9 p.m., with the man in custody.




Deputies first responded to the address Sunday evening after the man, Luis Ramirez, had been drinking and threatening self-harm, according to his wife's report to authorities.
Ramirez was alone in the house when deputies arrived but would not leave the house. A crisis negotiating team arrived, and a drone was launched (Ramirez was in a two-story house) and deputies attempted various and numerous ways to make contact with him.
It wasn't clear then he war facing charges or was suspected of having committed a crime. Rather, he appeared to be having a psychological episode paired with substance abuse. A little before 11 p.m. Sunday, deputies cleared the area.
They returned this afternoon. This evening, Sheriff Rick Staly was referring to the man as "a fugitive that's holed up in his home" in what started as "an armed domestic violence case."
"We've been here for a number of hours trying to negotiate him to exit the house," Staly said in a Facebook live update around 8:30 Monday evening. "Our crisis negotiators are here but he's not communicating at all. Our SWAT team is here and so forth. So I want the community to know that everything is contained to this one location. We're doing our best to de-escalate the situation and have him peacefully come out and surrender."




The sheriff did not specify what charges Ramirez is facing, though those may be related to developments since Sunday.
Drones were again in the air Monday evening, and residents of the E Section, abutting the R-Section area of the disturbance, were reporting of hearing deputies' shouts to Ramirez to surrender and come out.
In previous standoffs, deputies have used camera-equipped robots to breach entry points and conduct interior surveillance ahead of deputies making entry.