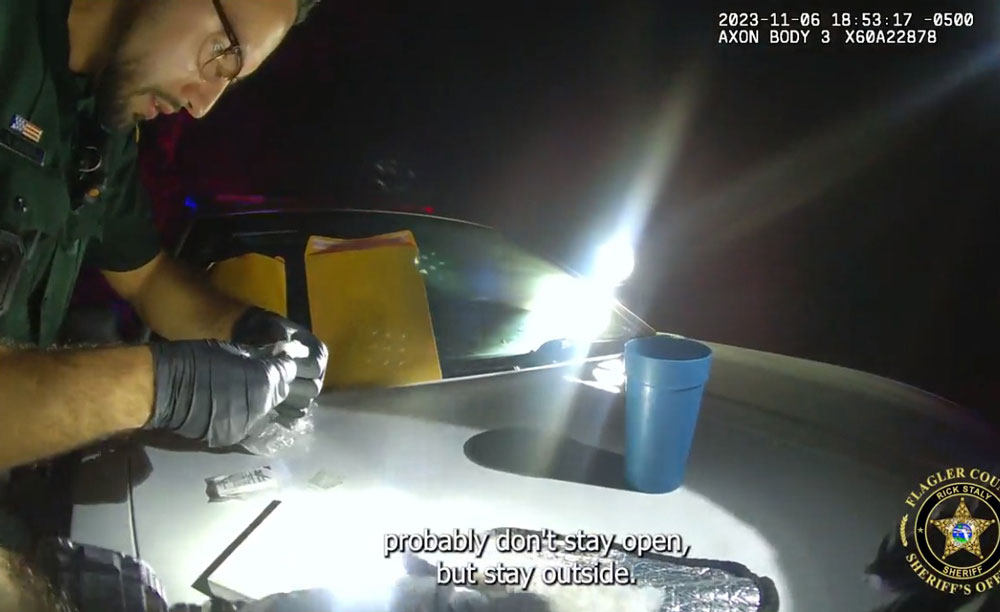 He wasn't on his customary Friday night patrols–it was early Tuesday evening during rush hour–but Sheriff Rick Staly turned patrolman anyway, pulling over a van that had crossed the double-yellow line on State Road 100 in the far western part of the county, and initiating a traffic stop that resulted in the arrest of three men, two of them on drug charges.
Staly was traveling west on 100 at close to 6 p.m. (he lives in that area of the county) when he saw a white Chrysler van pass two vehicles in a no-passing zone near County Road 205. The driver, 35-year-old Gregory Shazel of Palatka, after a brief delay, pulled over near County Road 55. He had five passengers between the ages of 31 and 51.




Shazel did not have his driver's license, identified himself by a different name, and gave a birth date that did not correspond to his own.
Staly called in back-up, including a Rapid ID capabilities, which, through Shazel's fingerprints, brought up his actual record. "Using our Rapid ID technology we have leveled the playing field for lying criminals and, in this case, learned his real name," Staly said.
Shazel said he'd lied because he has a warrant (he owes $2,000 in child support and is required to pay the amount before the warrant is voided. He'd served a stint in state prison for burglary over a decade ago). Shazel's driver's license has been suspended since May 2021. He conceded to deputies that there was a "blunt" in the vehicle, and consented to a search of the van.
As deputies searched the vehicle, they found a backpack with three packages of 125 small bags each, a scale commonly associated with drug trafficking, pot, and bags containing a white powdery substance, a blue fentanyl pill, two bags containing synthetic cathinones (a stimulant), and other items like phone and a camera. Robert Keeley, 46, no known address, told deputies the bag was his. Other items were found in the vehicle, including a glass pipe. Keeley was charged with three drug-related third-degree felonies and a misdemeanor and booked at the county jail on $13,500 bond.
A third occupant, Sherman Quinn Jones, was arrested on a third-degree felony charge of cathionones possession. He posted bail on $2,500 bond and was released. Shazel remains at the jail on $2,000 bond as of when this article initially published, as does Keeley.