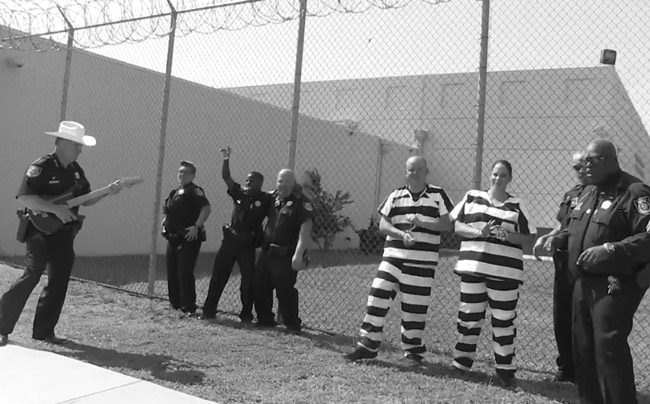 It appears to have been started by a police department in Corinth, Texas, a town outside Dallas about the size of a few Palm Coast sections. The department's cops lip-synced to Miley Cyrus's "Party in the USA," put the results on Facebook, and challenged other departments to do the same.
The challenge was quickly accepted, but it wasn't until the Norfolk Police Department produced its version–a nearly five-minute video of police officers lip-syncing, dancing and playing "instruments" like orange traffic cones to the sound of Bruno Mars's "Uptown Funk"— that the resulting video went nuts, drawing (so far) 47 million views and 1.1 million shares. The department alleges–and we have to really stress it's only an allegation–that it pulled off the video in one take.
The Grapevine Police Department's "What A Feeling" performance has since gotten over 4 million views, the Southlake Police Department's "Hello " (Adele's hit) is at 1.4 million and climbing, Dallas police's "Boyfriend" just crossed the 1 million mark, and so on. It was a matter of time before the challenge reached Flagler.
It has.
You'll need to sit down for this–and check with your dental plan that damage from cringing is covered, but so it goes when a social media trend becomes a stampede: "FCSO has ACCEPTED the LEO Lip Sync Challenge and we are calling out all of our LEO brothers and sisters to participate as well," the agency's Facebook post read when it went up this afternoon, garnering 10,000 views in less than an hour. "Please LIKE and SHARE our video, let's show the world how much FCSO ROCKS!"
"The agency's been going through a lot and this gave them a little fun," Sheriff Rick Staly said late this afternoon.
The video starts modestly enough.
"Everyone is challenging us. We have to do it," Brittany Kershaw, the agency's public information manager, tells Staly. Staly is working at a desk suspiciously like his desk at the Operations Center in an office suspiciously like his office at the Operations Center. (We were under the assumption they'd all evacuated to the county courthouse.)
The Sheriff confesses: "Brittany," he tells Kershaw, "I have no rhythm, I can't sing, I can't play an instrument." He swivels toward an electric guitar propped up on a cabinet behind him: "This thin blue line guitar? It's just a showpiece. There's no way I can do this."
Kershaw looks crushed. She walks out looking like she just doesn't want to work there anymore.
The sheriff goes back to examining documents–the building's air quality analysis report maybe?–but before long pauses and looks at the guitar again. "It is a nice guitar," he says. Kershaw's suggestion has him intrigued. He figures he might have a look at the department's museum to get ideas.
No Adele, no Drake, no rap for this sheriff though: when he sees himself in a frame next to the "Green Roof Inn" sign (his last chart-topping video hit), it hits him: "Isn't there an old Elvis song about a jail," he says to the picture on the wall. "I'll have to ask Brittany" (assuming she hadn't quit), though to Kershaw's generation Elvis is closer to classical music than to whatever's playing through most woofers these days when cops pull drivers over.
The sheriff was born on the last day in 1955. RCA issued Elvis's "Jailhouse Rock" two years later, part of a movie-single combo. (Our public record request for Staly's movie stubs from that era is hung up in litigation.) Segue to the sheriff's Elvis-era patrol car driving into the county jail's parking lot to the sounds of Elvis, in black and white of course, then cut to that unlikely quartet lip-syncing the first strains (Chief Mark Strobridge, Cpl. Peter Descartes–the only one in the bunch who has any rhythm to speak of–Debra Meeker and Shannon Martin): it isn't just the prison band that begins to wail as the shot pans to the sheriff in his stetson hat, playing guitar and dancing with the rest of the crew to the rhythm of crash boom bang and the glint of razor wire.
The video quickly goes from misdemeanor to felony to capital crime, almost enough to make Elvis sit up and take notice from his Graceland haunt. But there was little question it'd be a hit: in the time it took to write this story, the video had collected a few more thousand views, ripening rumors that perhaps Staly should seek out an agent.
Give them credit: Deputies Collin Haggerty and Mel Chiorre play inmates in 50s-style striped garb, "singers" and "dancers" include Sgt. Greg Tietje and deputies Laura Jenkins, Brian Sheridan and Dedorious Varnes. The full video is here or, if you don't have Facebook, see below.