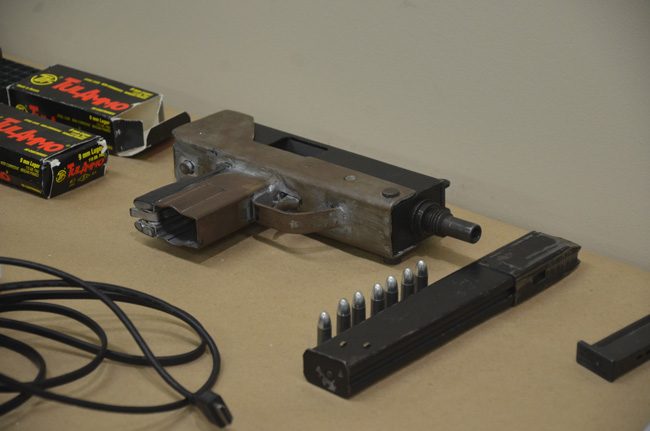 No arrests had been made and no charges levied but on Friday afternoon newly-installed Sheriff Rick Staly, eager to send a message about his crime-fighting style ("if we have to fill it up," he said of the county jail, "then we're going to do that") called a news conference to announce to several whirring cameras the recovery of items stolen from several Palm Coast properties this week.
There was nothing unusual or particularly newsworthy about the development other than its timing–and the clear suggestion that, like his predecessors (Sheriffs Don Fleming and Jim Manfre also used the press-conference device to publicize themselves through topical or overwrought policing) Staly won't hesitate to seek out media face time.
"I know it's unusual to call a press conference for a burglary arrest, but first let me say this was the first burglary under my watch," Staly said. "I don't like people doing crime in our county, so this one was a little personal, you know, like how dare you do a burglary as soon as I become sheriff."
The morning of January 3, deputies responded to a burglary call on at 64 Fleming Court, at a home whose owners had been traveling out of the country. A family member checking on the house discovered the burglary, called 911, and was in the process of taking things out of the house for safekeeping. "But he had left the keys in his car in the driveway," Staly said.
"The people that did the initial burglary then stole his car," he said.
The car was recovered in Bunnell on South Peach Street and Martin Luther King Boulevard. A patrol deputy got a tip from a source as to the possible identity of one of the suspects involved–a juvenile boy, who was brought in for questioning, leading to a search warrant for a house at 3 Big Bear Lane. That warrant was served on Thursday afternoon, where several allegedly stolen items were recovered, including a Mac-10-style semi-automatic handgun, two other guns, boxes of ammunition, a small amount of marijuana, a crossbow and other items.
"These items were determined to have come from two burglaries, both of them on Fleming Lane," Staly said. "We expect to charge four different subjects with these crimes, three juveniles and one adult."
A 2000 Toyota, a Ford Mustang and a boat were also recovered. The Ford, and some of the recovered items, had been reported stolen from a property at 216 Birchwood Drive, the boat was stolen from a 8 Floyd Court and used to get behind 64 Fleming Court without being seen, according to a sheriff's release.
"This is really a team effort by our Investigative Services Division and our patrol division," Staly said, crediting Detective Joe Barile in particular, "and our patrol guys did a great job developing the information, providing it to our detectives, who then took it and ran with it."
Justifying the news conference, Staly said, "I thought it was important that you see the kind of stuff that gets stolen and what our deputies encounter out there."
Some of the property recovered has not been traced back to its owners. The sheriff's office is hoping that revealing the information might help make those connections.
Three juveniles and one adult suspect face charges of armed burglary, grand theft auto, possession of marijuana with the intent to distribute and other related charges. Investigators were gathering evidence for arrest warrants, but Staly said probably not by day's end Friday.
The recovered property includes:
 A Mac 10-style handgun with eight live rounds;
 A .25-caliber Phoenix Arms semi-automatic handgun;
 A pellet rifle;
 A BB-style handgun;
 A Barnett Jackal Crossbow;
 Various 9mm ammunition with live rounds;
 Several baggies of marijuana;
 Xbox video game, controller and headphones;
 Jewelry, handbags and an iPhone 6