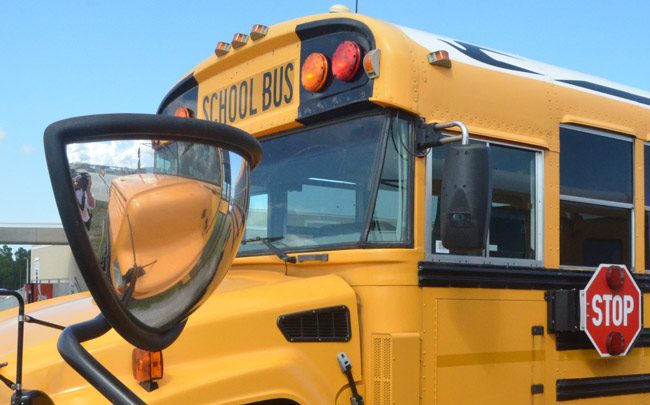 A Buddy Taylor Middle School student stabbed another during a fight immediately after the two students got off their school bus Wednesday afternoon near the corner of Chapel and Hope Streets in Bunnell.
The victim was not seriously injured. The assailant has not been arrested but faces unspecified charges, which were forwarded to the State Attorney's Office. Joshua A. Harris, 32, was arrested for obstruction. The Bunnell Police Department is investigating, and so far has not released any information about the incident despite a request. The city says the incident is still under investigation. The Flagler County Sheriff's Office assisted.
According to 911 notes, the report of "someone stabbed" came in at 2:06 p.m. as the school bus was making its afternoon run. The suspect, a boy, is a month shy of 16, the alleged victim is a 13-year-old boy who was injured enough that witnesses report he had blood on his back as he walked away from the confrontation to a ballfield with a group of people. The confrontation happened immediately after the students were dropped off.
The bus driver could see a fight developing in her rear-view mirror. She reported to authorities that the victim "was jumped by the other subject," whose clothing she described to 911 dispatchers.
But in the minutes after the fight, both the assailant and the victim had disappeared, so that by 2:30 authorities were calling AdventHealth Palm Coast to check whether an individual with a stab wound had sought treatment there. No one had.
The weapon, a knife the victim described as brown with a silver blade, was recovered by law enforcement and placed in evidence. The suspect allegedly dropped the knife after the confrontation and fled in a gray Nissan. The knife was recovered at 205 East Carter Street at 2:45. Minutes later, dispatch reported that the victim "has stab wound to the back of the neck." A rescue unit was dispatched to Debra's Laundromat at 602 South State Street, where the victim was believed to be.
Minutes later, authorities had located both the suspect and the victim. "Contact was made with multiple witnesses, the suspect, and the victim. The victim was uncooperative during LEO interview," the 911 notes states, referring to law enforcement officers. Harris was "arrested for interfering in police investigation," the notes state.
One bus rider who relayed the incident reportedly said tensions had developed on the bus to the point that some students were looking to get off the bus because a fight was about to break out–then it did when the two students had stepped out.
The incident drew a significant response of around a dozen sheriff's deputies and Bunnell police officers, along with Flagler County Fire Rescue.