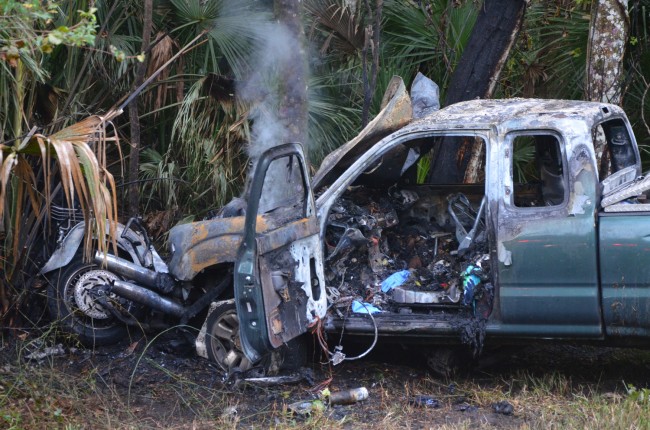 Last Updated: 1:19 p.m.
Richard K. Taylor, a 51-year-old motorcyclist from Palm Coast's Beechwood Lane, was killed at dawn this morning in a head-on crash with a pick-up truck on State Road 11, about a mile south of Old Haw Creek Road, closing that section of the state highway until 9:30 a.m.
The pick-up truck driver, E. Gonzales of DeLand, was not injured even though the truck itself, a Toyota, was partially incinerated after the collision, as both the pick-up and the motorcycle ended up in the wood-line. The wreck took place at 6:13 this morning.
State Road 11 remained closed from Old Haw Creek Road south for three hours as Florida Highway Patrol investigators worked the scene.
An FHP investigator there said the pick-up truck was heading north toward Bunnell and was attempting to pass another vehicle on a straight section of road, where passing is permitted. "It was well within the passing lane, so that's not an issue at all," the investigator said.
The motorcyclist was riding southward. The collision took place during the passing maneuver. It's not yet clear whether the vehicles lights were functioning properly.
"I don't know why either or both or one of the drivers failed to see each other," the investigator said, noting that the investigation is in its preliminary stages.
Taylor was catapulted from the motorcycle, his body remaining on the pavement in the southbound lane of the highway. The two vehicles ended up on the east side of the highway, the motorcycle partially beneath the front of the pick-up truck. Debris, including a large white cooler, a section of the motorcycle and a pair of shades, was scattered on both lanes of the highway.
The medical examiner arrived from Palatka around 7:15 a.m.
Flagler County Fire Rescue, the Palm Coast Fire Department, the Flagler County Sheriff's Office and the Palm Coast Fire Police responded to the scene in addition to FHP. Roger's Towing cleared the vehicles.