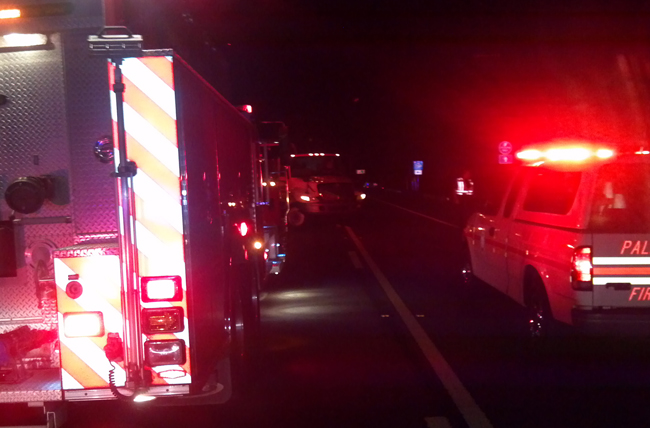 Last Updated: Tuesday, 7:49 a.m.
A deadly week on Flagler County roads turned into a carnage this evening when a head-on crash at the intersection of State Road 100 and County Road 305 in Western Flagler took the lives of two people and left two others seriously injured. A person familiar with the scene described it as "horrific," and said even seasoned rescuers were left shaken by it.
Elizabeth Jean Alley, 45, and Vada Stafford Delk, 72, both of Port St. Lucie, were killed. Carl Alley Jr., 50, of Port St. Lucie, was in serious condition, and Eileen Wojczyszyn, 54, of Palm Coast, was left in critical condition.
Jody Alan Hyde, 26, of Calhoun, Ga., who according to the Florida Highway Patrol caused the crash, had no injuries.
State Road 100 was closed in both directions east and west of 305 and was likely to remain closed for a few hours as Florida Highway Patrol investigators processed the scene. But by 9:30 p.m., the vehicles were being towed.
The wreck took place just before 6:30 p.m. A 2006 Ford F-150 pick-up truck, a 2009 Hyundai Sonata and a 2006 Chevrolet Cobalt (a compact car) were involved. "One was rear-ended and caused it to go head on on another car," Don Petito, Flagler County Fire Chief, said. Victims were entrapped in the Hyundai and the Chevrolet, he said, and had to be rescued with the jaws of life.
Carl Alley was driving the Chevrolet, with Elizabeth Alley and Vada Stafford as passengers. Wojczyszyn was at the wheel of the Hyundai. She had no passengers. Hyde was driving the F-150.
Elizabeth Alley and Delk were declared dead at the scene. Carl Alley, Elizabeth's husband, was transported by ground to Halifax hospital in Daytona Beach. Both Flagler County Fire Flight and Volusia County's Air One, the emergency helicopters, were put on standby, "but the conditions warranted them going by ground," Petito said.
Wojczyszyn was also transported by ground to Halifax. Her Hyundai ended up in the eastbound lane of State Road 100.
According to FHP, Wojczyszyn was going west on State Road 100 and had stopped in traffic just before the intersection with County Road 305. Hyde in the pick-up truck was traveling west also, but failed to see the stopped Hyundai. He slammed into the car, catapulting it into the eastbound lane at exactly the moment when Carl Alley's Chevrolet was traveling the other way. The Chevrolet's front struck the right-front of the Sonata.
Petito said Flagler County Fire Rescue had two engines and three ambulances at the scene, plus a captain. The Palm Coast Fire Police was controlling traffic. Residents going into the Mondex from Bunnell were being diverted onto County Road 302.
Initially, rescuers had trouble identifying so much as the sex of the victims because the extent of their injuries was so severe. The vehicles themselves could not yet be identified because of the violence of the crash.
All crash victims were wearing their seat belt.
This evening's crash was the third wreck involving fatalities in six days on Flagler roads. A motorcyclist died Friday after he was critically injured on Wednesday on U.S. 1 and County Road 304. A Woman was killed in a t-bone collision on State Road 100 near Target in Palm Coast Saturday night.
Images from the scene are below.