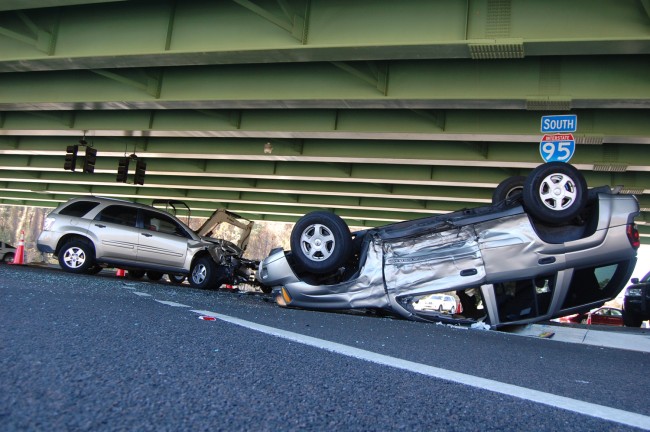 The rash of wrecks on Flagler County roads continues.
A violent 11 a.m. collision at the State Road 100 interchange with I-95 sent three people to the hospital, one of them–85-year-old Robert Hodoba of Flagler Beach–with life-threatening injuries, according to a Florida Highway Patrol investigator at the scene.
The wreck occurred between two almost identical Chevrolet SUVs, both with Flagler County license plates. One was a 2002 Chevrolet Trail Blazer, driven by Elsa Rego, 36, of Palm Coast. The other was a 2008 Equinox, driven by Hodoba.
Hodoba was driving westbound on SR100. Rego was driving eastbound, and making a left turn on a green-arrow light, under I-95 bridge, to enter the on-ramp northbound. Hodoba went through a red light and his Equinox's front struck the turning Trail Blazer on its side, overturning it and sending it against the on-ramp curb.
Rego and a 15-year-old boy, whose identity was not released, were taken by ambulance to nearby Florida Hospital Flagler with minor injuries, as was Hodoba in the other SUV, with more critical injuries. He had heart complications, according to the Florida Highway Patrol. Hodoba was later flown to Shands Hospital in Jacksonville. All three crash victims were wearing their seatbelts.
Three Playstation DVDs were strewn outside the overturned SUV among the shattered-glass debris.
Westbound traffic on SR 100 was briefly blocked, then opened to one-lane traffic. The Florida Highway Patrol was investigating the scene at mid-day. The Flagler Beach, Flagler County and Palm Coast fire departments all responded, along with the Flagler County Sheriff's Office.
[nggallery id=44]

Note: an earlier version of this story, based on an earlier report by FHP Spokesman Bill Leeper, listed the wrong name for the driver of the Trail Blazer.