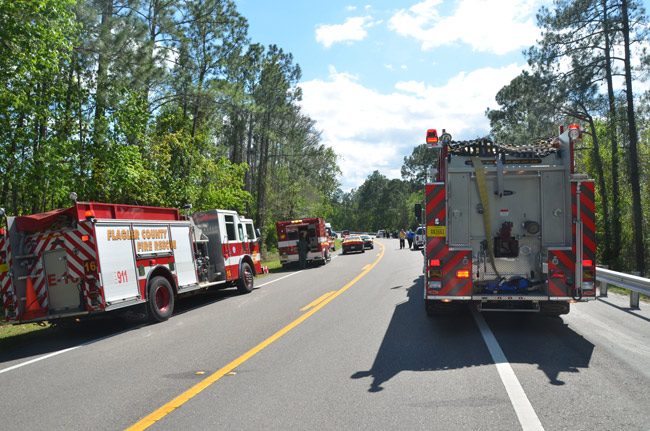 For Flagler County, it's turned into a grim weekend in the run-up to Independence Day. A third person was killed in two days on Flagler Roads late Saturday night when a motorcyclist died in a single motorcycle crash on State Road 11, at the same curve that caused a crash resulting in critical injuries five years ago.
Last night's crash took place at 11 p.m. The motorcyclist's name has not been released, pending next-of-kin notification. He or she had a passenger, Leslie Esteves Ramos, 32, of Titusville, who was airlifted by Trauma One to Halifax hospital in Daytona Beach, in critical condition.
"She is fighting for her life. My heart goes out to her mother and son," a former colleague who';d worked with her at a Titusville 7-Eleven wrote on Facebook a few hours ago.
The motorcyclist was driving south on State Road 11 just south of County Road 135, south of Cody's Corner, according to the Florida Highway Patrol. The motorcyclist lost control at the curve, and both the motorcyclist and Ramos fell from the 2001 Suzuki GSX before the motorcycle struck the guardrail. The motorcyclist was pronounced dead at the scene.
Flagler County Fire Rescue and the Palm Coast Fire Police, which was at the scene until early this morning, responded along with FHP. The traffic homicide investigation is being conducted by FHP's Brian Timmons.
Earlier the same afternoon, a man lost his life in a t-bone crash at the intersection of Belle Terre Parkway and Central Avenue in Palm Coast, near Publix. FHP has yet to release the man's identity. And the night before, a pedestrian crossing I-95, Douglas Reynolds, 49, was killed by a passing car. The total number of road fatalities so far this year on Flagler roads has climbed to at least 25.