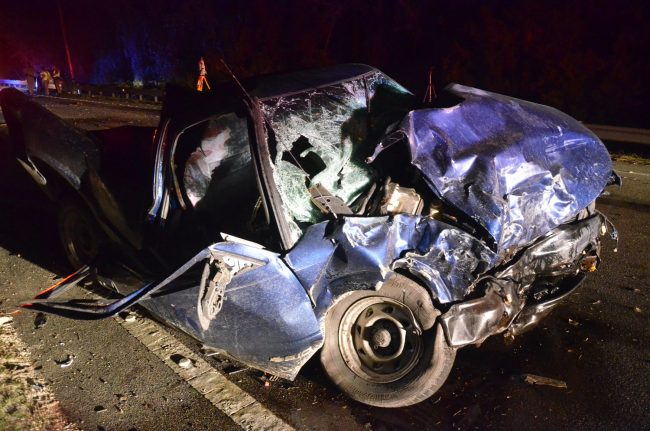 Last Updated: Saturday, 8:30 a.m.
A three-vehicle crash on State Road 100 west of Bunnell Friday evening resulted in the death of Ralph Pellicer, 43, of Bunnell and of Jobe Podach, 35, of Bunnell.
Seriously injured were Jennifer McFann, 48, of Crescent City, Cody Iglesias, 26, of Bunnell, and August Deberri, 19, of Ormond Beach. Miraj Patel, 18, of Ormond Beach, sustained light injuries. The three vehicles were totaled.
For one veteran sheriff's deputy, who was first on scene, the crash is as horrific as he's ever seen, with two pickup trucks and a compact car reduced to scrap after they collided on State Road 100 and County Road 35, just west of County Road 305.
The crash took place around 8 p.m. According to a witness who was spared but was within the radius of the crash, the woman later identified as McFann was driving a Hyundai Accent west on State Road 100. A 2000 Chevy pick-up truck S-10 that had been heading west had stopped at the intersection with CR35, waiting to make a left onto 35. Pellicer was driving that pick-up. (He was a short distance from home, on Bayberry Street.) Podach and Iglesias were the passengers.
Another pick-up, a Chevy Silverado, was heading east from the other direction. Patel was at the wheel, with Deberri as his passenger.
McFann never slowed down. It appeared she did not see the stopped Chevy in front of her. She slammed her car into the truck, catapulting it in the way of the Silverado. One man who was in the stopped pick-up was ejected and died instantly, another who'd been partially ejected died as sheriff's deputies tended to him moments after the crash. Deputies somehow, despite pitch darkness, found a third man who'd been ejected 20 feet into the field at the corner of 100 and 35, still alive, though it's not clear whether that victim had been ejected from the smaller Chevy or from the Silverado.
Flagler County Fire Flight and Trauma One out of Jacksonville, the two emergency helicopters, were both called in and both transported the three seriously-injured patients from the scene, two of them as trauma evacuations. It is believed all three went to Halifax hospital in Daytona Beach, one of them by Flagler County Fire Rescue ambulance, while a rescue took Patel to Florida Hospital Flagler.
The Palm Coast Fire Police closed State Road 100 in both directions from County Road 305 to County Road 35 as Sheriff's deputies then the Florida Highway Patrol investigated the scene. The road remained closed for several hours Friday night into Saturday morning.
Sheriff Rick Staly, who was patrolling Friday evening, as he customarily does on Friday nights, was at the scene.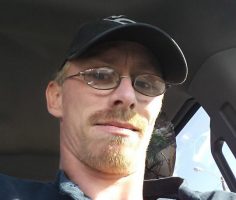 "Our deputies were just down the road responding to another call, they were the first on the scene," Staly said. "One person was ejected on the road and was deceased, another individual was partially ejected." He said the deputies were giving that victim first aid, "and actually saw him pass in front of them, so there was nothing they could do, unfortunately, for that gentleman. When I got here our Fire Flight was landing and took one of the victims to Halifax." Trauma One landed shortly afterward.
The Chevy S-10 was unrecognizable as a vehicle, having been struck from both sides, its front end no longer suggestive of anything like a vehicle and much of its passenger side as if sheared or carved out. It ended in the eastbound lane facing east (it had been going west). The Silverado ended up on its side in the ditch at the south side of the road. The area is surrounded by agricultural farms.
About a half football field's length of State Road 100 was all debris, shards, fluids, occasional shreds of paper or cloth, chunks of car parts. A stretch of road seldom silent from the roar of cars and semis speeding by was as quiet as if it had snowed but for the occasional sound of a boot crunching glass shards instead of snow–investigators stepping here and there, taking pictures, taking notes, collecting the data that in a few weeks or months will be reduced to the pages of a crash investigative report and, possibly, criminal charges.
"FHP is conducting the investigation," Staly said. "I don't really want to speculate but obviously if there's impairment, FHP could make the appropriate charge."
Drivers in similar situations previously, when found to be impaired, have faced severe manslaughter charges and prison time. But the FHP crash report doesn't say "charges pending," as it usually does when such charges are likely, but "under investigation."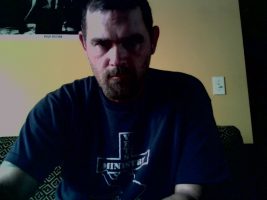 Allen Rose was driving west on State Road 100 moments before the crash, and had actually passed McFann in the Hyundai because she was "swerving all over the place," he said, and he was worried about his own safety.
"I passed her about three miles ago," Rose said as he stood at the edge of the crash scene Friday evening, within a few feet of the crushed Hyundai, still somewhat stunned that he had escaped unharmed. "She was doing about 50 miles an hour, but she was swerving. I don't know what she was doing. But I got around her. And as I'm keeping my eye on her, I come up here and there's a truck turning left here." He points to the nearby intersection, at that moment flooded by white lights from fire trucks and the red and blue lights emergency lights of law enforcement vehicles. "He's at a stop, turning left."
Rose continued: "I wait 'till the last minute because I see she's not stopping. She's coming from behind me. She just doesn't know what's going on. I move out of the way and she hits the truck that was turning left, which shot it into this lane over here and the truck coming this way, hit that one. I was in the middle of it. It was unbelievable."
The Hyundai could have struck him, Rose said, "if I didn't keep an eye on her. I was watching her in my rear-view mirror, I'm sitting and I'm watching, and I'm going, this lay ain't stopping. And that's when I was able to move out of the way. I moved into the left lane, with the truck coming this way, thinking, I don't know where to go. And when she impacted that one, shot it into this lane, that truck hit that and I'm in the middle of it, just…" he did not finish his sentence. Then he said: "I saw a body come out of the little truck right next to me. Cars were spinning. I couldn't tell you which car was doing what."
Rose, 56, had just finished work and was heading to Gainesville, where he has a home. He works in Flagler. "I don't know if she is texting or what," he said of seeing McFann swerving as he decided to pass her earlier. "I'm afraid I know what she was doing. I hate to say it. But she was all over the road." He said he kept hitting his brake lights, to no effect.
The medical examiner was at the scene around 9:30 and the bodies were removed to the medical examiner's office in St. Augustine about an hour later. The medical examiner's van was a bit late only because it had a prior assignment in Putnam County, where at 7 p.m. Steve Kintz, 73, of Kinsman, Ohio, was killed as he was walking across U.S. 17. (He'd walked into the path of Michael Crowder, 49, of Palatka, who was driving a Nissan.) FHP was investigating that crash simultaneously with the one on SR100.
Flagler sheriff's deputies remained at the 100 crash scene to assist well after turning over the investigation to FHP.
"They did a great job trying to save a life here and they found another victim in the field," the sheriff said of the deputies who responded–Cmdr. Mike Fink and James Crosbee. "Paramedics got here they did a great job to triage the survivors and getting medevacs to give them a chance. The fire police, can't say enough: they come out and help us all the time. This road is going to be closed for hours. The impact was pretty significant on all these vehicles involved, so there's debris everywhere, and it's very unfortunate that two people we are sure have lost their lives. I don't know the condition of the other people, but being flown out, they're not in great shape. But the trauma centers do a great job and hopefully they can save them if they're that seriously hurt."
It was Crosbee, who arrived on the scene right after Fink, who had told the sheriff: "That was the most horrific crash that he had seen."