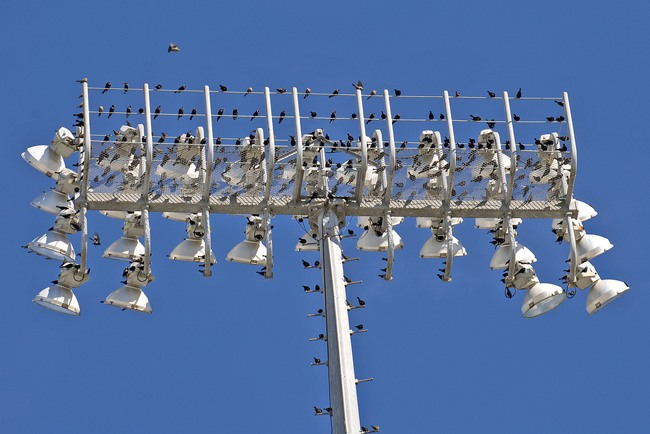 Florida has a new fiscal game plan to keep its spring-training lineup of baseball teams from jumping to the Cactus League in Arizona.
However, officials from areas with teams nearing the end of existing stadium contracts worry that state money being set aside for communities to build or renovate spring training facilities could result in major-league teams moving to other home bases in Florida.
Dunedin Chamber of Commerce President Lynn Wargo said civic leaders are concerned the state funding has allowed other Florida communities to make overtures to the Toronto Blue Jays, as the team's 15-year stadium lease is due to expire at Florida Auto Exchange Stadium in 2017.
"I know the state wants to keep spring training teams here in the state, but when you look at it from purely a local level, we want to keep that team here in our community, they've been here for a long time," Wargo said. "The Jays are only a few blocks out of our downtown. When there is a game here, the town is packed, the businesses are packed, the restaurants are packed."
Similar concerns have been expressed in Melbourne and Kissimmee, where moves by teams have been seen as more inevitable.
Brevard County Commission Chairman Andy Anderson has said the law will create a "free-for-all."
Gov. Rick Scott on Monday signed a wide-ranging economic development package (SB 406) that included a back-to-school sales tax holiday and the creation within the Department of Economic Opportunity of new rules for spring training funding.
The measure, proposed by Scott during one of his "Let's Get to Work" days at Joker Marchant Stadium in Lakeland in February, offers up to $666,660 a year in sales tax revenue for stadium upgrades or construction if a community seeks to retain or entice a single team to move. The funding can jump to $1.33 million if a community can cobble together a two-team package.
The new state rules require agreements to be at least 20 years, a minimum of the length of the bonds for the stadium work. Deals can only be made with teams within four years of the end of existing lease contracts.
Previously, teams could be eligible for up to $500,000 a year.
The bill retains provisions that an applicant pay at least 50 percent of the costs and show that the facility will draw 50,000 in paid attendance a year.
The intent of the revised spring training funding is to keep teams from heading to Arizona for the pre-season exhibition ritual.
Treasure Coast Sports Commission Executive Director Tom Colucci said the funding process should keep teams such as the Houston Astros and the St. Louis Cardinals, which train in Kissimmee and Jupiter, respectively, from heading to Arizona for pre-season games.
"If the money wasn't put into a pot we could lose a team to Arizona," Colucci said. "Houston could definitely go. Arizona is closer to them for their fan base."
Still, officials along the Interstate 95 corridor have been particularly concerned about the future of spring training as only four of the 15 Grapefruit League teams remain along the East Coast and one is expected to soon relocate.
Since the additional funding pitch was made, there have been strong rumblings of possible relocations by teams other than the Blue Jays from Dunedin.
The Astros are expected to leave Kissimmee, and the anticipation is growing that the Washington Nationals will leave Viera.
If the Nationals leave, the Cardinals, New York Mets and Miami Marlins are expected to eventually make the shift to the state's West Coast to cut down on travel time and to increase the number of teams available for games.
Moves by the major-league teams also could have other effects, as multi-field facilities are used to attract high school and college tournaments.
"We use the fields here when we can for tournament play," Colucci said. "Without spring training it would be awfully hard to maintain those fields year-round."
Treasure Coast officials remain optimistic because the Astros have been rumored to be part of a two-team stadium in Palm Beach Gardens or to join the New York Mets in Port St. Lucie. Talks about both facilities have grown because Houston's owner Jim Crane owns a private golf community in Palm City.
The Astros have been in Kissimmee since 1984, the Nationals replaced the Marlins as the tenant of Space Coast Stadium in 2003, and the Blue Jays have been training in Florida Auto Exchange Stadium since 1990.
Florida Rep. Ritch Workman, R-Melbourne, told Florida Today that the Nationals play at a disadvantage due to being geographically apart from other training facilities, which adds to travel costs for them and opponents.
Since the Los Angeles Dodgers left Vero Beach after the 2008 season, the closest teams for the Nationals are more than 50 miles away in Kissimmee and 75 miles away in St. Lucie.
State economists this spring estimated spring training pumps $752 million a year into the Sunshine State, supporting 9,205 full- and part-time jobs.
Since 1998, the Dodgers, Texas Rangers, Kansas City Royals, Chicago White Sox, Cleveland Indians, and Cincinnati Reds have jumped from the Grapefruit League to the Cactus League.
–Jim Turner, News Service of Florida