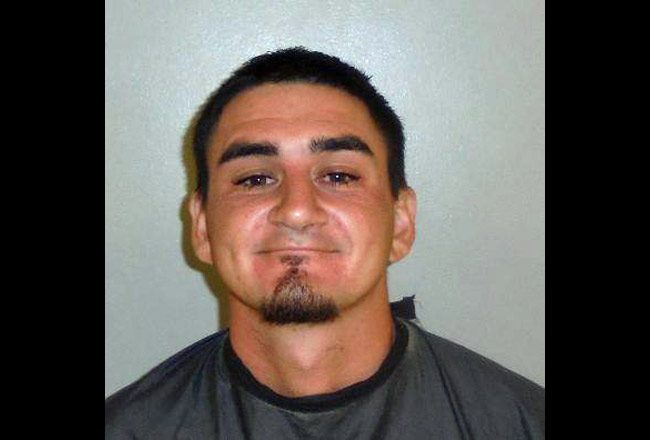 Less than a year ago Spencer Sarmento, a 24-year-old resident of 4657 Canal Avenue in the Mondex, or Daytona North, pleaded guilty on charges of firing a gun in public and criminal mischief. He'd been involved, with Dakotah Clarke, in an incident in the Mondex in which both men wielded assault weapons and Sarmento, according to his arrest report at the time, opened fired on an empty car following a dispute with its owner. Clarke at the time was facing unrelated charges stemming from an armed robbery, for which he was sentenced to prison last May.
Sarmento initially faced eight charges from the shooting incident, most of them felonies. But in a plea deal the charges were reduced to two misdemeanors, for which Sarmento pleaded guilty and was sentenced to probation. Within three months he violated probation and was sentenced to three months in jail.
Sarmento was back in jail this morning, again on a felony charge of aggravated assault with a deadly weapon, this time after allegedly chasing his girlfriend in their yard and threatening her with a bottle because Sarmento was allegedly upset she would not hand over a gun she owns.
Flagler County's 911 dispatch center received three 911 hangup calls between 2:53 and 3:13 this morning. The first two were hang-ups without anyone saying anything at the other end, the third followed the caller saying she needed law enforcement, but adding no details. Deputies are required to respond even to wordless 911 hang-up calls, which often suggest that someone is in trouble but unable to speak. Deputies were already on their way after the first call, and arrived at the address from where the 911 call was placed–5387 Palm Avenue in Bunnell, home of the alleged victim, Sarmento's 29-year-old girlfriend.
The deputies noted that they were "both familiar with this residence and know that there is a history of dating violence and disturbances between [the alleged victim] and Spencere Sarmento," they reported. "We further have knowledge of firearms being present in the residence. We then decided to make a tactical approach to the residence to try and observe the activities that were occurring there prior to walking up to the residence."
As the deputies approached, they heard yelling, then a door slamming, then three people emerging from the house into the yard–a woman and two men. The deputies were able to identify Sarmento and the woman because of their previous experience at the house.
Sarmento was "yelling" at the woman, saying he wanted his gun back. He then picked up a 1.75-liter bottle of Crown Royal whiskey and threw if on a paver. It didn't shatter. He then picked up the bottle and chased the woman around the yard with it as the woman yelled back, urging him to desist. "She tripped and fell to the ground," the deputies observed. "She then got up and armed herself with a shovel and ran inside the residence through the front door." Sarmento then three the bottle at the front door several times.
One of the deputies took out his Taser stun gun and approached Sarmento, ordering him to lie in a prone position. Sarmento complied. His girlfriend would later explain that when the argument was taking place in the house, before the deputies' arrival, Sarmento had punched a hole through the wall because she'd refused to give him the gun she said is in her name, then thrown a chair, causing damage inside the house and against the door, with the bottle. A fourth occupant had been in the house during the confrontation but claimed not to have seen anything.
Sarmento was booked at the Flagler County jail at 4:26 this morning, his 16th booking at the jail since 2010. He is charged with aggravated assault with a deadly weapon, a felony, and criminal mischief, a misdemeanor. Aside from the aggravated assault charges he'd faced over the shooting incident in December 2015, most of his charges have been related to drunk driving and other driving-law violations, or probation violations, along with three domestic-violence charges.