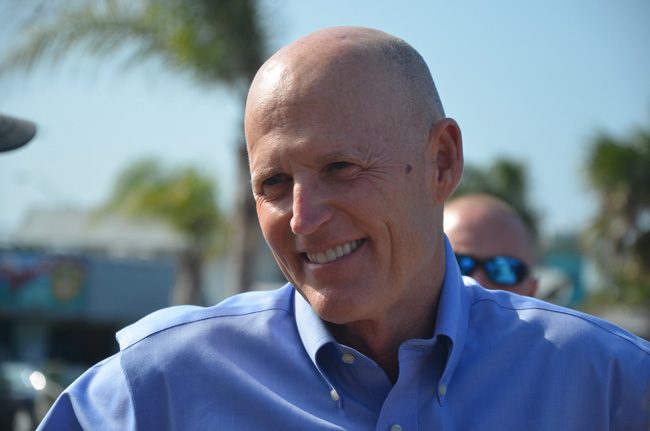 Florida lawmakers will hold a special session next week after Gov. Rick Scott, Senate President Joe Negron and House Speaker Richard Corcoran announced Friday they have reached the outline of a budget deal. The three-day session is scheduled to start Wednesday.
Lawmakers passed an $82.4 billion budget on May 8, but Scott was angered by issues such as a lack of money for economic-development programs and a lack of money for public schools.
The deal is expected to boost funding for public schools by $200 million, increasing per-student funding from about $24 to $100. The deal also calls for $76 million for the tourism-marketing agency Visit Florida than the $25 million legislators had originally approved. The $76 million will maintain current funding.
And the deal will provide $85 million for what is being called the "Florida Job Growth Fund."
"All of that," the Miami Herald reports, "would be funded by more than $300 million in vetoes of member projects tucked into the state budget passed overwhelmingly by the House and Senate in early May." That could potentially be bad news for Flagler County, which is in line for millions of dollars in special appropriations, whether for dunes repairs or an additional county judge.
The actual amount in vetoes totals $410 million, according to the governor's office, though some of that includes his veto of the lesser funding for Visit Florida, and the portion of the budget that includes education funding, as that will be revised.
"Lawmakers," the Herald also reports, "also broadly anticipate Scott will sign a charter-school-friendly $419 million schools bill that was a Corcoran priority. Corcoran noted that it is not part of the agreement reached with Scott and Senate President Joe Negron, but said he expects the governor to sign it."
Scott, his office said, is proposing to establish the new $85 million Florida Job Growth Grant Fund to promote public infrastructure and individual job training which will encourage more businesses to choose Florida as a destination to grow jobs. The program would be a face-saving way to essentially keep Enterprise Florida's mission going, under a different guise. The Legislature had zeroed out Enterprise Florida's funding.
"Florida's students deserve the very best and we must always do everything possible to provide them with the resources they need to get a great education," Scott is quoted as saying in a release, addressing education funding. "It is my goal that a total of $215 million more is allocated to the FEFP which is a $100 per student increase over current year funding during the upcoming legislative session. Our students are the future of our great state and I know Speaker Corcoran is committed to our students, parents and teachers and ensuring Florida offers a world-class education to students at all levels."
He added: "Like the Legislature, I strongly believe in transparency, accountability and a strong return on investment for any taxpayer dollars used. There needs to be legislation that allows us to market our state for tourism and grow jobs while maintaining these important principals. I look forward to working with the legislature during the upcoming special session to achieve these important goals for Florida families."
"I am proud to stand with Governor Scott as we fight for continued strong job creation," Corcoran said, "giving every child a competitive and world class education, ensuring Florida competes as a tourist destination, and faithfully stewarding taxpayer dollars — goals that unify us. The Florida Job Growth Grant Fund will create both public infrastructure and job training and put taxpayers in the driver's seat."