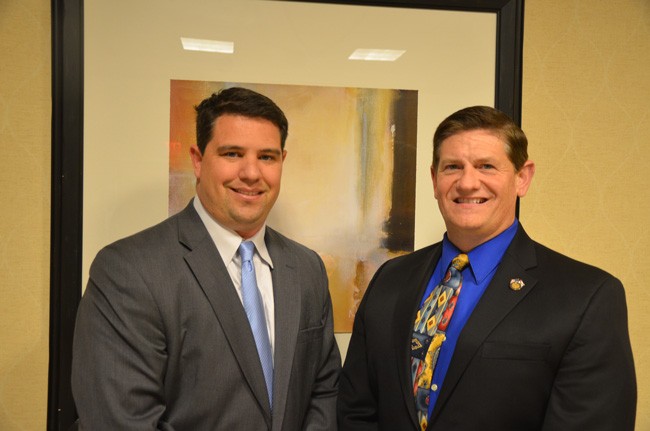 Difficult though it may be to notice, there is an election today in Flagler County and several other counties that make up two Florida House districts and Florida Senate District 6. It's only a Republican primary, so the majority of voters (Democrats and Independents) may not cast a ballot. Turnout is expected to hover around 10 percent, if that.
The eight days of early voting in Flagler drew just 1,132 voters, or 4 percent of the Republican electorate.
The election is nevertheless likely to decide Flagler's representation in both chambers of the Legislature, as the winners are facing relatively weak candidates in the April 7 general election.
The only unpredictable contest today is for the state Senate. Senate District 6 Senate District 6 includes St. Johns, Putnam, Flagler counties and parts of Volusia County. That contest pits three Republicans against each other: Rep. Ronald Renuart, the St. Johns physician and six-year veteran of the House, Travis Hutson, who just completed his first term in the House, representing Flagler and parts of St. Johns and Volusia, and Dennis McDonald, the Ronald Reagan Assemblies candidate from Flagler who's twice failed in bids for a county commission seat. Renuart brings experience to the race. Hutson brings money: he's outspent Renuart by almost 3-to-1 ($450,000 to Renuart's $170,000. McDonald spent $6,000.)
There are two House races, but the House District 17, with three Republicans contesting it today–John Capra, Michael Davis and Cyndi Stevenson–covers St. Johns County. The House 24 race affects Flagler directly. It also features three Republicans: Danielle Anderson, Paul Renner and Ron Sanchez. Anderson, a free-lance reporter and occasional GOP operative, is not expected to be a factor in the race. Sanchez may pull some votes from his two terms as a county commissioner in St. Johns, but the race is largely expected to be won by Renner, a well-funded attorney who moved from Jacksonville to Palm Coast to run in this race.
The special election, which is expected to cost taxpayers around $1 million, is the domino-effect result of John Thrasher's resignation of his senate seat when he took the presidency of Florida State University. Thrasher timed his decision to resign purposefully past the deadline when an election could have been held concurrently with the November general election, so as to set up a special election.
Renuart and Hutson are still fellow House members, and will be until the day of the general election in April. The winner of that election will move up to the Senate, but not until he's sworn in. The loser will be out of the Legislature immediately.
Renuart is particularly upset about third-party ads that peddle, in the words of his website, "outrageous false claims accusing me of working with Obama and Crist to raise taxes." Hutson counters that the criticisms of Renuart haven't come from his campaign.
"I have no control over any third parties," Hutson said.
But Renuart said a group Hutson controls ultimately paid for the negative advertising by running it through two other independent groups.
"For him to try to make that claim is a bunch of baloney," Renuart said.
At the same time, Renuart has tried to tie Hutson to contributions a family corporation made to Democratic candidates. He also highlights a contribution made by Hutson to Charlie Crist's U.S. Senate campaign in 2010, but those funds came before the former Republican governor bolted the GOP to run an independent.
Renuart emphasizes his experience and points out that the state Senate will be at work on the budget well before the April 7 special general election — meaning that whoever wins the seat will have to scrap to make sure the district gets a fair share.
"I hope that the citizens of the area realize that they're going to have to pick the best fighter who's not just a come-along, go-along guy," he said.
If elected, Renuart said he will focus on jobs and water issues, including the St. Johns River and shoreline erosion.
Hutson emphasizes legislative proposals he's already working on, like legislation that would return money from budget projects vetoed by the governor to the state's rainy-day fund, and a plan he's devising that would allow tax credits for businesses that make certain capital investments in public schools — a construction firm that gives tools to a school, for example, to help train students.
A precinct list and map of precincts is available at the Flagler County Supervisor of Elections' website, here. Polls opened at 7 a.m. today. They close at 7 p.m. Results are expected by 8 p.m. This will be the first election supervised by Interim Supervisor of Elections Kaiti Lenhart, whom Gov. Rick Scott appointed to the position when the embattled Kimberle Weeks resigned.
–FlaglerLive and the News Service of Florida