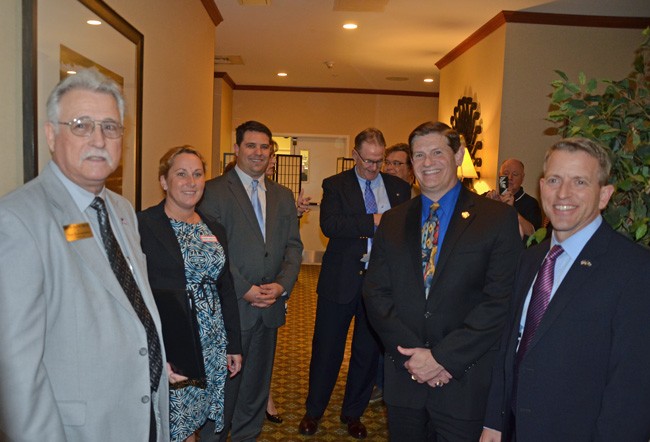 Not many people are paying attention. But there are elections–two important elections–that will affect every Flagler County resident for the next few years: on Jan. 27, Republican voters will cast ballots in a special election for Florida Senate and for the House. The winner will face Democrats in each race in the April 7 election, though in both cases the Republican primary is almost certain to decide the eventual winner.
Tuesday evening, all but one of the Republican candidates running in those two primaries submitted themselves to a series of questions in the only substantial forum of he election, the Flagler Votes forum organized by the Flagler County Chamber of Commerce, the Flagler County Realtors Association and the Flagler County Home Builders Association. The forum was held at the Hilton Garden Inn. (You can listen to the fulls forum segments of the Senate and House candidates, separately, below.)
There, too, interest was limited: most of the seats in the room were empty, in sharp contrast with previous forums organized by the same trio.
Surprises were limited, too. The forum was a chance for the candidates to become a bit more familiar to some voters, especially for St. Johns candidates who have never had reason to be known here. It was also a chance for candidates who would normally find themselves on the same ideological page to find ways to distinguish themselves from each other, as Travis Hutson and Ronald Doc Renuart (the two main candidates for Senate) tried to do. Hutson has represented Flagler in the House in the past two years. Renuart has represented St. Johns County for the past six years.
---
Audio: The Senate Candidates[media id=385 width=250 height=200]
Renuart, though little known to Flagler voters, proved the more knowledgeable, nuanced candidate, fielding questions by providing more substantive and specific answers than Hutson did, and that reflected deeper knowledge of issues, thanks in large part to his six years in the House and his 20 years as a practicing physician. Renuart faltered somewhat in his closing remarks though when he claimed to have represented "this district" for the past six and a half years. A Flagler voter has never cast a ballot for Renuart, though.
Dennis McDonald, the only Flagler County resident in the race, is the third Republican in the group. He stressed that distinction when he announced his candidacy. Yet he was a no-show Tuesday: he sent Mike McElroy, a former candidate for school board, to speak for two minutes in his stead (McElroy did not field questions). McDonald was making a campaign appearance in St. Johns County.
That left more time for Renuart and Hutson to duel. They faced 14 questions, all of them focused on business, taxes, education and the environment. Both men fielded the questions comfortably and affably, and only once allowed themselves a bit of sniping (Renuart said Hutson was "distorting" his record, though he didn't give specifics). But they only occasionally spoke in less than generalities, asserting themselves as anti-tax conservatives who want limited education, more investment in vocational education, and lower taxes.
---
Audio: The House Candidates[media id=386 width=250 height=200]
Still, there were notable differences. When asked whether there could be circumstances where they would approve off-shore drilling, Hutson provided the quickest, shortest answer of the evening and left it at that: "None," he said. Renuart was less categorical. He said drilling "could be done very safely but it would have to be done way offshore and it would have to be done in a safe manner." A question about last year's $2.5 billion increase in the state budget–and what to do to "end" that trend–also prompted different answers.
"I don't want to reverse growth, guys, at all," Hutson said. "Now, I do want to reverse wasteful spending," and return more money to taxpayers in the form of tax cuts. Renuart, too, said more revenue is not a problem. But, he said, again reflecting a more nuanced approach, "it doesn't mean the state is spending that money," with $3.1 billion placed in reserves and $500 million in tax cuts last year. "Having revenue is not a bad thing, but it's how we use it."
There were nuances in their answers to a question about whether they'd support replacing development impact fees with documentary stamp fees, which would draw revenue from many more real estate transactions but also more directly affect property transactions. Hutson would eliminate impact fees for small business (such as businesses with 6,000 square feet or less). Renuart said he favors a balance balance between doc stamps and impact fees. "We can't expect new development and new buildings to be put on the back of taxpayers also," he said, referring to residential properties.
Neither candidate favors changing the state's tax structure, especially not tax (such as an income tax), but Hutson said he'd favor lowering the sales tax. Both candidates want fewer regulations. Neither candidate favors more gambling in Florida. Neither candidate favors medical marijuana, except for its limited legalization, as done last year, in liquid form and for very limited ailments.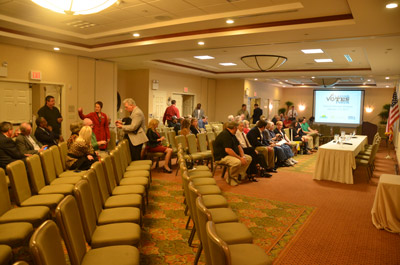 Their turn over, it was then the House candidates' turn, though that race is almost certainly spoken for. Attorney Paul Renner and Danielle Anderson–a correspondent for the News-Journal–of Palm Coast and Ron Sanchez, the former St. Johns County Commissioner, are the Republican candidates, with Democrat Adam Morley in the general. But the candidates' campaign finances tell the story of the seriousness of their cause.
The candidates' latest reports were filed this week. Renner, the Jacksonville attorney who recently moved to Palm Coast, has raised $138,375, with just $20 of that from Palm Coast (or anywhere in Flagler County). Renner faces virtually no competition from Anderson and Sanchez, financially: Anderson has raised a total of $500 from six contributors, including $100 from herself. All but one contributions are from Palm Coast. And Sanchez has raised $8,250, though all but $1,950 of that is a loan to himself. None of his contributions are from Flagler.
For senate, it's a two-way race at this point between Renuart and Hutson. McDonald has raised just $6,300–all of it a loan to himself. Renuart has raised $145,230, including a $50,000 loan to himself. Although he lists 256 contributors, and many are from various parts of Florida well beyond the Senate district he seeks to represent, not a single one of those contributions is from an address in Flagler County. Hutson isn't doing much better in terms of Flagler contributions. Hutson has raised a total of $386,825, from 284 contributions, including $200,000 from his own pocket ($150,000 of which a loan). But only $500 of that is from a Palm Coast donor (Blue Water Homes Inc., a construction company), with $200 from a Bunnell resident. The source of the candidates' money is an indication of where their allegiances will tend to be.
---
Campaign coffers show a serious race between Hutson and Renuart, but no challenge for Paul Renner from two unfunded opponents.
---
The House candidates fielded similar or identical questions that were posed senate candidates. The distinctions between them were fewer than they were between the senate candidates, although Sanchez could draw on his two terms as a county commissioner to speak about the challenges in the way of economic development–a priority during his tenure in St. Johns, he said–and Renner, who has not served in public office before, showed his skills as a quick study: he spoke with familiarity about Flagler County's needs, at times specifically mentioning drainage needs in the Malacompra area,
When, at the end, the candidates were asked about issues specific to Flagler, Sanchez began by talking about unfunded mandates (and his experience in St. Johns), only tangentially mentioning "drainage issues here in Flagler," something he may have picked up from remarks by Renner earlier. He revealed his very thin knowledge of Flagler. Renner talked about expanding economic opportunity, maintaining quality of life, school choice with dual enrollment and Flagler's Flaglship programs, and beach protection. Anderson described herself as "a big advocate for small businesses," responsible development and working with the education system "so that every student in our education system is accounted for."
The forum ended 13 minutes early, a reflection of the dearth of depth to many of the candidates' answers–or the races themselves. The three business groups were also conducting a straw poll Tuesday evening, but those results, limited by the small turnout (perhaps 60 to 70 people showed up) and its Flagler-only make-up would be less than scientific.
The primary election is Jan. 27, the general is April 7.