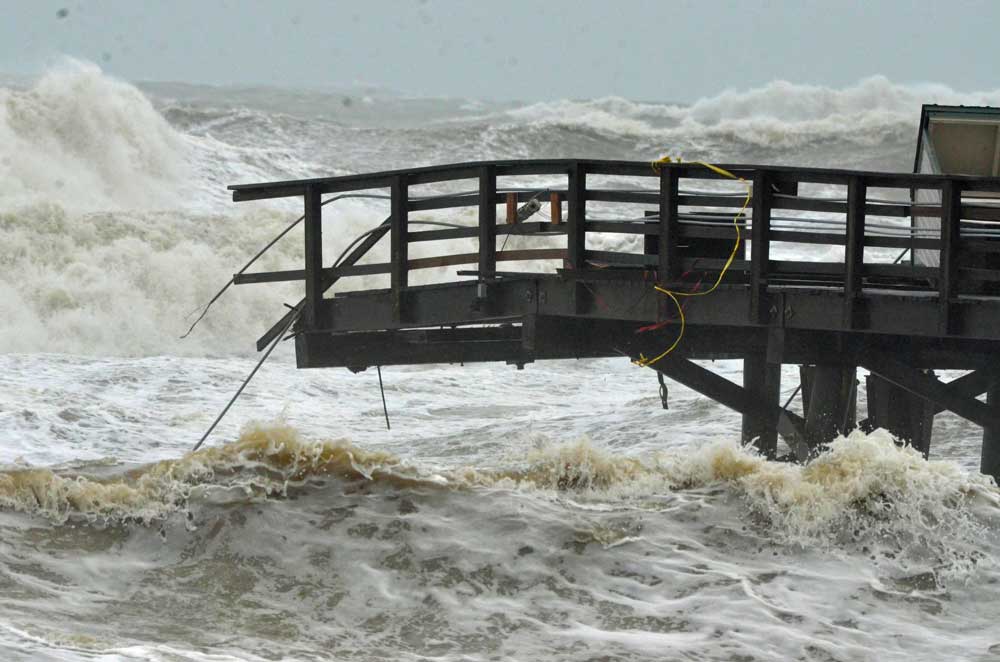 It pays to have a Flagler County's legislative delegates serving as House Speaker and in the Senate leadership.
Flagler, Palm Coast, Flagler Beach and Bunnell may be at the receiving end of the largest appropriations of state dollars for local special projects, by far, in the county's history–nearly $100 million for roads, fire stations, pier reconstruction, water projects, a substance abuse facility and other, smaller projects, according to the $116 billion budget the Florida House and Senate published Tuesday.
That sum grows when pending beach protection money and appropriated money for early childhood education is included. (See a chart listing all local appropriations below.)




Two steps remain before the money flows. Lawmakers are in what they call a three-day "cooling off" period before they vote on the budget Friday. The appropriations, listed in the legislative Conference Report, must then survive Gov. Ron DeSantis's vetoes. Last year, the governor vetoed $3.1 billion in a $109.9 billion budget.
DeSantis is expected to announce a run for the presidency soon after the session's end. Vetoing pork makes him look like a fiscal hawk, an image he may seek to burnish ahead of the campaign, making at least some of the projects on Flagler's list potentially vulnerable to veto. On the other hand, the governor may not want to alienate Rep. Paul Renner, the House Speaker, and Sen. Travis Hutson, with whom he still has to work next year, in the thick of his presidential campaign. And Renner has been carrying the governor's water year after year.
"I am very confident that we will win the day," Palm Coast Mayor David Alfin said, regarding vetoes.




The state budget also includes $300 million to address global warming and sea rise issues. Faith al-Khatib, Flagler County's engineer, who has been responsible for securing tens of millions of federal and state dollars for the county's beach protection projects, said today that the Department of Environmental Protection submitted a request for $106 million for beach protection overall, $17 million of which would be for Flagler County. If the budget is approved, al-Khatib said, that $17 million would be secured. That would be in addition to the $97 million in special appropriations listed in the Conference Report.
Palm Coast alone stands to receive $60 million, not including at least $1 million for a future YMCA. The Volusia Flagler YMCA had asked for $3 million, $1 million of which would be devoted to building a new YMCA in Palm Coast. The legislature is appropriating $5 million. It's not clear how much of that would increase the Palm Coast share.
It would get two $5 million appropriations for two separate fire stations: one that would replace Station 22, the oldest in the city, and be rebuilt further east on palm Coast Parkway, and a new one, Station 26, that would be built in Seminole Woods. The city, which is matching each appropriation with $1 million in local dollars (from the fire impact fee), hired a design and construction form to proceed on both. The pending appropriation "is a great step," Palm Coast Fire Chief Kyle Berryhill said this morning. He took a cautious approach. "The state budget isn't approved until it's approved. I'm not a person who wants to count chickens," he said. (See Berryhill's presentation to the council on the department's overview here.)




If the Seminole Woods fire station were open today, it would be the fourth-busiest of the city's six stations, Berryhill said, and relieve the county's overworked Station 92 at the county airport. "Station 92 has served the community so well for so long but it's a World War II era building and it wasn't placed there to respond to people's houses," he said.
Flagler County would get a $10 million appropriation to build its own new fire station and fire administration center.
The city would also get huge amounts of funding for road projects, including $25 million that would extend Matanzas Woods Parkway west, across U.S. 1, opening the west side to development–a priority for Alfin. "It does provide monies to to open the first access to what we call the the western frontier," Alfin said.
The first phase of that project–from the roundabout on U.S. 1 to the roundabout in the yet-to-be-developed subdivision to the west–is set for construction, with the bids already issued. Phase 2 will take the road to the railroad, and Phase 3 will take it across it, and to some distance beyond it. Those phases are about 60 percent designed, but would likely be under construction next year, and take two years to complete, Chief of Staff Jason DeLorenzo said.




An $18.3 million appropriation would enable the four-laning of Old Kings Road north of Palm Coast Parkway (north of the bowling alleys), a project the city has been looking to accomplish for over a decade. And $4.5 million would go toward safety improvements along Belle Terre Parkway between Royal Palms and Whiteview, where several cross streets lack northbound deceleration turning lanes, and have been the site of numerous crashes.
A $500,000 appropriation would allow the city to study the area of Town Center Boulevard and Old Kings Road, where traffic and stormwater issues create a bottleneck the city would like to improve.
"We're excited but there's another step to go, two more steps technically," DeLorenzo said, "but one big step with the governor. But yes, we're happy with the work we've done and our legislators for sure."
Would the large appropriations enable the city to shift money to other projects? "Probably not, but finance has to analyze that. A lot of what we're replacing would have been maybe impact fee matches and those types of items," DeLorenzo said. The appropriations accelerate projects that have been on the city's Transportation Planning Organization list all these years, struggling to get funding. "It may free up some dollars but it may not be significant.'




One of Renner's top priorities is the establishment of a conservation corridor through the spine of the state, running in part through Flagler County. The budget sets aside $850 million for that, $4.5 million of it in Flagler County.
The state appropriations also include $9 million in library construction grants to be spread around 18 counties in $500,000 increments, with Flagler County–whose planned $11 million south library project has been ranked first by the Public Library Construction Grant Program through the Division of Library and Information Services for successive years–set to receive $500,000. (Wakulla County, which filed a direct-funding request, would get $800,000). (An earlier version of this article incorrectly stated that Flagler County had not gotten funding for its planned library.)
Flagler Beach stands to get a $43.5 million appropriation to add to its planned demolition and reconstruction of the Flagler Beach pier. All Flagler Beach officials were in a day-long workshop today and could not be reached. In Bunnell, the city is in line to secure $4.5 million for a sewer plant, and nearly $1 million for the refurbishment of its old Coquina City Hall. The Flagler County Sheriff's Office got itself a $250,000 grant to be part of a pilot program developing rapid DNA identification. And Daytona State College may secure $3.35 million to rebuild its amphitheater, site of this weekend's Palm Coast Songwriters Festival.
The nearly $100 million in special appropriations doesn't include $23.8 million for the Volusia Flagler Early Learning Coalition, and $11.4 million for VPK in Volusia-Flagler, amounts that have been recurring over the years. Flagler County's share would be roughly in line with participation in the programs.
"Right now, ELCFV provides care for about 3,800 children daily and about 5,000 children annually, of which about 460 are Flagler and 3,350 in Volusia," wrote DJ Lebo in an email. Lebo is the chief executive officer of FlaglerCares, the agency that coordinates social service programs. "That's about an 12%-84% split. We typically measure this quarterly, and it also fluctuates, often being 16%-84% – which is how we allocate funding for most initiatives, based on the allocation of children being served." (Only 5 percent of funds may be spent on administrative expenses.)
VPK serves 3,900 children daily–640 in Flagler, 3,270 in Volusia, a 16-84 percent split. Funds are allocated through an elaborate formula, but as an entitlement program, the state is required to provide funding even when enrollment grows. There are currently four people on Flagler County's waiting list for VPK.
The appropriations were generous, but also missed a few spots. While the school district is again receiving its half-million dollar appropriations for its adults with disabilities program, a recurring appropriation, "we were hoping to get funding for an adults with disabilities capital outlay facility," School Board member Colleen Conklin said. The district had asked for $2.5 million, so the program would no longer be in a warehouse type of building adjacent to Flagler Palm Coast High School.
A lot of work goes into filing the bills, not just in Tallahassee: Palm Coast devoted staffers to working up the projects' backgrounds and technical information. Alfin and DeLorenzo went to Tallahassee a couple of times and worked closely with the city's lobbyist to advance the requests. The city is now providing responses to the governor's office, which is making inquiries about the specific projects to decide which will survive and which will not.
"Between staff and City Council, a tremendous amount of work and effort has gone into making sure the moneys from Tallahassee find their way back to our city of Palm Coast and obviously a broad spectrum of specific projects we've asked to be appropriated are on the approval list and will await the governor's pen," Alfin said.
This morning, county and city staffers in Flagler's local governments, as in innumerable local governments across the state, were pouring over the appropriations list and drafting press releases to boast about coming dollars and pay tribute to their legislators' tax-dollar largesse: politicians and chambers of commerce that would normally be preachers of fiscal restraint will be Babels of puffery for their lawmakers in coming days. Renner and Hutson will not be spared.

2023 Appropriations
Government Agency
Project
Appropriation
Palm Coast
Volusia-Flagler YMCA
$5 million (*)
Palm Coast Fire Station 22 Vetoed
$5 million
Palm Coast Fire Station 26
$5 million
Weir replacement
$1.25 million
Belle Terre Parkway Safety
$4.5 million
Matanzas Woods Parkway Extension West
$25 million
North Old Kings Road Widening Phase 2
$18.3 million
South Old Kings Road Phase 2 Study
$500,000
Flagler County
Combined Fire Administration and Fire Station
$10 million
Integrated Stabilization Unit and Men's
Substance Abuse Treatment Facility
$10 million
Wildlife Corridor Tract Acquisitions
$4.3 million
South Library funding grant
$500,000
Flagler Beach
Pier Removal and Replacement
$4.5 million
Bunnell
Water Treatment Plant and Distribution System
Projects
$4.5 million
Remediation of the Historic Coquina Bunnell City
Hall
$870,000
Flagler County Sheriff's Office
Rapid DNA Technology
pilot program
$250,000
Flagler County Schools
Adults with Disabilities Program
$535,000
Daytona State College, Palm Coast
Amphitheater Improvements
$3.35 million
Florida Highway Patrol
Supplemental Pay for Flagler-Based Troopers
$5,000 (**)
(*) In early April, Chris Seilkop, president and CEO of Volusia Flagler Family YMCA, said the organization was requesting $3 million from the legislature, $1 million of which would be devoted to starting up a YMCA in Palm Coast. It isn't yet clear how much of the $5 million would be earmarked for Palm Coast, should it survive a veto.
(**) Per trooper.