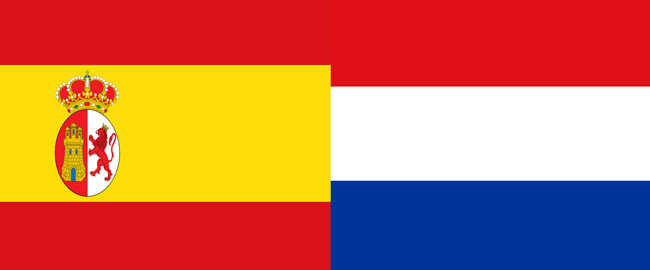 Arena Fonte Nova, Salvador, 3 p.m. DST, ESPN
Preview: This is the treat of the day: a rematch between the 2010 finalists, a game Spain won 1-0 at the end of a violent and too often ugly game. Spain has the right to feel like Rodney Dangerfield in Brazil. They've won the last two European Championships and the last World Cup, and two of their club teams were the finalists of this year's Champions League (Atletico Madrid and Real Madrid, with Real winning in overtime). But they're being treated like a second-division team because of all the assumptions riding on Brazil. Had this tournament been played in Uganda, Mongolia, Finland or Neptune–anywhere but Brazil–Spain would have been the favorites, and by a long shot. But home-field advantage is a natural and crushing steroid in football. Spain in Brazil is just another wannabe-Conquistador that not only Brazilians but any Latin Americans are happy to manhandle. Whether Spain are willing to be so treated is another story.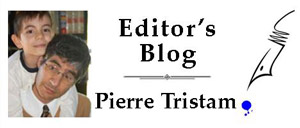 Spain's team is a who's who of international superstars who play in the world's best leagues–namely, the English Premier League, La Ligua and Germany's Bundesliga: keeper Iker Casillas (Real Madrid), defender Sergio Ramos (Real Madrid), defender Gerard Piqué (Barcelona), defender Jordi Alba (Barcelona), Xavi (Barcelona), David Silva (Manchester City), Andrés Iniesta (Barcelona). And all those are starters. The Netherlands don't have a shabby line-up either, and it's younger, other than national monuments like Robin van Persie (a scoring machine with Manchester United even at age 30) and the equally old and gold-fotted Arjen Robben (Bayern Munich). They also have the three de's: Stefan de Vrij (Feyenoord in the Dutch league), Jonathan de Guzmán (Swansea in the EPL) and the always intimidating Nigel de Jong *(AC Milan).
For entirely prejudiced and therefore irrational reasons I used to dislike the Netherlands, but that was very long ago, as a result of my earliest football memory: the 1974 World Cup final, pitting West Germany against the Netherlands, a match West Germany won, 2-1, in Munich. Curiously, it was the violence of the Dutch players that turned me off–the same sort of violence they displayed in 2010, which is quite an oddity for a nation with a tradition of tolerance that predates and often exceeds Ebgland's.
World Cup 2014
---
Goals So far: 150

Matches: 55

Average: 2.78 (2010: 2.27)
Brazil 1, Chile 1 (Brazil on PKs) | USA 0, Germany 1: Small Loss for a Big Win | USA 2, Portugal 2 | USA 2, Ghana 1 | France 3, Honduras 0 | England 1, Italy 2 | Costa Rica 3, Uruguay 1 | Colombia 3, Greece 0 | Chile 3, Australia 1 | Spain 1, Netherlands 5 | Mexico 1, Cameroon 0| Brazil 3, Croatia 1

Our priest a few years later was Dutch, and came to our house in the Lebanese mountains, during the civil war, as we were among the few in his sphere that had both a television and intermittent electricity. He came to watch the Argentina-Netherlands final of 1978, played in Argentina under the nose of the murderous junta then ruling the country. By then my heart had softened for the Netherlands (I did not want to go to hell), but all our hearts broke when the game went into overtime and Argentina scored twice to take the trophy: undeservedly only in the sense that neo-fascist nations should never be rewarded. But if that were the case we'd never hear the end of unjust sports results. It's not as if Brazil is the most honorable nation on the planet, considering the way it wastefully and contemptuously went about preparing for this World Cup, then sending its police force to act against demonstrators as if it'd suddenly morphed into an Israeli occupier in the West Bank.
I'll be rooting for the Dutch again, because it's always fun to go for the underdog, and these two team are on more neutral, if soggy, ground in Salvador ("Salvador was the first Portuguese colonial capital of Brazil from 1549 to 1763 and first Archbishopric," the Times informs us.) An early upset would be great for the tournament. Keep in mind: no team has won two consecutive World Cups since Brazil of 1958 and 1962. Then again, no team has ever entered a World Cup with Spain's incredible run of two European Championships and a World Cup, all in a row. A shower of goals to go along with these endless rains, forecast to soak up Spain-Netherlands too, would be nice. There's not been enough goals so far.

First Half: Well, this match was billed as the quality match-up of the day, and it's certainly been that: a fantastic first half of tactical play by Spain, aggressive counter-attacks by the Netherlands, and the goal of the tournament so far: a gigantic cross virtually from midfield from Daley Blind, who couldn't have been ore accurate, to a diving Robin van Persie in the middle of the box, heading the ball himself in midair to create a superb arc above the keeper for the equalizer. That was in the 44th minute. It'll certainly be one of the great goals of this tournament, its execution a blend of geometry and art.
Spain had their own goal at the 27th minute, but that one continues the run of lousy ref calls. Diego Costa was sliding in the Dutch box, he put his leg on a Dutch defender's shin, sending Costa to the ground and creating the illusion that he'd been tripped. It was nothing of the sort. Spain are awarded a penalty, Xabi Alonso scores it, and FIFA proves once again that it's still in the dark ages, thanks to that unholy alliance between Sepp Blatter and Michel Platini. All other sports, including Major League Baseball, have gone to instant replay reviews. Football remains as ignobly regressive as if it were playing the sport with corn husks on the Great Plains. There are more cameras and better slow-motion detection on these fields than what the NSA could muster, yet FIFA, that federation more tyrannical than the Vatican at its Medieval worst, refuses to put it in play. Its concession to goal-line technology was a tiny step that affects the smallest fraction of goals. Actual replays of questionable off-side and penalty calls could be carried out in seconds. But no. And Blatter wants to run for a millionth term.
(Later in the day I got an email from Ezra Salkin, who happens to be a FlaglerLive reporter, correcting me on a crucial fact: "You said that in all other sports they've gone to instant replay reviews," he wrote. "Not so in boxing, where a wrong call by the ref can also be the deciding factor of a match. For example, if a referee calls an honest slip a knockdown,that forces the judges to award one boxer an extra point for the round, even if the announcer's instant replay shows it clearly wasn't so." I like nothing better than to be accurately fact-checked by my own reporter: he's a keeper.)
At last it was the only terrible call of the half. The ref, Italy's Nicola Rizzoli, no relation to the bookstore, was otherwise busy awarding fouls: 11 against the Netherlands, no surprise, and just two against Spain, whose game was the predictable short, frustrating passes that probe, probe, probe until they create an opening they can exploit. But the Netherlands' defense was up to the challenge: Spain got off just two shots ion goal to the Netherlands' three, and by the second half the first half the Netherlands clearly had the upper hand, even if they didn't control the ball as compulsively as del Bosque's men.
It should make for an excellent second half.

Second Half: Did I mention that this game lived up to its billing? That's an understatement. Like van Persie's first goal, this is a match for memories: never since 1950 had Spain conceded so many goals in a World Cup game (they conceded six to Brazil in 1950). Each goal had flair, creativity, immense skill, Robben's two specially: in both cases he took a pass from midfield or himself sailed down from midfield then turned on his magic in the box. In the first goal he took a long pass from midfield, managed to setle it superbly with one touch as he was being swarmed by two defenders, he pivoted left between them, two steps, they collapse, he unleashes a shot with his left foot. Goal. That was in the 52nd minute, making it 2-1 and equalling the total number of goals scored against Spain in their entire campaign in 2010. The second Robben goal was a bit easier: by then Iker Casillas, the Spain keeper, was dazed, shellshocked, van Persie had scored again, as had DeVrij, off a corner that van Persie directed his way.
Spain tried and tried down to the 90th minute, but they were spent, disbelieving, dethroned. The great champions, the unbeatables (they hadn't lost a game in their entire qualifying run, not an easy thing to do against European teams,and this was only their second loss in 55 non-friendly matches) had fallen, and more ignominiously than any reigning champion has in World Cup history. They will very likely still hold on to second place in this Group B, but that only sets up a likely match in the next round between Spain and Brazil.
More importantly: we needed this match to be entertaining, riveting, goal-rich and consequential. It was all those things, dimming somewhat the refereeing controversies, which disappeared from this second half.