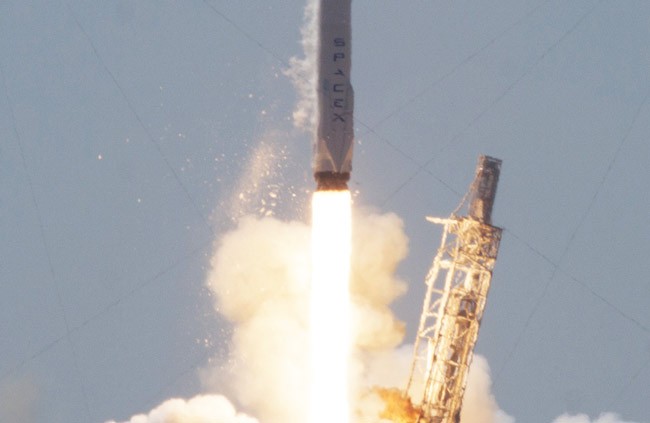 While it is highly unlikely any of the debris resulting from the explosion of the SpaceX's Falcon 9 rocket and Dragon capsule will reach Flagler County's coast, emergency officials are asking residents to steer clear of it and notify authorities.
The explosion of the unmanned craft occurred two minutes and 19 seconds after lift-off at 10:21 a.m. Sunday from the Cape Canaveral Air Force Station. The U.S. Coast Guard released a statement Monday saying the debris field is currently located more than 150 miles off the Florida-Georgia Coast, and it is drifting to the northeast.
"We do not anticipate anything washing up on our shore," said Kevin Guthrie, Flagler County Public Safety Emergency Manager. "However, if there is an anomaly and something does wash ashore, do not touch it, do not interact with it, stay away from it."
There is a SpaceX debris recovery hotline, 866-392-0035, but residents and visitors can call 911 to report any debris.
"It's easier than remembering the hotline number and all of the dispatchers have been informed how to handle any reports of debris at the beach," County Administrator Craig Coffey said.
The Coast Guard is monitoring the location of the debris as it drifts. Flagler County FireFlight helicopter pilot Dana Morris is patrolling the coastline from the air as well.
Variables that could cause a shift in the direction the debris is drifting include wind, current, tides and the size of the debris. "It is possible that debris could come ashore anywhere from the Southeastern U.S. to the mid-Atlantic coastline," according to the Coast Guard release.
The Coast Guard also reiterates that it is "out of an abundance of caution" that the public is being urged to not to touch any debris that comes ashore.
"As with any incident involving spacecraft wreckage, debris should not be handled by members of the public," said Capt. Jeffrey Dixon, commander Coast Guard Sector Jacksonville. "These critical pieces of evidence are important in the investigation process."
The 208-foot-tall Falcon 9 rocket was built by Space Exploration Technologies, a company owned by Elon Musk, with $1 billion backing from Google (which is interested in developing satellite internet services). The SpaceX series had had 18 straight successful flights until Sunday's failure. The company has had less success landing the booster-stage portion of the rocket back on a floating platform.
In October, an Orbital Sciences Corp. rocket exploded shortly after takeoff from NASA's Wallops Flight Facility on Virginia's Wallops Island. As with SpaceX, the rocket was carrying cargo for the International Space Station.
Now that NASA has lost both domestic companies it relied on to supply the station, it must turn to Japan or the European Union for cargo delivery. Overall, Sunday's blast was the third loss of a cargo ship headed for the space station in the last eight months.