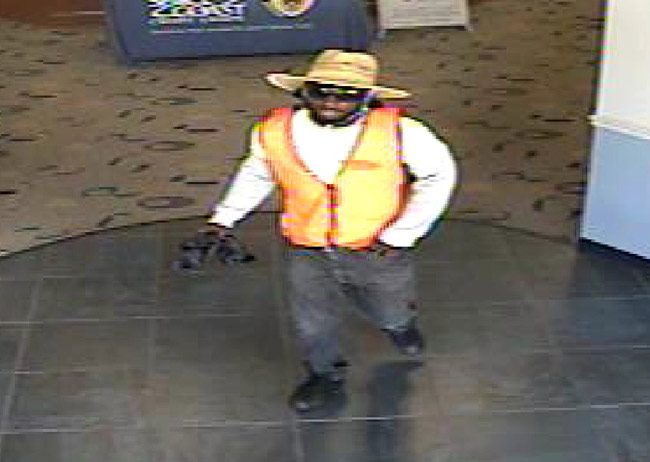 Space Coast Credit Union, the bank on Leanni Way, near Lupi Court, in the heart of Palm Coast, was the target of an armed robbery at 10:40 this morning. The man who robbed the bank got away, either on foot or in a vehicle, triggering an intense search localized around the Bank and Palm Coast's B-Section.
The robber is believed to be a black man between 20 and 30 years old. He was captured in a surveillance video still the Sheriff's Office disseminated earlier. The man "went into the Space Coast Credit Union and demanded money," Brittany Kershaw, the Sheriff's Office's spokesperson, said. "He showed he had a gun in his waistband. He didn't ever pull it out, but he did show the clerk it was there. They gave him an unidentified amount of money and he took off."
"He had a draw-string backpack," Kershaw said, using the backpack for the money.
Nearby Sunshine Academy, the child care center, and the United Methodist Church were locked down until about noon. A perimeter was established in the area, but also broken down around noon. Flagler County Fire Flight, the emergency helicopter, circled the B Section, and two K-9 units were also deployed, along with a tactical unit of the Sheriff's Office–a scaled down version of its SWAT team–and other deputies. Though the perimeter has taken down, deputies continue the search in the area.
"H was wearing a lot of clothing but it's expected that he doesn't have a lot of that clothing right now," Kershaw said of the suspect.
No one was injured during the robbery. Others at the bank witnessed it, and are being interviewed at the moment as the investigation proceeds. "We had a few calls come in" alerting the Sheriff's office to possible suspicious activity, Kershaw said, "like a suspicious vehicle that was in a parking lot near Space Coast early this morning, but they don't know if that was involved and they don't know what time that vehicle left."
Shortly after noon a Be On the Lookout alert was sent to neighboring counties.
Tips may be called into the non-emergency line at the Sheriff's Office: 386/313-4911.