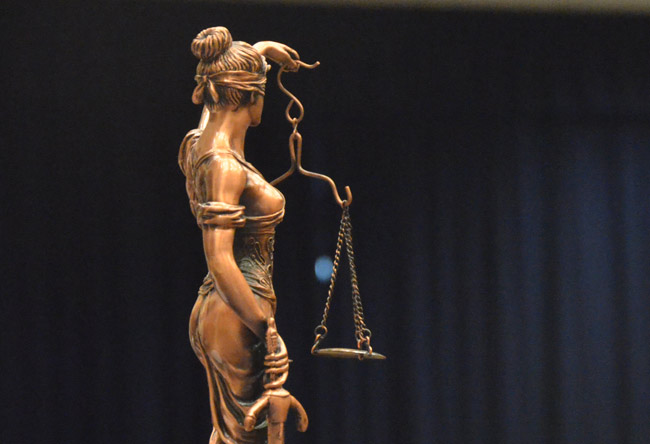 Three Florida Supreme Court justices are seeking to quickly dismiss a lawsuit aimed at removing them from the November election ballot and have asked a judge to at least temporarily halt depositions in the case. (See background here.)
Justices R. Fred Lewis, Barbara Pariente and Peggy Quince filed a motion last week in Leon County Circuit Court seeking a protective order that would block a conservative legal group from moving forward with 22 depositions. The Southeastern Legal Foundation, which filed the lawsuit last month, wants to depose the justices, Secretary of State Ken Detzner and numerous Supreme Court employees.
"Plaintiffs' demand to take 22 depositions prior to the court deciding the motion to dismiss is oppressive and unduly burdensome," the justices' attorneys wrote in a document filed Friday in Leon County Circuit Court.
The legal foundation, with two voters named as plaintiffs, allege that Lewis, Pariente and Quince should not be allowed to go on the ballot for merit-retention votes because they broke state law in qualifying to run. Those allegations stem, in part, from the judges using court employees to notarize elections documents as part of a scramble to get the documents filed on time.
The foundation contends that state law bars candidates from using government employees to carry out such election-related tasks during working hours. It has filed notices to take depositions, including depositions of the three justices Aug. 10 at the Doubletree Hotel in downtown Tallahassee.
The justices' motion for a protective order seeks to stay what is known legally as "discovery" until a judge can rule on their motion to dismiss the case. The document also indicates the justices are seeking an "expedited hearing" on the motion to dismiss, though a docket on the Leon County Circuit Court website Wednesday night did not show that a hearing has been scheduled.
Merit-retention elections typically draw little attention, but some conservatives are targeting the three justices this year because of contentions that they are too liberal.
The justices' attorneys in the lawsuit include former Florida Bar presidents John DeVault and Henry Coxe of Jacksonville.
–Jim Saunders, News Service of Florida