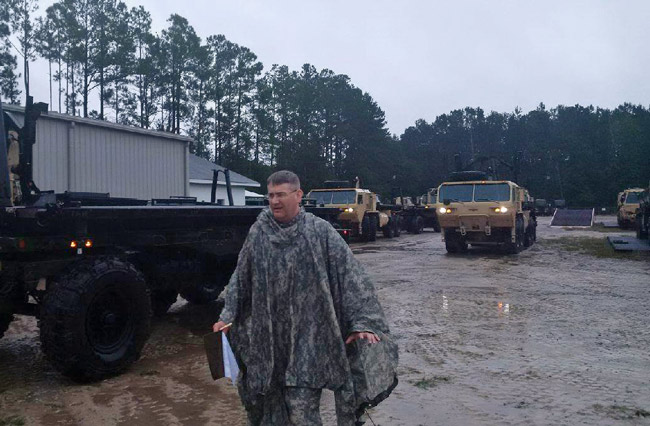 Three Flagler County emergency responders are part of a seven-member Northeast Florida incident management team sent to South Carolina, at South Carolina's request, to help the state manage and recover from disastrous flooding triggered by Hurricane Joaquin.
Flagler County Fire Rescue Operations Chief Mike Bazanos, Captain Richard Bennett, and Laura Nelson, a Mitigation Planner at Flagler County Emergency Management, arrived in Columbia, the South Carolina capital Sunday afternoon, after a trip that took twice as long as it normally wood because of closures to long stretches of the Interstate system from water damage. The seven-member team is working from the state capital at the moment, pending re-deployments to any county emergency operations center that needs the help.
Flooding associated with Hurricane Joaquin has overrun dams, cut off electricity to hundreds of thousands, required numerous so-called swiftwater rescues and, as of today, had caused at least five deaths. South Carolina deployed its National Guard, opened shelters across the state and closed schools. Some 70 miles of I-95 were closed to traffic.
County Administrator Craig Coffey briefly informed the Flagler County Commission this morning about what may amount to a 14-day deployment of Flagler's personnel, which will not cost the county: South Carolina is footing the entire bill, and will reimburse Flagler.
It is the first since the wildfires of the summer of 2011 that Flagler County's and the Northeast Florida Incident management Team have been activated for an actual mission, as opposed to training exercises, which happen every year. In 2011, some 10 or 11 members of that team, including Kevin Guthrie, then a planning and finance section chief, were deployed to Flagler County to help local emergency responders manager the wildfires. Guthrie was subsequently hired as Flagler's emergency management manager, though in effect he is the director of that division.
---
Providing critically needed help while gaining experience useful back home.
---
Bazanos and Bennett are more than familiar with emergency management: they were central to the management team in the 2011 fires, and by going to South Carolina are only broadening the sort of experience that may become critical in a local operation.
"I'm very thankful to the county administrator and the Board of County Commissioners that allow us to send members of our local community to respond to these disasters so they can gain knowledge and experience to bring back here for the benefit of our community," Guthrie said this afternoon.
Guthrie, a deputy incident commander for the Northeast Florida team—which covers 13 counties—got a call Saturday morning from the Florida division of emergency management, placing the equivalent of a request for proposal for emergency management teams: the Northeast Florida team sent its proposal to South Carolina, as were proposals from teams across several southern states. "We in essence say you need an eight person incident management team, this is what it's going to cost you for that team," Guthrie said. "Typically they go with the most qualified, and then they go for the lowest price point in the state."
The team in Columbia can be deployed to any point in the state within four or five hours. In the meantime, Bazanos has been working on securing freshwater for local hospitals, six of which were without water (he's been using contacts in Florida to resolve the issue) while Nelson has been doing planning work ("there's never enough planners on an incident like this," Guthrie said), which sounds more pedestrian than it is: daily action and situation reports are directly responsible for ensuring that the disaster's financial consequences are accounted for, and reimbursed appropriately. Bennett is a liaison officer who works with all the internal and external agencies as a point of contact back to the incident management team, what Guthrie refers to as the "rabbit chaser, because they're constantly running down issues that may exist with a specific agency."
If the state deems the help from Florida's incident management team unnecessary, it'll be demobilized ahead of its 14-day assignment. But for now, the state looked like it was in dire need of more, not less, help even as rain was tapering off.
"Our motto for instance management team is to bring order out of chaos," Guthrie said, referring back to a briefing he's been giving on incident management in the last few months, to local officials and business leaders.
Flagler is not without its own responders should a disaster strike locally: if that happens, an incident management team from a different part of Florida will be sent to South Carolina, enabling local responders to return to their home counties. The Federal Emergency Management Administration is "well aware that we have to take care of home first but they're very appreciative when we can assist," Guthrie said.
Other than Guthrie and the three members in South Carolina, the three other members of Flagler's portion of the Northeast Florida Incident management Team are Joe King, Jennifer Stagg and Suzanne Eubanks.