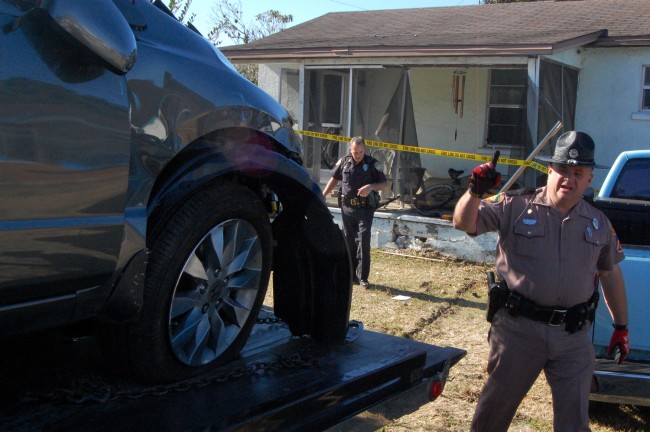 A 68-year-old resident of Palm Coast driving a relatively new two-door Honda Civic was traveling up U.S. Route 1 just south of downtown Bunnell when something went terribly wrong at 1:30 p.m. today.
For an inexplicable reason—there was speculation at the scene that he went into a diabetic coma—the driver lost control of the car just south of East Short Street, near Hot Diggity Dogs. He swerved onto southbound traffic on U.S. 1, swerved back onto northbound traffic briefly, only to end up driving through the parking lot of the South Side Plaza shopping center, smashing through a $4,500 motorcycle on display there—by Scooter King Motor Sports, one of the businesses in the shopping center—then crossing East Drain Street, diving into a ditch on the north side of that street, sideswiping a truck and smashing into a house's front porch, where no one happened to be sitting, though John McCaskill was literally inches away from the car, on the other side of the wall it struck as if, in McCaskill's words, a bomb had gone off.
"I was sitting at the kitchen table on the phone, with the people that I work on the car for," McCaskill said, referring to that blue truck that got sideswiped outside the house at 204 E. Drain St. As he spoke, a small dog, leashed, was yapping ceaselessly: the dog had been spared, too, though the dog is often leashed there, in what turned out to be the path of the onrushing car.  "It's like an explosion, a big explosion is all it was. When I come outside I looked, and a car was sitting right there." Right there being an area of the property usually screened in and porch.
The screen was mostly torn off and dangling. A bike was thrown on its side. Debris littered the lip of the porch, its cinder-blocked base punctured in two places. A cooler was tipped on its side, though two white chairs, likely spots of cooler leisure, were still upright. McCaskill showed where he was sitting inside the house, literally inches from the wall separating him from the smash. He points to the base of the kitchen and other places in the room where he says "it just shifted everything" from the force of the strike.
"He's conscious, he's talking, he does have some problems with his lower legs," a Florida Highway Patrol investigator at the scene said of the driver, who by then had been taken to Halifax Hospital in Daytona Beach. His injuries were non-life-threatening, though the interior of the car looked eerily similar to the mess it had made of that porch: exploded airbag, personal effects strewn all around, including a lone sneaker at the foot of the driver's seat.
McCaskill's fright may not quite compare with Cliff Warning's. He's the owner of Scooter King Motor Sports, has been for seven years. "I was inside the building," Warning said. "We heard the bang and the boom and all that. There was a lady here that drove in right after him. She pulled a U-turn, she was heading south, she got nothing to do with it, but she almost got killed by this man. I'm still shaken up because two minutes before that I had a customer looking at that bike. And I was on the computer just closing up, you know, I didn't get a chance to get out there real quick. If I did, it would have killed us both, obviously."
Warning added, "It's just one of those things that, you know, I live by the Lord, I guess the Lord said don't go chasing that customer because we would have been out there bullshitting he would have killed us both."

Bunnell Smash Image Gallery[nggallery id=48]