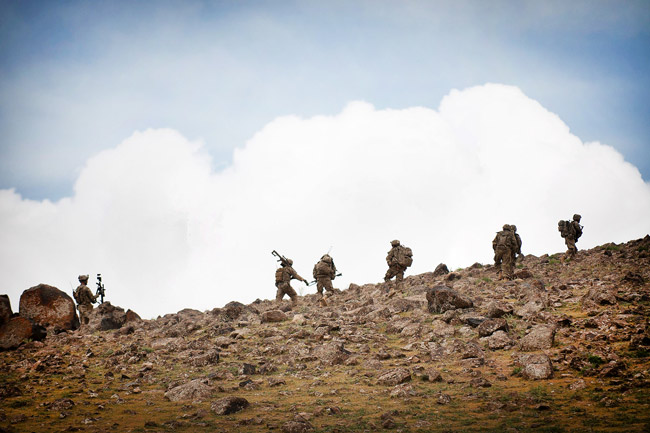 By Mary Jo Melone
When it comes to talking about the troops who have fought in Iraq and Afghanistan, hero is the most overused word.
It's not that the word, when used to describe those who fight for us, is wrong. Lord, no.
Hailing them as heroes is also a form of apology for the abuse soldiers suffered when they came home from the Vietnam War to a divided, angry country. American soldiers will always die in war, but they will never again be so mistreated at home.
That's the way it should be.
The problem, however, is this: when soldiers are declared heroes, those who have sent them to Iraq and Afghanistan let themselves off the hook.
In the middle of Memorial Day weekend, the Associated Press reported that 45 percent of vets are seeking disability benefits for the injuries they suffered in war. Amputations. PTSD. Disfigurement. The aftereffects of repeated concussions from IEDs. Nearly half of the two wars' veterans are in this sorry boat. That's an-all time record.
President Obama, like every official somebody at every Memorial Day ceremony in every town and city across the country, proclaimed that we will always provide for the care of these men and women. Of course, we will. No matter the cost.
The numbers may be so high because more and more wounded soldiers can be saved now; when battlefield medicine was not so sophisticated, many of these soldiers would have died on the battlefield. And, as the AP reported, veterans groups are pushing mightily for the wounded to get care.

It is impossible not to wonder, though, whether these numbers are so high because so many soldiers went back and back to the war zone in multiple tours of duty. We have a lean, mean fighting machine now, right? We also have an all-volunteer army, which means that we lack the men and women who could properly relieve these troops who are rightfully called heroes.
Like honoring these vets as heroes, this too is a legacy of Vietnam. The draft was ended because it helped divide the country. The existence of the draft added to the pressure on elected officials who often had never gone to war and were interested in their own political survival—never mind the survival of those who did the fighting for them. Exhibit A was President Lyndon Johnson, whose political career was destroyed by the conflict at home. So the draft was ended.
Fewer than one percent of Americans have fought in Iraq and Afghanistan. Except for the dollars and cents bled from the budget that we now so rail over, we are curiously divorced from these wars and their tragedy and passion. So are the politicians who sent these men and women into war. These troops have paid with their limbs and lives, but the president, this one and the last, and Congress, this past decade, have rolled merrily along.
This fact is as shameful as the abuse Vietnam vets took when they returned. This fact belies the declarations made by presidents, senators and representatives who call Iraq and Afghanistan vets heroes and who promise to care for their wounds. You bet these soldiers are heroic, but they are also being used, and that is the very definition of immoral.

Mary Jo Melone, former columnist with the Tampa Bay Times, is a writer in Tampa.