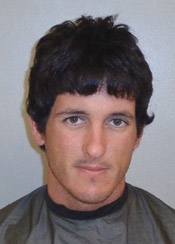 A domestic disturbance gave it all away.
At 2 p.m. Thursday (April 24), police responded to a disturbance call at 1636 South Daytona Avenue in Flagler Beach. That's the home of Hunter S. Watson, 24. While investigating the disturbance case, police noticed a golf cart that seemed out of place. A month earlier, a white EZ-GO golf cart worth $5,000 had been reported stolen from a fenced in construction storage facility at 141 Brookhaven Drive that belongs to Da Pau Enterprises. Though the cart had no VIN number, the one police found at the South Daytona Avenue address matched the one stolen from Da Pau Enterprises.
Before long, a swarm of police had arrived at Watson's house and crime-scene tape went up: there was more to the police matters than the disturbance or the golf cart. Having secured a search warrant, Flagler County Sheriff's detectives went to work on the property.
A detective had observed "numerous items in plain view on the property and immediately recognized these items as being stolen," Watson's arrest report states. The detective had previously been involved in the investigation of the thefts connected to what appeared to be the stolen objects, which included two large spools of wire.
One of those items was a Rainberg ACC solar panel valued at $5,000. The panel belongs to Palm Coast government. It was used in connection with the city's irrigation system. Palm Coast's Public Works Department reported the panel stolen in mid-January from a facility at 3000 Old Kings Road. A public works supervisor for Palm Coast went to the South Daytona Avenue address and personally identified the panel as the one that had been reported stolen.
Eventually, police had to use a truck to move the stolen property to the sheriff's office.
Watson was arrested and charged with two counts of grand theft, burglary and trespassing. Bond was set at $5,500. By Friday, Watson had posted bail.
"The City of Palm Coast is proud of its green initiative to provide solar energy for City gateway signage and landscaping," Bill Butler, the city's landscape architect, said in a statement, "so we were disappointed and frustrated by the thefts of our solar energy panels and electrical equipment. We were pleased to get a tip about the thefts, and we are extremely happy that the Flagler County Sheriff's Office has made an arrest and recovered some of our equipment. We would like to thank the Sheriff's Office for its quality police work! Now we're excited to get back on-track with using solar energy to light up our City gateways."