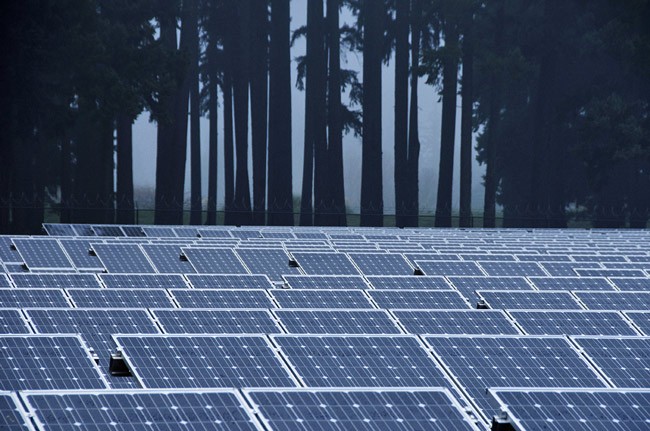 A new "pro solar-energy" coalition will push for its own ballot initiative as a way to counter a separate group's proposed constitutional amendment to expand the use of solar energy in Florida.
Consumers for Smart Solar, a group whose leadership includes two former state lawmakers, a Jacksonville tea-party founder and a former chairman of the Florida Public Service Commission, announced Wednesday that it will race to collect signatures to get on the 2016 ballot alongside the ongoing effort by a group known as Floridians for Solar Choice.
"We believe that (the Floridians for Solar Choice) amendment language will lead to a variety of unintended consequences that will hurt Florida's consumers," said former state Rep. Jim Kallinger, a co-chairman of Consumers for Smart Solar, during a brief news conference in Orlando. "Specifically, we believe that it will result in subsidies, higher taxes or user fees, and an unfair balance for consumers, meaning that some will pay more than their fair share to maintain the cost of the grid while others get a free ride."
Kallinger and other members of the new group described the proposal by Floridians for Solar Choice — now under review by the state Supreme Court — as a "power grab" by out-of-state solar companies.
Floridians for Solar Choice responded that the newest opposition "is a slickly developed campaign to potentially confuse voters" and said it believes the effort is supported by energy companies. However, Floridians for Solar Choice said the alternative proposal won't change its efforts to "open" the solar market in Florida.
"We're the grassroots, we're the people begging and asking for choice," Tory Perfetti, chairman of Floridians for Solar Choice, told reporters during a conference call Wednesday. "What this is, is an attempt by us to open up and give citizens further control of their own bills and have the ability to lower them. And anyone who is standing against this is representing the actual elite class which controls how much people pay in this state."
Floridians for Solar Choice is seeking to allow businesses to generate and sell up to two megawatts of power a day to customers on the same or neighboring properties. Two megawatts have been estimated as providing the daily needs of a typical Wal-Mart or residential communities between 225 and 714 homes.
Floridians for Solar Choice, which through June had raised $354,953, has estimated that it will need to spend up to $10 million to reach voters.
The ballot proposal by Consumers for Smart Solar would allow Floridians with solar equipment on their property to sell energy to power companies and "ensure that consumers who do not choose to install solar are not required to subsidize the costs of backup power and electric grid access to those who do."
Kallinger said his group had asked Floridians for Solar Choice to make some changes to its ballot proposal, but never got a response.
Floridians for Solar Choice counts among its members the Southern Alliance for Clean Energy, the Florida Retail Federation, Conservatives for Responsible Stewardship, the Ecology Party of Florida, the Evangelical Environmental Network, Greenpeace USA, the Sierra Club Florida, the Space Coast Climate Change Initiative and The Tea Party Network.
Consumers for Smart Solar, calling itself "a diverse, bipartisan coalition of business, civic and faith leaders," includes among its leaders former Florida Democratic Party executive director Screven Watson, former state Rep. Dick Batchelor, former Public Service Commission Chairman Matthew Carter, Florida State Hispanic Chamber of Commerce President Julio Fuentes and Billy Tucker, former executive director of the First Coast Tea Party.
Tucker described the tea party support listed by the Floridians for Solar Choice initiative as "not part of the Florida tea party movement."
The new group joins opposition to Floridians for Solar Choice that has come from Attorney General Pam Bondi, Florida Power & Light, Duke Energy, Tampa Electric Co., Gulf Power, the Florida League of Cities and a number of influential business groups.
Bondi has argued to the state Supreme Court that the Floridians for Solar Choice ballot language would be "misleading" to voters and "will leave voters uninformed and consumers vulnerable."
The court is expected to hear arguments on the ballot-language of the Floridians for Solar Choice proposal Sept. 1.
Both ballot proposals will have to collect 683,149 valid signatures to get on the November 2016 ballot. Floridians for Solar Choice has submitted 99,298 valid signatures, according to the state Division of Elections.
–Jim Turner, News Service of Florida