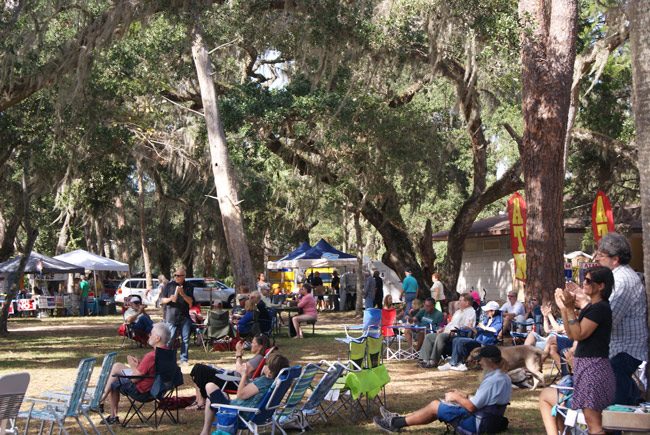 The 13th Annual Creekside Festival scheduled for this weekend–Oct. 7 and 8–at the Princess Place Preserve in norther Flagler County was postponed to November 11 and 12.
Flagler County officials made the decision after maintenance crews and event organizers toured Princess Place to observe park roadway conditions and onsite flooding: the area has been drenched by rains, first with Hurricane Irma, which saturated the grounds, then with last weekend's torrent, which flooded them, with possibly more rain in the forecast.
The Creekside festival is among the more popular big annual events in the county. It is organized by the Flagler County Chamber of Commerce, and is one of the chamber's more important fund-raisers. Weather has not been its friend in past years.
According to Heidi Petito, Flagler County's Director of General Services, Princess Place Preserve is currently closed to the public and has been since Hurricane Irma's arrival in Flagler County. Crews have worked for weeks cleaning up storm debris, and, unfortunately, this weekend's rainfall caused additional flooding. This includes two to three feet of standing water in the main festival area.
Princess Place is only one of the county parks affected. Three parks are completely closed because of floodwaters: Princess Place, Bull Creek Campground in western Flagler County, by Dead Lake (whose waters are swelled by the St. Johns River), and Haw Creek Preserve – Russell Landing. River to Sea Preserve, Shell Bluff Park, and Varn Park are partially closed.
Only the east, beachside portion, of River to Sea Preserve is open. Everything west of State Road A1A is closed. The southern portion of Varn Park, which includes the ADA walkover, is closed. The northern side of the park is open. The boat ramp at Shell Bluff Park is closed, but the remainder of the park is open.
"We have crews working hard to make the parks safe and enjoyable again," said County Administrator Craig Coffey. "We thank you for your patience."
Carl Laundrie, a former spokesman for county government, described conditions at the preserve in an appearance on Free For All Friday this morning, and spoke of his annual pilgrimage to the festival for the past dozen years. Every time, he said, he has conversations with first-time goers who are awed by the preserve, and say they hadn't known it was there.
"Our Creekside committee, which includes community partners, volunteers, County staff and Chamber staff, have put a considerable amount of work into making this year's event bigger and better," said Chamber President Jorge Gutierrez. "Nonethless, we appreciate and support the County's decision to reschedule and look forward to hosting the 13th Annual Creekside Festival during cooler, and hopefully dryer, weather in November. We are confident our sponsors, vendors, musicians, volunteers and guests will understand as well, and that they will join us November 11th and 12th."
The festival features live music on two stages, handmade art and crafts vendors, a kids' zone, old-time blacksmith demonstrations, hay rides, scarecrow decorating contest, historic hunting lodge tours, great food vendors and a beer garden.
Sponsors, vendors, musicians and volunteers are being notified of the date change and are encouraged to contact the Flagler County Chamber with any questions at (386) 437-0106.