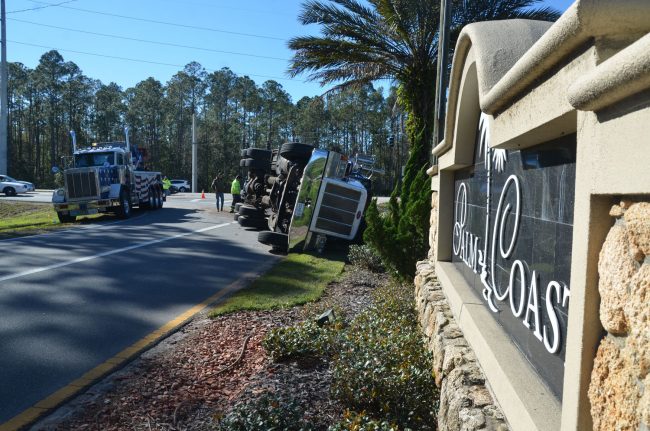 Last Updated: 5:19 p.m., with crash-report details.
A semi loaded with sod overturned at 1:27 p.m. today at the intersection of Palm Coast Parkway and U.S. 1, closing both eastbound lanes of the parkway. No one was hurt.
John Ross Crosswhite, 26, of Palm Coast's P-Section, was driving the truck north on U.S. 1. He was making the sharp right turn onto the parkway when the truck, a 2007 Peterbilt tractor trailer, overturned.
The traffic light was green as Crosswhite was approaching the intersection. "There was a southbound vehicle still making the left turn onto Palm Coast Pkwy and a northbound vehicle still stopped in the northbound outside lane," which Crosswhite was in, according to the crash report. Crosswhite "did not believe he would be able to stop before striking the stopped vehicle," the report continues. Crosswhite "attempted to make a right turn onto Palm Coast Pkwy to avoid a collision. [Crosswhite] was traveling too fast to make the turn," and overturned as a result.
In essence, according to the report, Crosswhite took evasive action to avoid more direct or serious injury to another driver.
The truck ended up straddling both eastbound lanes of the parkway, its cab facing east toward the Palm Coast welcome sign in the median. The clean-up was expected to take a couple of hours as crews from Roger's Towing, the Bunnell tower, were having to unload the sod first before righting the truck back on its wheels. Crews brought in a small loader for the task.
The truck is registered to Nicholas Castle of Bunnell. It sustained $5,000 in damages.
The Palm Coast Fire Department and Flagler County Fire Rescue responded, as did the Flagler County Sheriff's Office. The Palm Coast Fire Police was regulating traffic, with eastbound traffic having to detour to Commerce Parkway.
It was one of two traffic issues on Palm Coast Parkway this afternoon. Crews were also working to repair a non-functioning traffic light at Pine Cone Drive's intersection with the westbound lanes of the parkway. Sheriff's deputies were regulating traffic there.
The scene at Palm Coast Parkway and U.S. 1 was finally cleared just after 5 p.m., and lanes reopened.