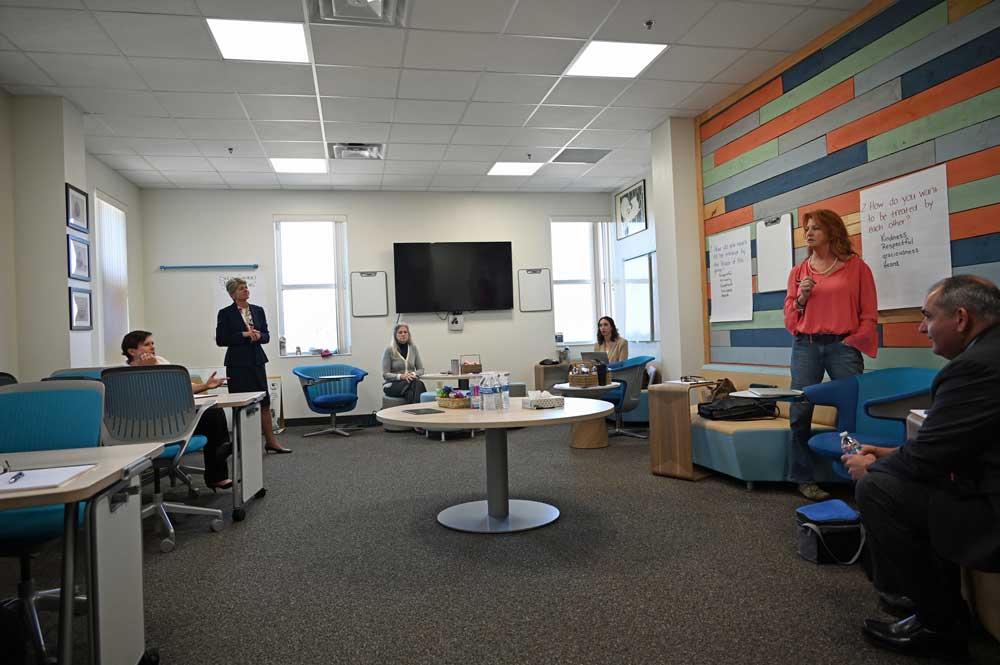 Near the end of today's three-and-a-half-hour "retreat" of the Flagler County School Board–an exercise intended to let board members get to know each other and their responsibilities a little better–Kristy Gavin, the board attorney, was going over the board operating manual about members' conduct when the language took Colleen Conklin aback.
Or maybe just back to the not-so-distant bad times that compelled a rewrite that included words like "personal animosity" and "hostility," "Do not disparage or speak about any staff in a negative way to the public or media," and other phrases more commonly associated with rules in juvenile lock-up than on an elected board.
"There may be things on here we don't simply need anymore," Conklin said.
The language reflected the acidity of the school board of the last few years, when Janet McDonald and Jill Woolbright were still members, when meetings often devolved into bedlam, when those two board members went after staffers (and helped get some fired), when relations between board members deteriorated beyond elemental trust and courtesy.
"This document was speaking to an old board," Conklin, who's been on the board since 2000, told her colleagues, three of them new: Christy Chong, Will Furry and Sally Hunt.  "It's not as contentious as it was, it's a different board." She went on:  "I'm reading some of these things and I'm like, oh my god, did we actually have to put this in writing?"
"We did, we did," Cheryl Massaro, who's now chairing the board, said.




When the board last went into "retreat," holding a day-long session in September 2021 with a state School Board Association facilitator in hopes of getting certified as a "master board"–a distinction for high-achieving boards–it not only failed. It devolved into open warfare and fabrications. It did not try again. Last November's election and its turnover was such a balm to the board that Conklin today called the panel "a zillion times better."
Today's session was also a zillion times calmer, straight-forward, and duller in the best sense: there was hardly any news but for the buried lede at the extreme end of the meeting, when Superintendent Mittlestadt reminded the board that her contract is up in four months, and that it might be time to let her know whether her contract will be renewed or whether she'll be renewed or whether, in the alternate, the board should "start to have those discussions because change is a ripple effect." Conklin was to bring up the matter at the workshop scheduled for this afternoon.
The "retreat" was not dull in the strict sense of the term: Gavin's and Mittlestadt's presentations were wonkish but lucid and, especially to the new board members, necessary. But it was blessedly, thankfully dull relative to its ugly predecessor.




"Everybody out there who's involved and interested in what happened with the school board is waiting for this board to explode. They're taking bets," Massaro said. "They are having a very hard time understanding that we are working really hard to get to know each other, to understand each other and most importantly, to listen to each other." She said she doesn't expect the board will revert to its pandemic-era behavior, and in fact for the 15 years between 2005 and 2020, it had been the more stable and drama-free local government boards. "I think that we can maintain the civility and be the effective board to move this district and academic excellence up," Massaro said. "That is our goal."
But she had no illusions: "Right now, yes, we're doing 5-0, 5-0, 5-0 right across the board. That's lovely," Massaro said of recent board votes. "It's not going to stay like that, it won't stay like that, it just won't, and that's okay. It's a good thing."
In full blue-helmet mode, Massaro may have been underplaying the reality of contemporary school boards in Florida and a few other states, where governors have unapologetically politicized the panels and used them as front lines in the renewed culture wars, restricting the right to read, restricting the teaching of the country's more scabrous history, restricting discussions of gender and parental roles even as they claim to be championing "parental rights," expanding religious expression in public realms and vastly expanding the use of public education dollars to subsidize private and religious education.
Those issues still dominate the state education agenda and consequent laws and standards local boards must follow. Lawsuits have multiplied (not in Flagler) as have gray areas, which give local residents from both ends of the political spectrum room to ask for more or fewer restrictions. The ongoing issue of whether to arm some teachers or staffers as added security may also prove delicate. The Flagler County School Board may not be about to explode. But it remains unquestionably divided along ideological lines, with Conklin, Hunt and Massaro on one side–and Massaro closest to the middle–and Furry and Chong on the other.




The divide has been muted so far. The first book challenge to be appealed to the board, which may not be far ahead, could change that: even today, Massaro had to quickly skirt away from a discussion that was heading that way. She was explaining how she would stop any member of the public attempting to quote a salacious book passage at a board meeting. Chong said no such book should be on library shelves to start with. Massaro pivoted to a different subject.
If the simmers are just under the surface, Mittlestadt had set the brightest tone at the beginning of the session, asking each participant to say something "positive" to start the day, and each in turn spoke of the happy anticipation of coming trips, reunions with parents, daughters or friends, sunny days, time with family. And in a nod away from past strife, Mittlestadt said: "We're not going there people. We work too hard. You work too hard to be elected. I've worked graciously this past year to get our district where it is. We are going to be a highly effective team. That's how I lead. I lead by example. I have super high expectations and sometimes I step on people along the way, but that's okay. I'll go back and pick them up. I promise I will.  But I want the most for every single one of our kids."
She didn't say it, but she implied it: she expects the same from board members. The Mittlestadt who in some meetings with the previous board appeared as if she were asphyxiating in a cave here seemed at ease and clearly less on edge with current board members.
They then moved on to what became in the main an orientation session for board members about board procedures, ethics, the Sunshine law, relations with the superintendent, effective dynamics in board relations. They gave one-word descriptions of their worst experiences in meetings ( "chaos," "disingenuous," "unstructured") and flipped to the reverse ("peaceful," "genuine," "collaborative") and to how they want board dynamics to be defined ("patience," "respect," "honesty" and so on).




They also talked about the word compromise which, curiously, generated some of the day's more animated discussion. The word didn't sit well with Furry. "The word can mean different things to different people," he said. So the board compromised and agreed to go with "common ground."
There were other notable discussion points, as when the members were surprised to hear that anonymous complaints filed with the district are not investigated (Gavin, the board attorney, said there's no way to investigate something without speaking with the complainant, and at times the district is targeted with anonymous complaints that go to each of the state's 67 districts). Hunt was eager to find a way to discuss certain topics, the handling of book challenges among them, in the context of less constricted workshop discussions (the board agreed to explore possibly more targeted or additional workshops).
And there were the usual complaints about the media and whether or how the district could ensure against misleading headlines.
The "retreat," attended neither by staffers nor by members of the public, took place on the third floor of the Government Services Building in a room called "The Beach," one of those spaces redesigned to downplay the angular rigidity of work, desks and chairs in favor of a more laid back look. It's furnished with a mix of  desks, couches and ottomans, a couple of individual cubicles and a snack table, and the kind of multicolor panels now found on the facades of highway-fronting apartment blocks to make them look less drab. But it did not have the desired effect of building cohesion. The seven participants ended up mostly splayed around the room's cardinal points, more distant from each other than they might otherwise be at a board meeting, in a living room or around a dining room table.
Perhaps out of caution informed by recent history, the superintendent had scheduled the session in such a way that it would neither require a full day nor risk extending beyond its allotted 200 minutes: a formal workshop was scheduled at three. The board adjourned from its "retreat" with just 15 minutes to spare.
Reader Interactions