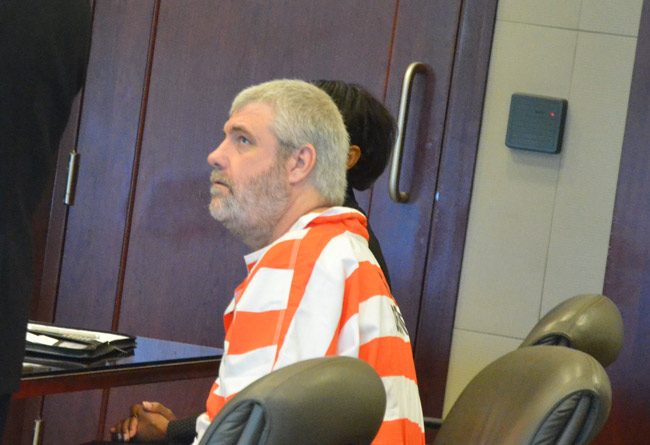 Pre-empting a move by the defense asking him to do so, Circuit Judge Dennis Craig today voluntarily recused himself from the re-sentencing ordered in the chronically complicated case of David Snelgrove, the Palm Coast man on death row for the better part of the last two decades for the double-murder of Glyn Fowler, 84, and his wife, Vivian, 79, on Bannbury Lane in June 2000.
Chief Judge Raul Zambrano will have to appoint a new judge—assuming Zambrano does not recuse himself.
Snelgrove, now 44, was found guilty of the murders two years later and after two recommendations of death from two different juries, neither one close to unanimous (7-5 and 84), he was sent to Death Row.
U.S. Supreme Court and Florida Supreme Court decisions have since invalidated his sentencing. Non-unanimous recommendations are no longer considered constitutional. Even though Snelgrove was himself in the process of contesting his sentence, he got two big assists from the Florida Supreme Court: first, a ruling that he must be sentenced yet again, with a full sentencing hearing before a new jury.
Second, and thanks to Justice Barbara Pariente, he may possibly have an evidentiary hearing that could render his sentencing moot. Pariente had actually dissented from the decision that ordered a new sentencing for Snelgrove—not because she was opposed to his being re-sentenced, but because she was opposed to his still being eligible for the death penalty. The reason: his intellectual competency to make him even eligible for the death penalty is too much in question. She said he should have a new evidentiary hearing on that score.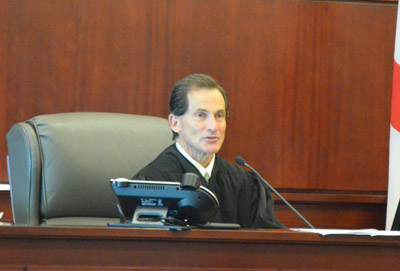 Whether he will or not has yet to be decided by a circuit judge in Flagler County. Until now, the judge handling the case here has been Craig. But Craig was an assistant state prosecutor at the State Attorney's Office from 1998 to 2011, which included the time of Snelgrove's trial-court prosecution.
Zambrano was in the same office. So was Circuit Judge Matthew Foxman, an expert on death penalty cases who sits in Volusia County. So was Judge Leah Case. So this last wrinkle in Snelgrove's case may be one more complication that has yet to be sorted out.
When last sitting on a status hearing in the case last August, Craig said he was uncomfortable about the idea of going forward with the case, with himself as judge, without hearing whether Snelgrove wanted him to do so, or to recuse himself. Snelgrove was not at that hearing, and Craig did not want to make a decision in his absence.
After waiting for nine days at the Flagler County jail, Snelgrove was present for this afternoon's hearing, which took all of five minutes.
"First order of business," Craig said to Matt Phillips, the division chief of the public defender's homicide unit and one of the attorneys representing Snelgrove, "did you talk to Mr. Snelgrove about my disclosure?" Craig asked.
"yes we did your honor, I've met with him now several times" in state prison in Raiford, Phillips said. "Mr. Snelgrove would respectfully request that you would recuse yourself and he could have a judge preside who was not employed by the State Attorney at the time in question."
"That's perfectly all right Mr. Snelgrove, no problems there whatsoever, that's why I wanted to bring you over in person," Craig said. "I didn't want to agree unless you were going to agree with me in person. So with that being said there's nothing else for us to do today."
Almost nothing.
Assistant State Attorney Jennifer Dutton asked for the defense to explain in writing why it was asking for the recusal. She said she did not find the defense's position regarding Craig's conflict of interest legally sufficient since Craig had nothing to do with the case in the early 2000s.
But Craig pre-empted that possibility. "It was based on my disclosure, I pretty much offered that I would if he just asked," Craig said.
Phillips noted that Zambrano may have the same conflict as Craig, making his involvement in the case potentially questionable.
"Well, I'll leave it up to him to decide if he wants to have somebody else decide who to assign it to, I'll let him decide," Craig said, though Craig is bound to send him the order. The two judges have also had discussions about the whole issue.
Snelgrove himself did not speak during the hearing, though he'd been quite animated before the hearing started, speaking with his attorneys about various things. "I was shocked. They woke me up in the middle of the night and told me I had to go to court the next day," he said of his apparent latest transfer from Death Row.
There was also his concern to make it back to Death Row in time for a Death Row Christmas party next Friday. It's organized by several religious and civic groups for inmates.
"There's about 70 or 80 of them," Snelgrove said, "they come to prison, they basically come on each wing, sing a whole bunch of Christmas carols and give you a big old bag of goodies, so that's basically what it is. It's something we get to have but once a year."
It appears that he will make it back in time.