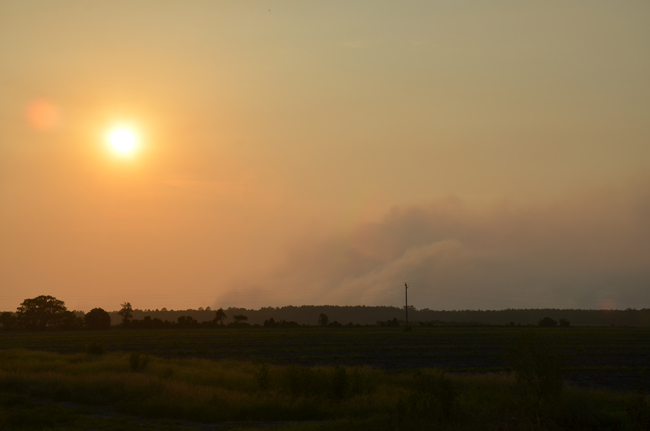 Thick smoke has been wafting over areas of Palm Coast and Flagler County Thursday (May 22), but only from controlled burns in Clay and Putnam counties, authorities say. No fires have been spotted or reported in Flagler County and Palm Coast.
The Florida Highway Patrol is monitoring a prescribed burn in the area of State Road 100 and Etoniah State Forest (Florahome) in Putnam. That burn may affect traffic in that area. Motorists are encouraged to use caution when traveling there. Visibility may deteriorate quickly due to smoke or fog type conditions, especially at night and in early morning, with smoke mixing with fog. Drivers are reminded to reduce their speed as necessary to avoid a collision and use their low beam headlights in order to adapt to changing weather conditions.
"It got real thick real quick" in Palm Coast this afternoon, Flagler County Fire Chief Don Petito said of the smoke. Earlier in the day, Fire Flight, the county's emergency helicopter, was up in the air. "We did do a recon," Petito said. "There's no fire in our county."
Nevertheless, heavy smoke conditions make it difficult for certain people, children and the elderly, to breathe comfortably. In such conditions, health officials recommend that those most affected stay indoors and run the air conditioning until conditions improve.
The fire season has been quiet so far, with rains keeping the drought index at 158 in the county, on a scale of 800, with 800 being the driest and zero being the point of saturation.
"I get real happy when I hear it's not in this county," Petito said.