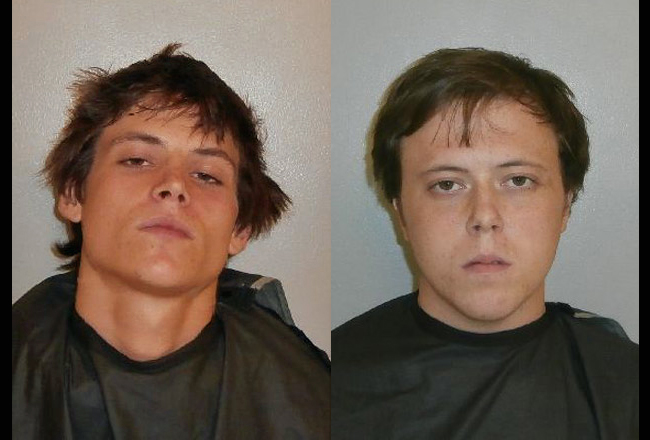 Nov. 15 update: The fourth suspect charged in connection with a shooting in Palm Coast's LL Section on Nov. 4 surrendered to officials at the Department of Juvenile Justice facility in Daytona Beach last night, the Flagler County Sheriff's Office reported this morning. An arrest warrant had been issued for Raymond M. Spencer, 16, of Palm Coast in the days following the incident, charging him with principal to aggravated battery with a deadly weapon. He is currently being held at the Juvenile Justice facility where he awaits a court hearing.
The previous story is below.

3 Suspects Arrested in Trevor Blumenfeld's Shooting in What Police Term a Pot Deal Gone Bad
November 8–The Flagler County Sheriff's Office arrested four people—two adults, two teenagers, all from Palm Coast—in Monday evening's shooting of 19-year-old Trevor Blumenfeld on Llovera Place, as Blumenfeld was skateboarding. The sheriff's investigation points to an attempt by the four to rob Blumenfeld of marijuana. The investigation portrays Blumenfeld, who remains in critical condition at Halifax hospital, as a drug dealer.
Mathew Leslie Smith, 18, of 5 Courtney Court, is charged with attempted felony murder and aggravated battery with a deadly weapon. Smith is accused of being the man who fired the shots at Blumenfeld. One bullet struck Blumenfeld in the right arm then traveled into his chest, collapsing a lung and ending up between the liver and diaphragm. Smith was arrested and is being held at the Flagler County jail on $200,000 bond.
Matthew D. Morris, 20, of 39 Pershing Lane, and Cameron M. Parker, 15, of 51 Woodlawn Drive, are charged with accessory to aggravated battery. Morris turned himself in at the jail and was released on $20,000 bond. Parker was arrested. Raymond M. Spencer, 16, of 8 Willoughby Place, is charged with principal to aggravated battery with a deadly weapon.
Parker is in custody and will be transported to the Department of Juvenile Justice facility in Daytona Beach. Detectives believe Spencer has fled the State and may be headed to Texas.
Blumenfeld was found following the shooting bleeding severely from his wounds at the front door of his mother's home on Llovera Place.
Based on the suspects' arrest report, the narrative of the events that led to the shooting is as follows.
Earlier the day of the shooting on Nov. 4, Smith, Parker and Spencer were at Parker's house on Woodlawn. Spencer said he had a "lick" for an ounce of marijuana. He and Smith began to speak with Blumenfeld about buying pot.
Spencer, Smith and Parker, according to the report, cooked up a plan to steal the pot from Blumenfeld. Parker told investigators that the plan was for Spencer to grab the marijuana from Blumenfeld's hands and drive off. The suspects planned their heist down to the seating arrangement in the car.
The three suspects contacted the fourth, Morris, to give them a ride in order to pull off the plan. Before Morris's arrival, Parker claims Smith went to his truck and retrieved a gun. Parker told him to put the gun away, and thought that Smith had done just that.
Morris drove a black 2008 Ford Focus. Cameron, M. Smith and Raymond got into Morris' vehicle. Morris drove. Spencer sat up front. Parker and Smith sat in the back. They drove south by way of Pine Lakes Parkway, Commerce Boulevard, US 1 and then up Belle Terre Boulevard, finally stopping on Lloyd Trail.
During the drive, the suspects told Morris, who had been unaware of the full plan until then, that they would be stealing the pot out of Blumenfeld's hands then drive off, according to the arrest reports.
Blumenfeld told them of his location by phone. He was near the intersection of Lloyd Trail and Llovera Place, where the shooting took place.
According to Parker, Spencer grabbed for the marijuana but Blumenfeld didn't let go and asked the suspects if they were trying to rob him.
That's when Smith, still in the car and sitting behind Spencer, took out the gun, according to the report, pointed it at Blumenfeld "between Raymond's head and the side of the vehicle," and fired one round. He missed. Blumenfeld ran. Smith reached outside the car and fired two more times, hitting Blumenfeld once.
The four suspects then fled towards Belle Terre Boulevard. Red-light cameras and Morris's testimony would subsequently trace their route—to State Road 100, I-95 north, Palm Coast Parkway and back to Parker's house. Smith, according to the report, had the suspects "check" the vehicle before leaving the scene, and as the four drove away, "Smith made a comment of another drug dealer down that he does not have to worry about."
Meanwhile Blumenfeld knocked on the door of his house. His mother, Sue Harris, opened. He told her he'd been shot. He collapsed and lost consciousness.
When deputies arrived at the scene, they recovered one spent Blazer 380 auto shell casing near the intersection of Lloyd Trail and Llovera Place. A blood trail led from the intersection to the victim's house at 9 Llovera Place. A clear bag containing one ounce of pot was located in the bushes near the front door of Blumenfeld's home. Blood was also located on the outside of the bag. A canvass of the area located a security camera, whose video enabled investigators to zero in on the black Ford Focus and its tag number.
"Our people did a tremendous job securing the scene and conducting a thorough investigation into this incident," Sheriff Jim Manfre said.
If you have any information about this incident or Raymond Spencer's whereabouts, please contact Crime Stoppers at 1-888-277-8477. You can remain anonymous and may be eligible for a reward of up to $1,000.