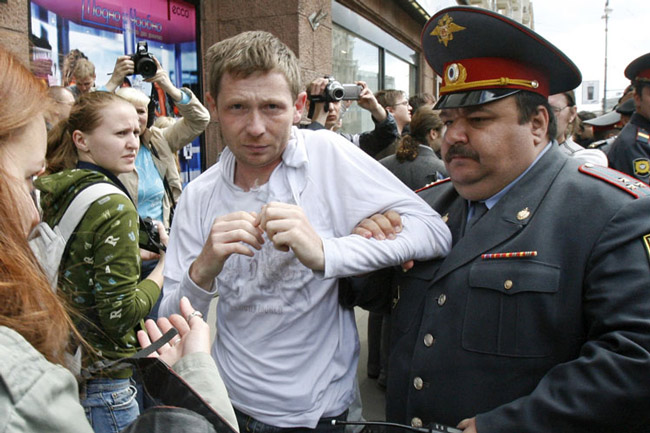 Palm Coast, Bunnell and Flagler Beach are in the clear: two of the three have no sister cities, and Palm Coast's is Liberia, the white-graveled in Costa Rica's northwest. But Equality Florida, the gay-rights organization, is asking the more than half a dozen Florida cities with sister cities in Russia to suspend those mostly symbolic ties for now, in protest against rising anti-gay violence and the enactment of strict anti-gay legislation.
Equality Florida's move is part of a broader movement to boycott Russian products as well as the winter Olympics in Sochi, Russia, in February. So far, the movement is limited to individuals and advocacy organizations. Governments and businesses are not signing on.
Gainesville, St Petersburg and Tallahassee, each of whom has a sister-city relationship with a Russian city, are reviewing Equality Florida's request.
"One important goal of the Sister City relationship is to encourage travel and cultural exchange amongst the citizens of our cities," Nadine Smith, executive director of Equality Florida, said. "The anti-gay laws and lawless violence now being encouraged in Russia negate this promise, not only for Florida's LGBT citizens, but also for all who believe in equality, diversity and tolerance."
In a letter to the St. Petersburg city government—whose sister city is St. Petersburg, formerly known as Leningrad—Smith wrote: "Over the past year, Russia has passed several appalling laws aimed at dehumanizing gay, lesbian, bisexual and transgender (LGBT) people in Russia and abroad. First was the ban prohibiting gay couples, or any couple or single parent living in a country with marriage equality, from adopting a Russian-born child. Next came a law allowing law enforcement to arrest tourists that are suspected to be lesbian, gay or even "pro-gay" and detain them for up to two weeks. Most recently the "gay propaganda" law was passed that said anyone organizing a Pride parade, any health official distributing information regarding safe sex between same-sex partners, or anyone talking to a child under the age of 18 about anything LGBT related can be subject to arrest or fine."
Smith noted that the "gay propaganda" law was conceived in St. Petersburg (the Russian version).
The organization launched a petition encouraging Floridians to sign and pressure cities to put their relationships on hold, presumably until Russian law takes a more tolerant course.
"By continuing Sister/Friendship City relationships with Russian cities, we are turning a blind eye to the atrocities that are occurring in Russia," Smith said.  "It is time to take action, and in doing so, to let the Russian government know that their treatment of the LGBT community is unacceptable."
The Sister Cities program is a creation of the Eisenhower administration. It was conceived at the time as a way to create cultural ties and diminish tensions between countries that may have been at war, and that—like the United States and the Soviet Union at the time—were locked in a cold war.