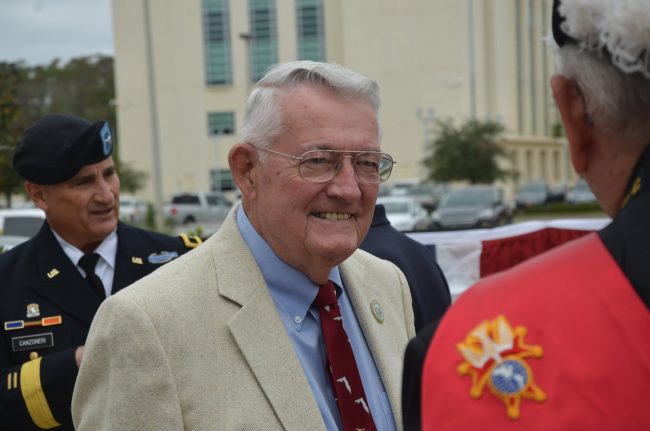 It was gray and chilly and a bit windy this morning at the flagpole in front of the Government Services Building, where county government hosted the Veterans Day commemoration before a couple of hundred people. Sunshine and warmth would have been out of place.
Falling in early November as it has since the end of World War I, when it started as Armistice Day a year after that genocidal slaughter of a whole generation, Veterans Day needs the gray skies, the chill, the light wind that keeps knocking halyards against flagpoles. It started in 1919 as a day of melancholy silence to mark the silencing of guns after four years of the most organized mass murder the world had seen until then, and to find "solemn pride in the heroism of those who died in the country's service," as Woodrow Wilson described the day that first year.
Wars haven't stopped churning out veterans for a century since the war to end all wars: the United States is right now engaged in the longest war in its history, in Afghanistan, which last Oct. l 7 passed the 16-year mark, with no end in sight, little gained (if anything), and 3,500 U.S. military and civilian contractors dead: Stephen Cribben, a 33-year-old Green Beret with 15 years in the military, was the latest to be killed just a few days ago in Logar, a province in east-central Afghanistan as foreign to Americans today as it was 16 years ago.
Despite its continuing ravages the war has become so much like background noise that Army National Guard Brigadier General Mike Canzoneri didn't mention it in his keynote address at the ceremony this morning. He spoke of the million-strong military, a quarter million of whom serve abroad, of the 100 or so members of the Florida National Guard helping hurricane recovery in Puerto Rico right now, of the "divisiveness" going on in the country and "the bad actors" in the world. Referring to veterans he asked his audience to "give a thought to them, to their families." But no words for Afghanistan or the 154 Floridian soldiers killed there since 2002.
The eloquence of silence came later, when the Flagler County Veteran of the Year was announced.
His introduction, delivered by the Veterans Advisory Council's David Lydon but written by the Flagler County Historical Society's Mary Ann Clark, who nominated him, was like an unfurling of clues that to unmasked him long before his name was spoken: " He moved away from the county in 1952 and returned to live here permanently in 1993. Florida Army National Guard. U.S. Army Reserves. U.S. Air Force Reserves. Active duty from January 1963 to August 1974 and May 1975 to February 1979. Vietnam Service Medal. Post Commander. Life member of the Veterans of Foreign Wars, and a very long list of civic and civilian leadership posts, notably at the county's historical society and as vice chairman of the committee's centennial committee: Capt. Sisco Deen.
"This is indeed an honor. Thank you Mary Ann Clark, president of the Flagler Historical Society," Deen said after accepting his honor. But his voice broke, and that's all he could say just then. He would be more composed a little while later during a brief interview, and this afternoon at Flagler Beach's Veterans Day ceremony, where he delivered a prepared speech, which appears in full below.
"I couldn't talk," Deen, 77, said. "I've never been like this much before where I go to say something and emotionally I couldn't talk." It's not that he was surprised: he was told of the award last week. But in front of today's crowd, of fellow veterans, of boy scouts (he was once a leader), of girl scouts, of elected and other public officials, he was overcome.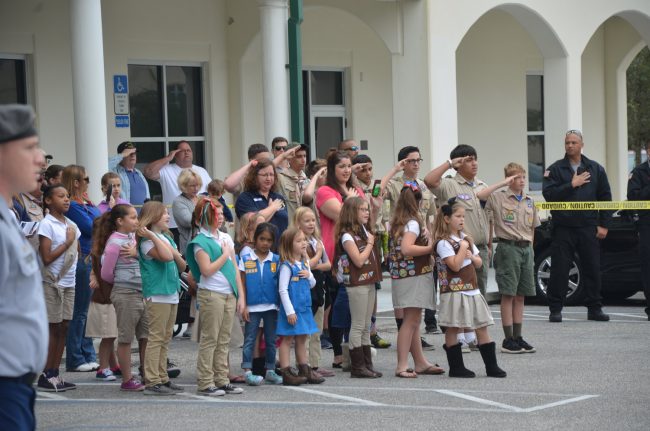 He spoke of his service's highlights. "Service-wise, Vietnam, a good group of guys. I ran a phot-documentation team, so when you see movies and you see like napalm dropping from airplanes, somebody had to shoot that. It wasn't me, I didn't shoot, I didn't even get near a camera. What I actually did is I supervised a team, each team had a captain in control, and operated out of a particular office. They operated out of mine, which was a public affairs office. It was very rewarding. It lasts. It's a history. When you look at old television, there it is." (Think about that as you watch Ken Burns's new documentary on the Vietnam War, original footage from which was very likely shot by Deen's team.)
It was not a war he supported. "I wasn't too much of any wars," he said. "But sometimes you have to do what you have to do, and also sometimes we get involved in things which we shouldn't be in. But I signed the paperwork. I was there. I went."
He ended the brief interview by taking out a sliver of paper on which he'd written the final paragraph of his remarks for Flagler Beach this afternoon. And he read, his voice again breaking as he spoke the final phrases: "In closing I would like to just ask you to remember one thing when you leave here today: A veteran, whether active duty, retired, national guard or reserve, is someone who, at one point in his or her life, wrote a blank check made payable to The United States of America, for an amount of up to and including my life."

Sisco Deen's Complete Speech at Today's Veterans Day Ceremony in Flagler Beach:
I have been told that the secret to a really good presentation is to have an interesting beginning, an interesting closing, and to have the time fame between both, short. I intend to do just that today.
Veterans Day: A day to honor American's Bravest Sons and Daughters who answered the call to arms either voluntary or by a written notification from our government and in doing so, made our county a better nation and themselves a better person.
For my brothers and sisters who served in the armed forces of the United States of America, everyday is Veterans Day. For the rest of the nation, it is celebrated on November 11th.
Veterans Day originated as Armistice Day on Nov. 11, 1919, the first anniversary of the end of World War I. I can still remember my 4th grade teacher at Bunnell Elementary School, Mrs. Emma Murray, pounding it into our heads that the armistice ending World War W I was signed on the 11th hour of the 11th day of the 11th month of 1918.
Our Congress passed a resolution in 1926 for an annual observance of Veterans Day and on November 11th 1938 Veterans Day became a national holiday.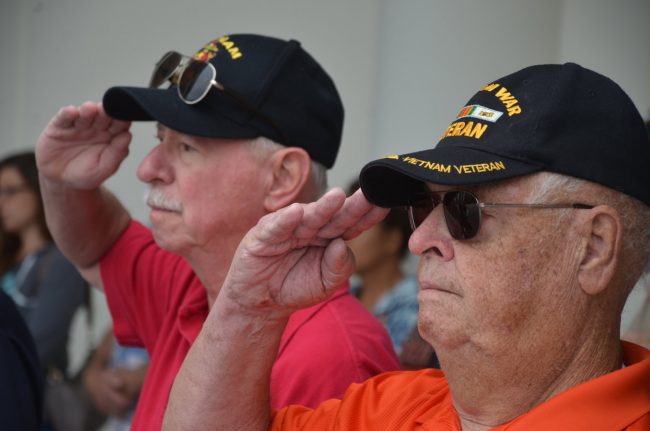 Flagler County is Veteran Friendly: We are gathered today in the Flagler Beach Veterans Memorial Park. In December 1972, Flagler Beach City Commissioner "Bebe" Moody, a U.S. Navy Veteran, at the request of local chapters of the American Legion, Disabled American Veterans and the Veterans of Foreign Wars, made a motion, which carried unanimously, to officially name the city park the Veteran's Memorial Park. The park itself has been here since the 1920's. I played here as a child in the early 1940's. Our beach house, which still stands, is two blocks south.
The first veteran's organization formed in our county was the American Legion.
In March 1927, twenty ex-service men of World War I got together with a number of their comrades from Palatka and Daytona Beach, who helped them form the Dancy Miller Post of the American Legion in Bunnell. That post is now Flagler County Post 115.
Dancy, for whom the first American Legion Post was named, was born in the settlement that was to become the City of Bunnell on September 2, 1890. He farmed with his father before enlisting in the Navy in World War I. He died of Meningitis in 1918 while stationed at Norfolk, Va.
Other veterans organizations that are active in our county today are: the AMVETS, the Disabled American Veterans, the Jewish War Veterans, the Marine Corps League, the Military Officers Association of America, the Military Order of the Purple Heart and the Veterans of Foreign Wars.
I mentioned that for Veterans, every day is Veteran's Day. Veterans Day is very personal to me. It has been a tradition in my family that all male members serve at least one tour of duty in the military forces of our great county if they are physically able.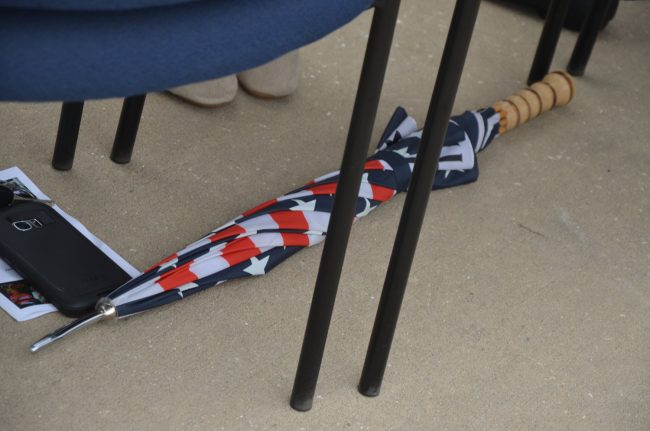 I trace my military heritage back to the American Revolution. My 4th great grandfather Nathaniel Sisco served as a private in the New Jersey Troops of Horse and my 5th Great grandfather Phillip Deen served in Coleman's Company, 10th North Carolina Regiment.
Three of my great great great uncles served in the Civil War. Lorenzo Booe served in Company C, 63rd Indiana Infantry and was muster out at the end of the war; Martin & Samuel Deen served with Company F, 47th Georgia Infantry, and both were killed in action on John's Island, S.C., on July 9, 1864.
My Great Uncle, former Flagler Beach City Commissioner Otis Magee served in the Army in World War I.
During World War II my great uncle, Chief Petty Officer James Brazier Booe, who served as Bandmaster on the USS Oklahoma, went down with his ship on December 7th 1941 at Pearl Harbor and my Uncle, Captain Joy Monroe Deen, a B-26 pilot, was killed in action over France on July 19, 1944.
My father, Claude Sisco Deen, who served on the Flagler County School board, served as an Ensign in the United States Merchant Marines and my Uncle, Lt. Cmdr. Duane Deen, who served many years as Flagler County Judge, served in the United States Navy.
I served two tours in the Vietnam Theater of operations and my three sons, Marine Major Devin Deen, Florida National Guard Specialist 4. Brian Deen and Florida National Guard Private First Class Sisco Deen all served our country during the Persian Gulf period.
Our United States troops are presently deployed in hot spots around the world, including places like Iraq, Syria and Afghanistan. And though the geography of war and the method of our battles have changed since I retired from military service, the meaning of service has not. We must always remember and honor those who are serving or have served and dedicated their lives to our county as we are doing in Flagler County and elsewhere in our county this weekend.
In closing I would like to just ask you to remember one thing when you leave here today – A veteran – whether active duty, retired, national guard or reserve – is someone who, at one point in his or her life, wrote a blank check made payable to "The United States of America," for an amount of "up to and including my life."
My Brothers and Sisters in Arms thank you for serving, protecting and keeping our great county safe. I salute you.