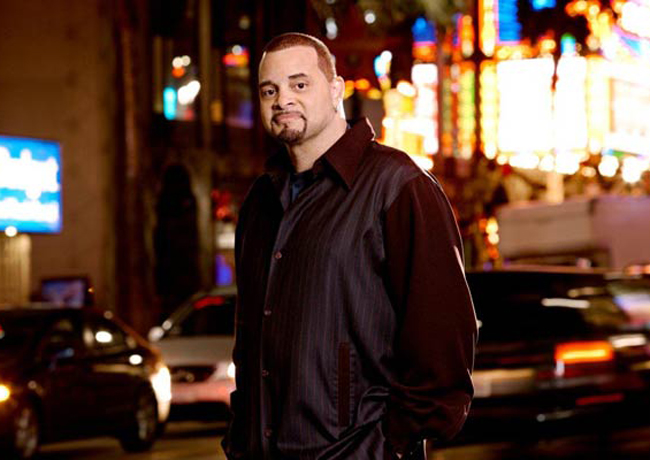 Sinbad was six or seven when–as David Atkins of Benton Habor, Mich.–it occurred to him that comedy was something he could do for a living. But there were all sorts of other outrageous activities he dreamed of, with a famous name to tag on each endeavor. Someone for whom he could be the heir apparent. He wanted to be Jacques Cousteau and swim with the sharks. Or a famous race car driver like Mario Andretti. He wanted to climb mountains and play in legendary bands.
At the Flagler Auditorium
---
The Ten Tenors on Broadway at the Flagler Auditorium for two back-to-back performances, Saturday April 5, at 3 and 7:30 p.m. Tickets are $42 for adults and $32 for students. For more information, visit the auditorium's website or call 386/437.7547.
Click On:
---
"I had a wild imagination. I was all over the place," he says. And he claims to have done all that "in one form or another."
Ultimately, he chose Sinbad the sailor to emulate, the Thousand and One Nights' version of the Odyssey. It's not hard to imagine how he developed such an admiration for the frequent sailor. "He took many journeys," Sinbad said in an interview this week. "He never lived in one place, and I never wanted to live in one place. He was equally comfortable with kings and queens. He didn't care who he was working with. And he was loyal to his people and his people were loyal to him. I said, I like this dude, man."
"Sinbad" the sailor, at least the mythologized version, came across many magical places, monsters, and other assorted phenomena in his fantastical voyages. Sinbad—the comedian—even while approaching 60,  can relate. (In 2007 he even died and "rose from the dead," as he told the Associated Press after Wikipedia reported that he'd died.) "I believe in magic, man. You always got to leave room for magic. Do your thing and leave room for magic to happen—because it will happen. You got to leave room for the things you don't see. You have to believe in things. You believe in oxygen. You believe in air. You believe in gravity. Well, believe in the bigger things."
Moreover, the Sinbad of legend was three-dimensional, and today's Sinbad—the comic, the David Atkins alias—liked that, too. "He had a little good and bad in him. He was neither good nor bad."
That about sums up the comedian himself, lest someone should misinterpret his name. Of course, we know the shtick that would ultimately land Sinbad in a stellar career. As a comedian, he's a pretty lunar type dude, and he parachutes into the Flagler Auditorium tonight  at 7:30 p.m., a first for the Auditorium.
It's hard to pin the man down, or pigeonhole him, and his profession doesn't define him. "Comedy, it's a small part of your life. It's a piece of you— it's not all of you. That's not my defining moment in time," he says. "My show changes everyday. The world changes everyday. I just change with the world." Just like the news, he says.
So what does define the man? The answer is characteristically honest. "Not dead yet. So I don't know."
One thing that does characterize his comedy is that it's "clean," as the euphemism for cuss-less routines goes: the Flagler Auditorium has yet to take the leap into anything more daring than G-rated entertainment. For Sinbad, the approach has nothing to do with growing up the son of an ordained Baptist minister.
"I was dirty when I started but really I was just a bad Richard Pryor imitation," he says. "You know what man, we're trying to just be something we cannot be. I'll be as bold, as daring, I'll just use different language. In fact, maybe more people will come and see my show because of the language I use." When it comes to vulgarity, "What words haven't we heard already?"  There's nothing "soft" about his comedy, nor was there anything "soft" about his preacher dad, who was an ex-boxer and worked in a factory for much of his life.
Ultimately, however, he builds his comedy around ordinary audience members' lives. "I talk about life as I see it, and I connect with people," he says. He actually asks audience members questions about their lives and then provides them with the answers, opening up a direct dialogue.
What of the "hit em in the face" label? "Man, that sound like a publicist's word. My thing is this, when I say something, I I'm completely honest, and I say what I feel, but it's funny."
The application, or "truth," of magic, does much of the heavy lifting for his improvisational style. "I believe it takes care of itself when I walk out," he says. He thrives on spontaneity.
The more he talks about his process, the more it seems his comedy is dictated by reality rather than metaphysics, a reality drawn from his life. "I think the main requirement of the comic is to mess up a lot of stuff," in essence, to fail a lot, he says, as he has.  (Earlier this year TMZ reported that he'd filed for bankruptcy for the second time, owing $11 million against just $131,000 in assets, including over $8 million in back taxes.) He played  college basketball and joined the military—from which he was ejected, for not following the rules–though the military was responsible for getting him his first gig at an Air Force talent show.
The downside of doing stand-up full time—his first, well actually his second love, after music (he's in a soul and funk band)—is that he's currently out of the movie business, which he'd always enjoyed.  "Time comes around. You just wait for your time to come back around," he says.
Sinbad's never been much for the critics. In 2004 Comedy Central ranked him one of the 100 greatest stand-up comics of all time. The magazine Maxim, however, in 2006, voted him the "worst comic of all time" (not that Maxim hasn't done its best to rank as one of the worst magazines of all times with every issue).
The truth about comedy, of course, is that it masks lots of failure, and sometimes depression. A fellow comedian and actor Mark Curry credits Sinbad and Bill Cosby for convincing him not to commit suicide, by making him laugh. The ultimate value of comedy, Sinbad says, is its ability to resuscitate. "They've done so many studies on it. It's hard for you to be depressed if you keep a smile on your face, even if it's not real," he says. "Sometimes all you got left is laughter. If they can't take that, you're a wealthy person."

Sinbad, one night only, December 19 at 7:30 at the Flagler Auditorium. Tickets are $39 for adults and $28 for children. Call the Auditorium box office at 386/437-7547 or visit the auditorium website.