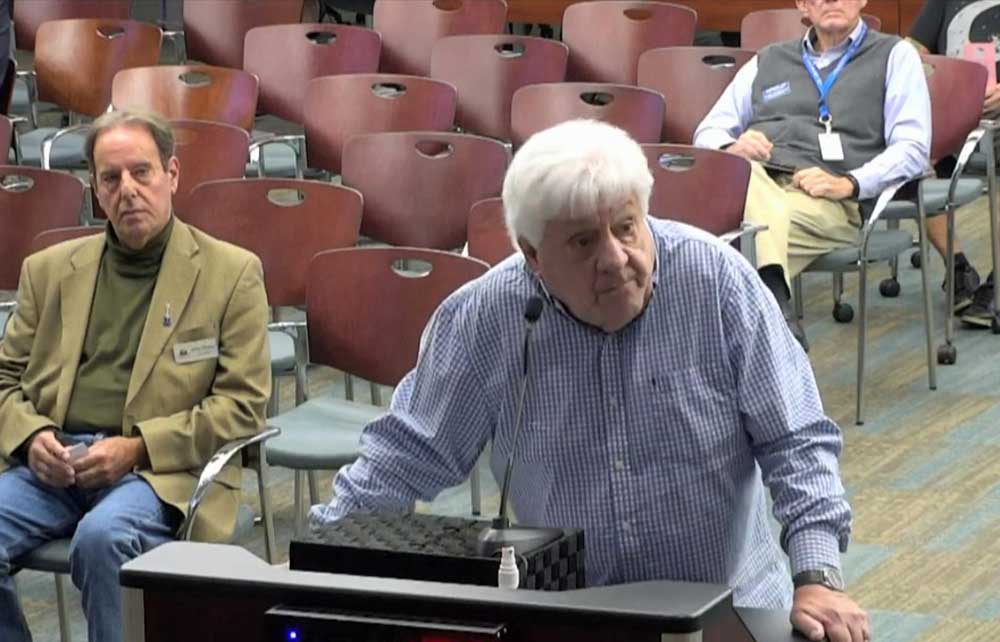 A few days after Palm Coast City Council member Ed Danko called a constituent a "piece of crap" for allegedly being an atheist and questioning the council's proposed invocation policy, which he originated, several people addressed the council this morning, mostly to recommend silence over invocations. The council is not voting on the issue before April. (See: "In Riveting Discussion on Prayers at Meetings, Palm Coast Council Defers to 'Neutral' Caution.")




Rabbi Merrill Shapiro, a 17-year resident of Palm Coast, described himself as a "very big advocate" of prayer and urged council members "to spend a half hour before each meeting in the back room on their knees seeking guidance from their respective understanding of God, but not to bring it into the public meeting. It is after all divisive. We are sufficiently divided." (Shapiro made similar points in a column on this site last week.)
He urged the council to consult with local clergy, theologians and religious experts, not just with the city attorney, who has been drafting and redrafting the policy, as the proposal could have blind spots otherwise. Speaking of the Jews of the community, he said any reference to Jesus would be offensive since, in the Gospel according to John, he calls Jews "liars and satanic murderers at the same time." Instead, Shapiro urged the council to stick with the recently invoked moment of silence.
He was followed by Mike Cocchiola, who asked "why, all of a sudden, does this council need to pray out loud? Is there something you're not doing? Or you're not doing well, that prayer here in a public house, the house of the public, will help you make better decisions? If you're making bad decisions, tell us now. We're not sure that prayer is going to help you make those decisions." Referring to council members' and individuals' remarks last week that they would not pray to "false gods," Cocchiola asked: "How do you make those choices as to whose God is right?" (the choice alone being a form of establishment forbidden by the First Amendment.)




As for those who do not believe in a god, Cocchiola continued, "are they to be marginalized? Are they to come to this council and asking for equality, asking for representation, but thinking that–well, I don't follow their religion. I don't follow their God. What am I going to say to get their attention? Why would they even pay any attention to me at all? So I would ask that you do answer that question: why, and then answer the question: To which god? Because if you have a couple of people already on the council who are saying I will not pray to false gods, what are they going to do if somebody from the Hindu religion, somebody from the Jewish religion, somebody from any religion, who may not exactly believe what you do–are those two members going to get up, turn their backs? Are they going to, in their minds, disparage the speaker?"
The answer to that question isn't a mystery, as far as at least one of those council members is concerned. After Danko received the email Cocchiola sent all council members on March 17, raising questions about the proposal and suggesting, "respectfully," to stay with a moment of silence, Danko replied: "I fully disagree with you. You're an atheist and I don't care how you try to disguise it. Take your left-wing socialist agenda and put it where the Sun don't shine. I could care less about your communist beliefs. You are a total liberal piece of crap."




Danko is at the origin of the invocation proposal. He explained in an email to FlaglerLive today: "Mike and I have a history of going at each other over issues, just go back and read his comments about me on Flaglerlive for an example. Doesn't mean I don't personally like him, just means we very strongly disagree at times and this is one of those times. Some issues we will never agree on and we will piss on each other over."
"Does this mean we're not friends anymore?" Cocchiola had written Danko back. "Anyway, thanks for your erudite response." He said he'd see him Tuesday (today), and capped his email with a suggestion: "Take your meds."
Danko was more amenable to Rose Cregan, a constituent who'd written council members proposed invocations, also by email. "I fully support prayer at our city Council meetings," he told her, urging her to show up with friends on April 4, when the council is expected to vote on the proposal, to lend her support. "I need all the support I can get to make this happen."
Last week, when the proposal–written by Neysa Borkert, the city attorney, at the council's request–was first discussed, five people addressed the council, all in support of an invocation in some form. Today, it was the reverse, with a half dozen opposed, one of them suggesting that a moment of silence could be paired with recognition for "all of our police officers, firefighters and especially our military."




Council member Cathy Heighter, who has been torn about the invocation policy, leaning toward a moment of silence, was particularly appreciative of that proposal.
"Our country was founded by immigrants who fled their countries in order to have freedom of religion," Carol Gunthorpe, a Palm Coast resident of 21 years, told the council. "As such when they came here, they wanted to ensure that that freedom of religion would always be maintained. As such they set up a system of strict separation of church and state. You are elected officials who represent a diversity of population. As such, you need to be sensitive to the needs of all of your constituents. I suggest that prayer is inappropriate here. Is the wrong venue for religious practices."
Two others spoke against starting meetings with invocations, one of them noting the exclusionary aspect of inviting those who don't want to hear the invocation to leave the room: "This is exclusionary and not fair to those other religions and to non believers," Donna Harkins, a 25-year resident, said. "The suggestion that there will be time for those who aren't comfortable with the reading of an invocation to leave the room and then return upon its completion is ludicrous. For people to have to get up and leave a room and then return is again exclusionary and just silly." She suggested the council members pray in their car on their way to the meeting.

invocation-policy