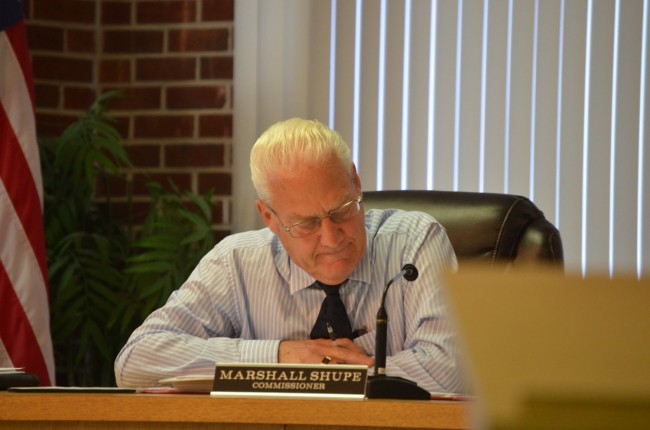 It was wrestling time again at the Flagler Beach City Commission Thursday evening. The contestants this time: Commissioners Marshall Shupe and Kim Carney. The issue: fire department consolidation. The charge: Shupe questioned Carney's veracity.
Shupe's outburst may have had as much to do with countering Carney's effectively maneuvering the commission two weeks earlier into informal talks with the county about a potential merger as it did with deflecting the more politically substantial issue of the evening: Commissioner Joy McGrew proposed holding a referendum next March, throwing the consolidation matter to voters directly. Shupe, a volunteer firefighter and the fire department's strongest lifeline on the commission, has been using his position to protect the department. A referendum would renduce his voice to one vote at the ballot box. So the likely battle over the coming months will be over whether the city should hold that referendum or not.
Mounting an emotional defense of a fire department he has increasingly been identifying his commission service with, Shupe criticized Carney and directly challenged her talks with county officials on the fire matter. Carney in April and again in May sparked debate with her request to direct City Manager Bruce Campbell to investigate possible cost savings from a merger. Her April Attempt was snuffed out when Campbell withdrew her item from the agenda.
Shupe said he asked questions of county officials and was surprised when answers paralleled comments by Carney during the City Commission meeting in April. The commission more fully discussed Carney's proposal on May 9, when it unanimously agreed that each commissioner would get to submit written questions and have Campbell seek out the answers. Meetings between Campbell and county officials, or between individual commissioners and county officials, would be allowed, but with no decision-making authority.
With the April meeting still fueling his retrained anger, Shupe said also was upset about a flier with information about the proposed merger making the rounds in the audience at the April meeting. "What bothers me is when I see a piece of information out there when I don't have it," he said.
Shupe said he learned that Carney met with county officials, which she denied doing, though she would have had every right to do. There could also be a matter of definition: Carney may not have met with top staff or commissioners, but with lower-ranked staff who wouldn't be considered "county officials," though the distinction would be a semantic stretch in the context of the city commission's discussion. The more essential difference turned out to be over the meaning of "meeting": Carney does not consider talks over the phone to be meetings.
"I wasn't aware, Kim, that you had gone to such detail of asking these questions" of county officials about a proposed merger of fire and emergency medical services, Shupe said. He said he always makes it clear he's not asking on behalf of the City Commission when he asks for information, even though Carney never claimed she told county officials that there was a consensus in the city for the merger, nor would county officials be under that impression: the city commission's acrimony over the merger issue is broadly known and reported.
Fighting to save the reputation and mission of the Fire Department, Shupe disputed possible cost savings of going with the county, asserting–with little evidence–that payments to the county would increase as time goes on and claiming that the interim fire chief had proposed $75,000 in cuts.
As for the city's fire-rescue rating (Carney had pointed out that Flagler Beach's insurance rating was lower than the county's, with regards to its fire service, an indication of service quality), Shupe said a major improvement could be made by designating more officers and establishing training programs. That, of course, is costly. He acknowledged that the Fire Department had not had training programs in recent years. Lack of training programs would be something very unusual for any fire or police department. Flagler County Fire Rescue personnel trains routinely.
"I've been struggling with what word I can use over the air to show I'm embarrassed," Shupe said as he struggled to keep his outrage contained about efforts to spread information from the county about a merger. But he needn't have worried about what went out on the cyber-air, the live streaming of the City Commission meeting on the internet having yet again failed to work.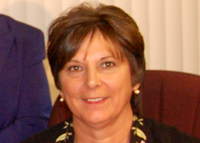 Carney, who had previously made her comments, asked to speak again after Shupe's verbal attack. She denied meeting with county officials, saying she called Flagler Fire Rescue Chief Don Petito to ask questions, as any commissioner, indeed any resident, has a right to do. "I asked for something and received it," Carney said. "Any person has that right."
"I never met with chief Petito," Carney stressed. Denying having any face-to-face meetings with the county, she said, in a pointed remark at Shupe: "Don't call me a liar." Raising an image of cattiness among city firefighters, she said, "If the boys in the club want to talk about me, they can do that." When the city's fire department was the subject of an independent investigation earlier this year–the investigation that led to the firing of the chief, the assistant chief, a fire fighter paramedic and two volunteers–the document pointed out that the department was split between two cliques. The firings eliminated one of the two cliques, leaving the other in place.
Carney said she merely wanted in April to put a motion out formally with the City Commission to investigate possible cost savings. "I did not do this disparagingly," she said. "I did not do this maliciously." The motion she introduced failed, only to have Commissioner Jane Mealy's variation on the same motion pass unanimously. The distinction was between formal and informal talks. But Carney got what she wanted: talks with the county, nevertheless giving the county the formal opening it needed to make proposals with hard numbers.
Neither Shupe, nor Carney expressed an opinion about the suggestion that sparked their incendiary exchange during the public meeting.
Flagler Beach's Fire Department was rocked by scandal in February after the independent investigation confirmed charges of alcohol use by city firefighters, including some who responded to a fire call under the influence and others who bought, stored and drank alcohol while on duty at the fire station.
Five firefighters, including Chief Martin Roberts, were fired. Paid firefighters Jacob Bissonnette and Shane S. Wood were also fired along with volunteer firefighters Steven W. Wood and Barbara Haspiel. They are not done appealing the city's actions.
In an unrelated scandal, firefighter Bobby Pace was suspended three days without pay after falsifying the records of the hours worked by a person assigned to perform community service by the court. The Flagler Beach Police Department filed a felony charge of tampering with evidence and a misdemeanor charge of obstruction of justice against Pace. The state attorney has yet to decide whether to formalize the charges or dismiss them. Pace remains on the job.
The Fire Department was not on the Flagler Beach agenda Thursday evening (May 23), but Commissioner Joy McGrew raised the issue that shattered the calm and swiftness of the meeting by suggesting the elected officials consider holding a referendum in March to ask voters whether the city should merge its fire-rescue under the county.
"We are the voice of the people, all of the people in this community, that's who needs to have the say-so," McGrew said. "My opinion is that we put it in as a referendum in the March elections." McGrew said taxpayers "need to be informed" and that the proposed merger is complicated with many questions to get answered, but that there was no hurry. "I don't think it has to be in this next budget," she said.
City officials should compile information about a fire-rescue merger with the county and write a fact sheet to send to taxpayers. The information and referendum should be written simply.
"If there's something we need to find to know let's find the answer then educate the public," McGrew said. "Let them decide if we make the change."
"Point well taken," Commission Chairman Steve Settle said. "It's hard to deny a lot of those things. Unfortunately, a lot of us were caught not ready to make such a monumental decision. Is this something you plan to put on the next City Commission agenda?"
McGrew said she did not necessarily plan to put her idea of holding a referendum on the next agenda. She said there was no hurry and through investigation commissioners might decide they don't need a referendum. So the matter was dropped.
It was then that the exchange between Shupe and Carney followed. (At the last meeting of the commission, Settle and Mealy won the evening's Hatfield and McCoy medal).
When the cordite smell dissipated, Mealy, whose long years as an educator honed her sense of irony, took her turn to make comments. Several people on the commission and in the audience chuckled when Mealy softly began her comments with, "Kim and I did participate in the potato festival."