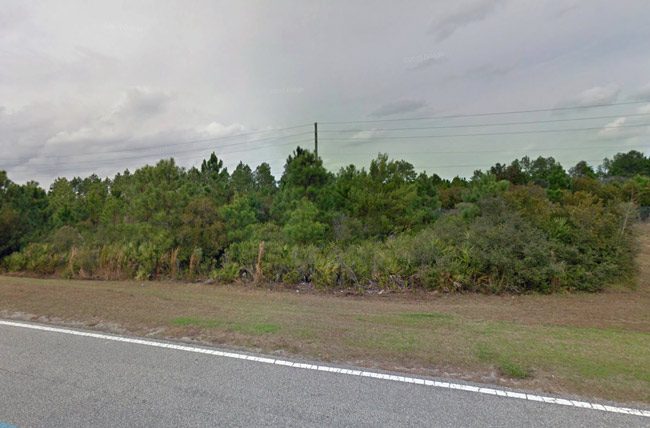 The Flagler County Commission approved a formal step in a land transfer of formerly county-owned acreage along Matanzas Woods this morning, allowing Palm Coast government and a developer to move forward with what is expected to be a sizable, "regional" shopping center that may eventually include restaurants, a gas station, a convenience store and a grocery store.
The planned development across the street from Matanzas High School's sports fields is in its earliest stages, but it would be the first large-size shopping center at the north end of Palm Coast, reflecting the long-expected development of the Matanzas Woods Parkway corridor since the opening of the Exit 293 interchange with I-95 in March 2016.
The interchange was two decades in the making and entailed some difficult negotiations and disagreements between the city and the county along the way, with land and impact fee money at stake. But in the end all was worked out as the county deeded the parkway and several tracts of land to Palm Coast, among them the acreage at the center of today's action.
The nearly 8-acre parcel was actually deeded to Palm Coast in March last year. But it includes a nearly 4-acre segment that contains a retention pond. The developer, Matanzas Holdings LLC, wants to move that pond in order to facilitate the development, and would do so in a land swap with the city. For that exchange to take place, the county's "written consent" of the exchange of what's referred to as Parcel 9 was required first, as Beau Falgout, now the city's interim manager, wrote County Administrator Craig Coffey on Sept. 6.
---
"We don't get enough credit for working through various issues."
---
"The remainder of Parcel 9 is a stormwater pond that serves Matanzas Woods Parkway and through the transfer will be allowed to be relocated, so long as the stormwater capacity and flows are addressed by the developer," Falgout wrote Coffey. There is no money being exchanged. "This transfer would benefit both Palm Coast and Flagler residents through increased taxable property value. In addition, the residents of this area would benefit from neighborhood shopping opportunities currently not available in this area."
The county commission gave consent to an initial land exchange last year.
Coffey this morning wanted his commissioners to know that things do work out between county and Palm Coast government, even if they sometimes take a while.
"We don't get enough credit for working through various issues, and it's a positive thing," Coffey said. "It's not really earth-shattering news-wise, but again, we gave the city a bunch of land, several hundred acres up there, we gave them Matanzas Woods Parkway right of way and this is part of the exchange we're required to approve or sign off on some of those things. This is going to allow a development to move forward right across from the high school which probably will be a Publix and some other things."
City spokesperson Cindi lane said a Publix has been mentioned as a possibility but there are no firm plans yet, notably because land issues have to be worked out first, such as today's steps and others yet to come. Due diligence is ongoing with the parcels involved in the land swap between the city and the developer. "Once the land agreement goes through then they'd have to submit for a master plan development rezoning to do what they want to do," Lane said.
Lane noted that the plan is for a regional rather than a neighborhood shopping center. It would serve the neighborhood, but it would also include highway-commercial amenities, with I-95 being so near. "So it's a little bit bigger than a residential type center," Lane said. But she noted the center would likely not open for another couple of years, with all processes at their earliest stages.
Lane added that development along that corridor was a matter of time. "We've had a lot of inquiries over the last couple of years," she said. "We know it's coming. "

Land Swap Background Documents: