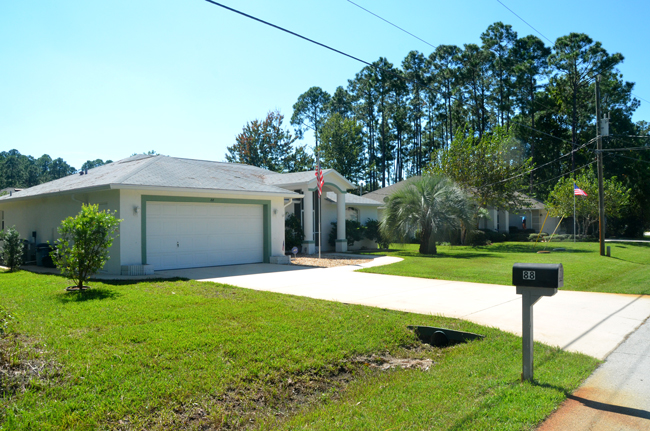 Todd Johnston, 27, had, some time earlier, returned home from the shooting range. Thursday evening after 8:30 p.m., he was at the kitchen table, at 12, Belvedere Lane in Palm Coast, cleaning his Glock 19 while talking to his girlfriend.
Johnston began the field stripping process, which requires the trigger to be pulled in order to remove the slide for cleaning. He assumed the weapon had been unloaded by the time he'd left the range. It wasn't. The gun fired. Johnston's mother, Jody Johnston, 53, was nearby. She was hit in the hip.
Todd's father Karl was laying in his bedroom. He heard the shot. He came out into the kitchen, according to the sheriff's report, and applied a rag on his wife's wound. The round, the report states, appeared to have traveled through the hip and was lodged in the kitchen wall. Jody was alert and conscious when police arrived, and taken to Halifax Hospital in Daytona Beach.
An investigation confirmed that the shooting was accidental.
That was Thursday evening.
That morning, Randy Jones, 16, of Hymon Circle in Bunnell, Frankie Turner, 17, of Knox Jones Road in Bunnell, and David Green Jr. 15, decided to skip school and go to Target. That done, they walked across Belle Terre Parkway, deciding to walk into Palm Coast's E Section, along Eastwood Drive.
According to the sheriff's office, Turner burglarized a vehicle–again, left unlocked, as in the case of the majority of Palm Coast burglaries–and allegedly stole a prescription pill bottle left there, and placed it in his backpack. The trip walked on three three blocks or so to the house at 88 Eastwood Drive, a single-family house with an American flag planted out front, a nicely kept yard–as with most yards in the neighborhood–and one of those ADT signs out front, signaling an alarm system inside.
None of it appears to have made a difference. The boys, according to police, found a bedroom window that had been cracked about a hand's width (according to a neighbor, who was told of the matter by the targeted homeowner this morning). Turner and Jones entered the home, according to police, while Green stood watch outside. They took rolled coins and a personalized wooden box. That, too, went into the backpack.
The house was occupied. When one of the residents saw the boys in her parents' bedroom, she shouted. The boys ran, jumping out of the window.
Neighbors reported seeing them running from the home. They were caught soon after.
Jones and Turner were charged with burglary of an occupied dwelling, Green was charged with being a principal to burglary of an occupied dwelling, and all three were charged with loitering or prowling. Jones was also charged with possession of cocaine after deputies found a plastic baggie of white powder in his pocket. Turner had an additional charge of unlawful possession of a prescription drug and petit theft.
All three were taken to the Division of Youth Services in Daytona Beach.
The burglary followed by a matter of hours the burglaries by two other teens on Brushwood Lane, of several vehicles, as the teens rode their bikes.
"On Thursday, five Flagler County teenagers were arrested in two separate incidents on felony charges stemming from home burglaries to vehicle burglaries. It is time for parents to take responsibility for their children," Sheriff Don Fleming said. "Parents need to know where their children are and who they are with."