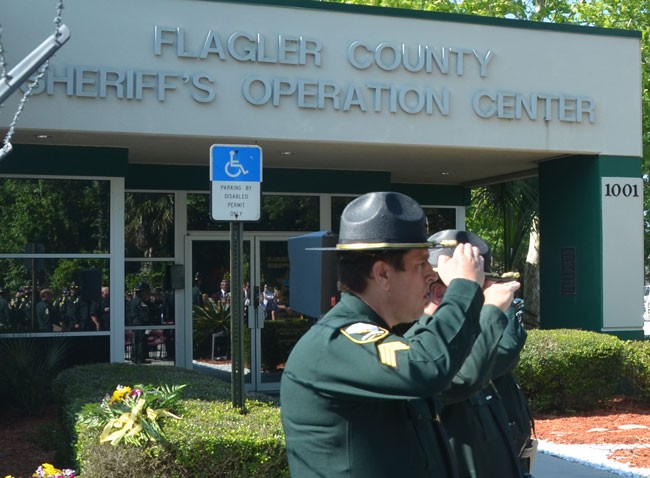 Flagler County Sheriff Jim Manfre will ask for a 5 percent wage increase for deputies and other employees at the agency starting next October. That would be the first serious raise in six years, and should the employees' union agree in negotiations in spring, a "step" plan would be instituted to ensure that deputies' pay increases yearly based on experience, merit and, eventually, education.
Manfre will be submitting his request to the Flagler County Commission come budget season in late spring, and the commission must approve the request, which amounts to roughly an extra $700,000 in the sheriff's $22 million budget.
It's too early to determine whether property values are rising enough to enable the county to afford substantial wage increases, but Manfre candidly said that it's the county commission that set the bar for substantial wage increases when it agreed to granting its county administrator, Craig Coffey, half the 10 percent salary increase he asked for just before Christmas, three months into the budget year. (Coffey had received a 1 percent increase in October; along with other county employees. The commission added 4 percent in December, and said it would revisit the matter with potentially an additional raise for the administrator later this year.)
"That's what I'm going to be asking the county for," Manfre said. "At this point in order for me to continue to attract quality candidates and keep the good employees that I have, I need to give them a substantial raise." Referring to Coffey's raise, he said: "I got a lot of very strong feedback on when the county commission did that. It's very clear to me that in order for me to keeping a well-functioning group in this agency, I had to very quickly come out and say, we will match that amount in the coming year." The county, he said, "set the bar." (In fairness to Coffey, the county administrator began budget season last year by proposing a 5 percent raise for all employees but was shot down by the commission, which agreed to 1 percent.)
Sheriff's deputies just got a 1 percent raise, retroactive to Oct. 1, that had been embargoed by a variety of issues. Union officials said the 1 percent, awarded by the county commission and in the sheriff's budget since the beginning of the fiscal year, should have been awarded in October. But it was being held back until now because of the lawsuits the sheriff faces, and the potential payouts he might have to make once they're settled.
"These guys were looking for what the intent was from the county commission, which was to award that 1 percent," Mike Scudiero, the union's chief negotiator, said today. "Obviously there was a lot of frustration and people weren't happy when that was withheld."
---
The county administrator's 5 percent raise "set the bar" for the sheriff to ask that his employees be treated equally.
---
Manfre says the lawsuits had nothing to do with it, and that the 1 percent—about $150,000 to $160,000—was in the budget all along. "The 1 percent was going to be given them one way or another, but the problem was if we were going to have a payout, we couldn't give them the 1 percent in the first quarter,"  the sheriff said. "We never said we were not going to give them the 1 percent, it was never anything we said, it was a matter of timing."
The different interpretations—and the fact that employees felt entitled to what had been budgeted for them—caused friction between the sheriff and the union, leading to more claims and counterclaims. Then earlier this month it appeared that the embargo on the money had been lifted, though Manfre made the money available to non-union employees first, because they're not covered by the union contract that must have its membership's ratification on issues such as wage changes.
"After careful review of the Agency's budget I am granting a one percent (1%) wage increase to all non-union personnel employed as of October 1, 2014," Manfre wrote employees in an email earlier this month. "Any increases for unionized employees will be implemented once FCSO and the PBA/PEA complete their obligations under collective bargaining. The 1% wage increase for non-union employees will be included in the paychecks to be issued on February 6, 2015. This increase will only pertain to active employees. An additional check covering the retroactive application of the increase from the date of October 1, 2014 will also be issued on this date. Thank you for your service, sacrifice and patience."
It was that email rather than direct contact with the union that informed the union that the money was available, and led Jon Dopp, a union representative and a deputy, to contact the sheriff to ensure that the 1 percent was available for all ranks. That led to the vote this week by the union membership's three bargaining units (civilian, detention and road patrol) to accept the amendments to the contract, including the 1 percent raise. The vote, the last of which was cast Wednesday evening, was 92 percent in favor (with 93 employees voting).
"We proved that even through disagreement we're able to continue working to resolve issues," Dopp said. "The outlook right now is positive, but that's based on rumors. Assuming that what I'm hearing about the sheriff's intentions for next year, moving forward I have a positive outlook to work out another contract with him successfully."
A 1 percent raise amounts to very little money for most: a starting deputy still makes just $33,000. Many deputies who've been at the agency for years don't make much more than that, so 1 percent works out to less than $400 before taxes.
With the 1 percent issue settled, attention for both the sheriff and the union now turns to the next contract negotiations, as the current contract is up in September. The new three-year contract will be negotiated in spring. A salary study both sides paid for found that Flagler deputies' wages are substantially below those of their colleagues in neighboring agencies, and that a 6 percent raise, on average, would even the disparity. Dopp said that between the 1 percent received this year and 5 percent next year, the two raises would combine to bring wages up "where we need to be."
Deputies last got serious raises in the three years ending in 2009, when wages negotiated under then-Sheriff Flaming, at a time when the county was riding an extraordinary wave of revenue from the housing boom, netted employees a combined 33.8 percent increase over three years.
Manfre wants to combine the raises with a "step" similar to the one in he had in place during his first term (before Fleming's two terms) and similar to the one in place for school district employees. Typically, an employee every year would see an increase in pay based on experience. Manfre would add a step for merit, which would be dispensed more subjectively, and a step for education, which would add dollars for employees who complete an associate's, bachelor's or master's degree. Without that step system, a deputy who's been at the agency seven years isn't making much more than a deputy who just started.
Scudiero sees the trends in other counties: deputies at the St. Johns Sheriff's Office just got a 4 percent raise, Volusia deputies got a 3.5 percent raise. The hard times are slowly tapering off, though he recognizes that Flagler had it harder than most, and is just emerging from its slumber. (The unemployment rate in the county fell to its lowest level in six years in December.)
But now is the time for the salary study to translate into reality in Flagler, Scudiero said. "We would like to see that implemented," he said. "Whether that's in year one or year two or a combination of, we think it's time that these employees are paid what they should be paid compared to surrounding agencies and people in similar positions and similar years of service."
That appears to be the sheriff's and the union's intention, even if they have not yet verbalized officially that to each other.