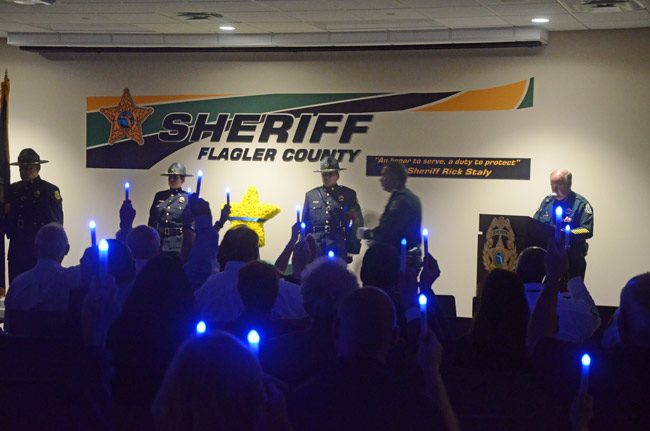 "By the grace of God," Flagler Sheriff Rick Staly said at the annual ceremony in memory of fallen law enforcement officers Monday evening in Bunnell, "the Flagler County Sheriff's Office has not lost an officer in the line of duty for 14 years, but we have felt the pain of each and every loss across the nation."
Staly himself has been seeing that pain firsthand: a few weeks ago he was in Gilchrist County for the funeral of sheriff's deputies Taylor Lindsey and Noel Ramirez who were gunned down as they ate lunch. Their assassin then went to his car and shot himself.
Today Staly is in Highlands County for another such funeral. Just last week, on May 6, William Gentry Jr., a sheriff's deputy in Highlands, had responded to an animal abuse call at a property where a person's car was killed by a neighbor with a pellet gun. That neighbor was a convicted felon. As Gentry stood at the front door of the suspect, the 69-year-old suspect shot him in the head. Gentry died the next day. He'd served the agency nine years.
"Those that are gone created a clear pathway for us to continue on," Sheriff's Chaplain Juan Schembri said to open the ceremony, before Sgt. Kenny Goncalves sang "God Bless America." "We must never waver from that path of freedom and democracy. We must take their memories, take their dreams, and walk forward shouldering the cause of freedom, carrying it high and proud as they did, and now we must walk forward for them and for our children."
The annual ceremony would have normally started in the plaza in front of the Flagler County Courthouse, with a silent walk, blue candles lit, along State Road 100, to the sheriff's Operations Center. Last year Staly walked with a riderless horse, symbolizing the fallen. Rainy weather preempted that segment of the ceremony. It was all moved indoors at the operations center, into a conference room.
"We've had to kind of improvise," Staly said. It had begun with the entry of Coastal Florida Police and Fire Pipe Band, a dozen pipes and drums booming under in the low-ceilinged room. Sounds usually made for the open-skied expanses of cemeteries and forlorn battlefields bounced against the walls like a dozen train horns blaring in a tunnel. But the enveloping effect amplified the gravity of the occasion, as if underscoring the undeniability of grief.
Every year around this day–May 15 has been Peace Officer Memorial Day since Congress designated it so in 1962–law enforcement agencies hold memorials around the country for fallen officers and National Police Week unfolds in Washington.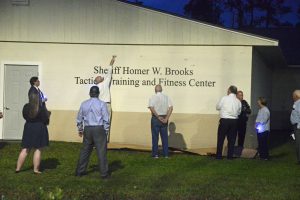 Last year there were 135 line-of-duty deaths, 46 of them from gunfire, 28 from car crashes, 15 from heart attacks–the top three causes year after year, with assaults, drownings, motorcycle crashes or getting struck by other vehicles causing additional deaths. Nine were from Florida. So far this year 53 law enforcement officers have died in the line of duty, 27 of them by gunfire, 12 from car crashes. Florida has seen four officers killed, three of them by gunfire.
"We stand in solidarity with their loved ones and honor all those who have made the ultimate sacrifices to serve and protect their community," Staly said during his remarks to the audience. "Our nation recognizes them as brave law enforcement officers, and rightly so. But they were also fathers, mothers, loving spouses, loyal sons and daughters, brothers and sisters, and the greatest of friends."
He continued: "Tonight in Flagler County and this week around the nation they are honored by those who knew them, loved them and miss them terribly. To the friends and family of the fallen that are here with us tonight, I say to you, You are not alone. We stand with you, we mourn with you, and we remember with you."
He then solemnly read the names of the fallen as roses were placed by the makeshift wreath (before the roses would be moved outside by the actual memorial): Sheriff Perry Hall in 1927, deputy George Durrance in 1927, Sheriff Homer Brooks in 1965, deputy Chuck Sease in 2003 and Sgt. Frank Celico in 2011.
"Let us remember all that they did and all that they stood for. We were privileged to have their service, their protection, their friendship, and their love. Tonight let us remember their valor, their service, their humor and their grace."
The sheriff also dedicated the Tactical Training and Fitness Center after Sheriff Brooks, a Flagler County native and World War II veteran and Bunnell police chief before being elected sheriff in 1957 and serving three terms. Diane Yelvington, Brooks's niece, said he would feel "very honored" who loved Flagler and "loved serving Flagler County, so this is quite an honor for him and our family and we feel greatly moved by this."
A few days ago, Staly had renamed the county jail after Sheriff Perry Hall. Monday evening, he said he'd run out of buildings to name after fallen sheriffs–or of fallen sheriffs. Staly–who was shot in the line of duty early in his career–noted wryly that he preferred not to become one with them.