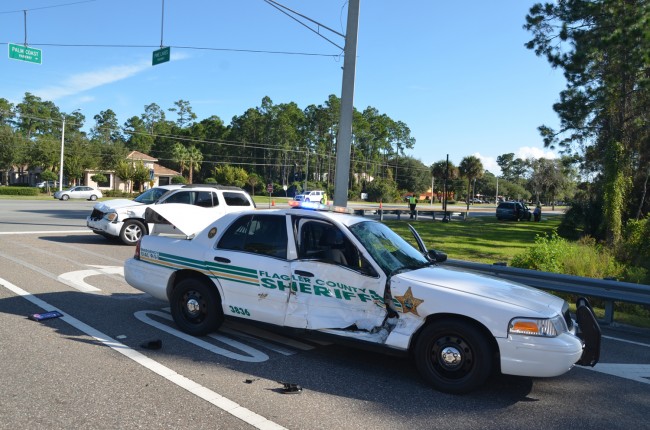 A man was hospitalized with minor injuries after his SUV struck a Flagler County Sheriff's deputy's cruiser at Palm Coast Parkway and Pine Lakes Parkway at 10 a.m. Thursday. The deputy, James Gore, was not injured.
According to Sheriff's Sgt. Philip Reynolds, Gore was on an emergency call heading south on Pine Lakes Parkway. The driver of the GMC Envoy XL, whose identity has not been released, was heading east on Palm Coast Parkway. The SUV struck the Crown Victoria on its passenger side, sending the cruiser toward the guardrail in the northbound right-turn lane of Pine Lakes, where the cruiser ended up facing south. The SUV ended up parallel to Palm Coast Parkway, facing west, a few feet north of the cruiser.
The victim was speaking and on his feet at the scene, Reynolds said. Gore remained at the scene and spoke with authorities. He's been with the sheriff's office a little over two years. The cruiser involved is No. 3836.
It's not yet clear whether a red light was violated, or if so, who had violated it: the Sheriff's Office's Mark Carman has requested the video footage from the red-light cameras at that intersection. The cruiser's lights were still activated after the wreck.
The Florida Highway Patrol is investigating the wreck. FHP usually releases the names of individuals involved in non-traumatic or fatal wrecks at the scene itself. The FHP investigator in this case declined to do so.
The wreck closed Pine Lakes Parkway in both directions at 10 a.m., from Palm Coast Parkway to Commerce Boulevard. Eastbound traffic on Palm Coast Parkway was briefly closed as well to enable the taking of measurements. Southbound traffic on Pine Lakes was resumed around 11 a.m.
The Palm Coast Fire Department, Flagler County Fire Rescue and the Palm Coast Fire Police responded to the wreck.
All lanes reopened at 12:25 p.m.