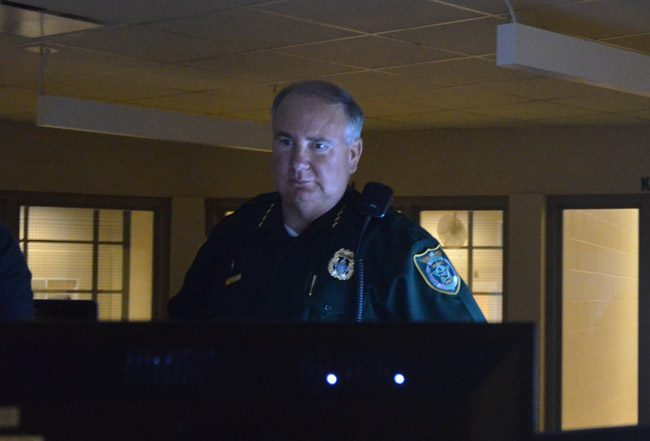 A look at almost any daily report of arrests in Flagler County is certain to yield the same grim pattern of domestic violence, day after day: there was one such arrest Wednesday, four between Friday and Tuesday, two on the 11th , 15 in the previous seven days, including that weekend. On a single day Monday, according to arrest reports, a husband was arrested for allegedly shoving a gun in his wife's mouth, a boyfriend was arrested for Tasing his pregnant girlfriend, and a man was arrested for assaulting his ex-girlfriend and the man she was with, in their car.
Even grimmer: There have been 10 recorded homicides countywide since 2012. Two are unsolved, one is the execution-style killing, still unexplained, at the Mobil convenience store in Palm Coast in 2013. All seven other killings involved spouses, family members, roommates or neighbors, all of whom knew each other well. And six of those seven killings involved a gun, in one case used "accidentally," but by a felon who was barred from having guns, and who had brutalized up his wife previously.
Yet domestic violence isn't increasing, despite of an average of nearly two domestic-violence arrests a day: There were 617 domestic-violence related assaults in 2015, the last year for which numbers are available, including 10 rapes and 83 aggravated assaults. That's down from 635 the previous year, and slightly up from between 560 and 600 since 2009, though the population has also increased by about 10,000 since then. In 2005, the number of arrests was the same as in 2014—635.
That's no solace to the victims or to Sheriff Rick Staly, who considers domestic violence a chronic crisis, and has decided to make a priority of finding ways to combat it. He intends to have the Sheriff's Office organize a domestic violence "community summit," then organize a task force that would produce a report within a few months with actionable recommendations his agency and, he hopes, other agencies in the county will implement.
The summit, from which volunteer members would then serve on the task force, would involve law enforcement, the judiciary, social service agencies such as the Family Life Center (the domestic-violence shelter that plays the most immediate and significant role to protect victims in the county and broaden education about domestic violence), and government representatives, among others. Staly intends to assign sheriff's staff members to the task force to provide support and data, and himself to be involved, though his undersheriff, Jack Bisland, will spearhead the effort.
The aim, Staly said, is to "highlight this issue and say, community, here is the depth of this issue, here's some examples, and here's what some of the communities are doing, but we need a solution for this community."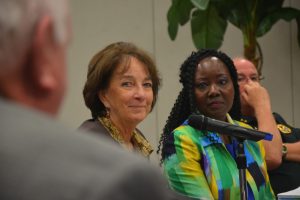 "How does it become in today's world that domestic issues get resolved behind closed doors, attacking each other?" the sheriff asked. "That's not the way it was when I grew up. Our parents taught us, you don't strike a woman. For some reason today the solution seems to be–let's get physical."
In the past, the sheriff recalls from his earlier days on the beat, law enforcement could not make a domestic violence arrest unless the violence was witnessed by law enforcement. That's changed. But the Sheriff readily concedes that domestic violence was also a largely an unreported crime in the past—not least because a victim's word was not enough in situations where there often is only the victim's word. So it was unspoken by its victims and therefore less visible in crime statistics. Any analysis of domestic violence reporting still stresses that, as with rape, more such crimes still go unreported—and when they are, the frequent outcome is when victims opt not to pursue charges, which potentially encourages the offender to be violent again. (In last Monday's arrests, two of the four men had arrests for domestic violence previously.)
"Ultimately the community has to say: this is unacceptable behavior, and here's how we're going to address it. I don't want this to be a top-down solution, it needs to be a community solution."
---
"Ultimately the community has to say: this is unacceptable behavior, and here's how we're going to address it."
---
To a significant extent, current and former local officials have already been immersed in efforts to combat domestic violence, have reported their work through the Public Safety Coordinating Council, on which Staly now sits as sheriff, and have produced tangible results that address specific aspects of the problem. The 2,500-square-foot, 32-bed Family Life Center, led by Trish Giaccone, is one. It's usually at or over-capacity.
Flagler Cares, the initiative started by former County Commissioner Barbnara Revels, former Florida Hospital Flagler CEO Ken Mattison, Steve Bickel of the Free Clinic, and its executive director., Carrie Beard, among others, is another effort to ensure better access to health care, with domestic violence as one of effort's pillars
Sally's Safe Haven, the more recent creation of a joint judicial and county government initiative, is another: the haven, named for Deputy County Administrator Sally Sherman, provides a safe location in Bunnell where families that have been sundered by domestic violence can still have a place where the parent who may only see a child under strict supervision may meet and spend an hour together.
Sherman and Revels, along with Circuit Judge Raul Zambrano, were largely instrumental in taking the haven from concept to reality. But it addresses only a sliver of the problem, important though that sliver is.
Last summer Revels, Giaccone, Sherman and Circuit Judge R. Lee Smith, who presides over family court in Flagler, reported on a pair of conferences they'd attended separately in Washington and in Boston on domestic violence. They presented several findings, among them the need to change the mindset around domestic violence victims, who are too often not believed, and to find ways to rehabilitate offenders who, left not only unpunished but untreated, are likely to reoffend.
"Envision a world where gender-based violence is unacceptable, where perpetrators are held accountable, and victims receive the compassion, support and justice they deserve," is how Revels summed up the three-day conference she'd attended. It dovetailed well into a presentation by Giaccone, whose Family Life Center's stated mission is to end domestic and sexual violence.
"There is no shame when a loved one dies. There's no shame when a home is lost or a car is stolen," Giaccone said. "There's usually comfort and support, and we usually are sympathetic and respectful. Unfortunately, with domestic violence and sexual assault, our response is very, very different." She offered examples, including here: "In Flagler County we have survivors who have disclosed to us, when they told the police officer in one particular instance that the perpetrator kicked them, the two male officers said, 'lift your shirt, let's see.'"
Giaccone was speaking of the "Start By Believing" campaign intended to change such mindsets.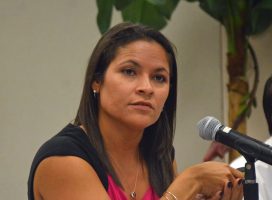 When contacted this week about Staly's proposal, both Revels and Giaccone said they'd be willing to be part of the task force, and both were quick to cite pragmatic ideas that could be enacted quickly and realistically—starting with better training for law enforcement.
Giaccone notes that today, the Family Life Center gets to provide one hour of training for new recruits in law enforcement ranks. That's it. One hour for their entire career. Giaccone says much more than that is needed—not necessarily all up front, but on an annual basis, including for veterans on the force. "It is a crime they are going to repeatedly be exposed to so we want to foster the conversation of things that can be helpful to them hen they're out in the field," Giaccone said.
Just have a look at the daily domestic violence stats.
Giaccone extends the responsibility to what she calls "bystanders," people in all walks of life who are present or in the proximity of acts of violence and who, unlike law enforcement—who cannot be present everywhere—can be valuable eyes and ears, witnesses, and believers—people who lend a victim credibility and support rather than doubt and dismissive attitudes. Domestic violence, Giaccone says, should not be a secret.
Revels echoes the approach, recalling a recent trip to New Zealand where on the approach of towns, she saw billboards familiar to Americans about drinking or texting, but also billboards announcing communities as zero-tolerance zones—again, the sort of pragmatic, doable message that could be put in place locally without too many contortions (assuming some local governments' notoriously prickly sign ordinances don't get in the way).
"There's no reason why we can't do something like that here," Revels said.
And of course accountability. "Accountability of perpetrators of domestic violence is a key factor," Giaccone said, "and I mean that from the very first incident of violence to all the subsequent incidents, and that's going to send a message to the perpetrators that our community is not going to tolerate acts of domestic violence and look the other way."
Those words resonate with Staly, who wants to explore ways to make the prosecution of domestic violence perpetrators more effective, even when victims become uncooperative. "Obviously when you have uncooperative victims it makes it difficult to prosecute," the sheriff said. But without teeth to domestic violence laws, victims would feel as if even coming forward might not lead to prosecution, so why bother.
"That's why," Staly said, "it needs to be a community type summit with the community coming together and say, let's develop a comprehensive set of recommendations on what this community and its partners and providers say we should do to try to combat this scourge in our community."