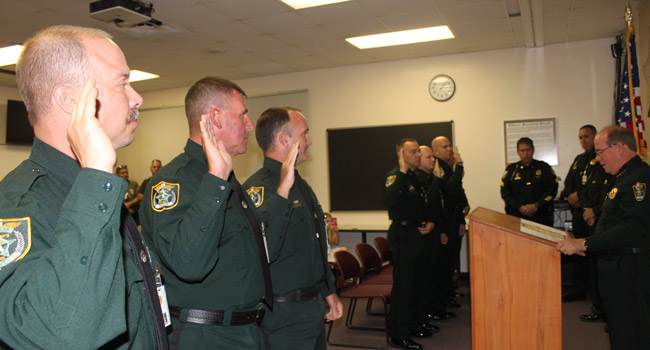 The Flagler County Sheriff's Office welcomed six new deputies Wednesday after Sheriff James L. Manfre administered the oath of office during an afternoon ceremony.
"These are the neighborhood deputies that will be patrolling our community. I hope our residents take the opportunity to meet them because this is an impressive group of law enforcement personnel," Manfre said.
The new deputies all bring prior law enforcement experience to the Flagler County Sheriff's Office. Taking the oath of office were:
George Hristakopoulos of Palm Coast. He has been in law enforcement for seven years and comes to the Sheriff's Office from the Bunnell Police Department.

Dennis Lashbrook of Palm coast. He has 20 years of law enforcement experience and previously worked for the Flagler Beach Police Department.
Shane Meehan of St. Augustine. Deputy Meehan joined the Sheriff's Office three years ago as a detention deputy at the Flagler County Inmate Facility. He has transferred to the road patrol division where he was also certified.
Robert Myers of Palm Coast. He has been in law enforcement for five years. He previously worked for the Bunnell Police Department and the Crescent City Police Department.
Scott Wetherhold of Bunnell. He is a veteran of law enforcement having 20 years of experience. He formerly was employed by the St. Cloud Police Department.
Robert Thoubboron of Palm Coast. He is a former New York State Trooper and has 22 years of experience.
The six new deputies don't increase the total number of deputies working at the sheriff's office. Starting deputies are paid roughly $35,000 a year. For city officers, moving to the sheriff's office is considered a substantial advance.
"I am proud to have these law enforcement professionals at the Flagler County Sheriff's Office," Manfre said in a release.