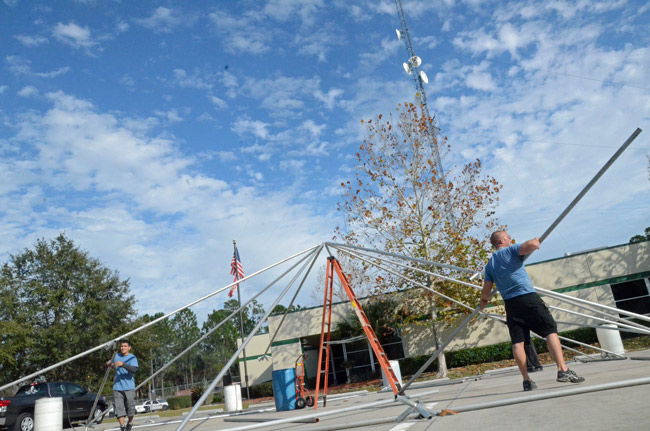 Jim Manfre is being sworn in as Flagler County Sheriff for the second time in 12 years at noon today at the end of an unusually ambitious and aggressive two-month transition.  By the beginning of this first day, well before the actual ceremony at the sheriff's office at noon—and in moves that are likely to stir a mixture of resentment and approval—Manfre had already reorganized the county's largest police agency, demoted many, fired some, and gutted a command structure Manfre considers top-heavy and inefficient in a department he said was "dysfunctional," prone to "wasteful spending" and "starved for leadership."
"I may be making seven people unhappy, but I'll be making 250 employees happy," Manfre said, "and also fulfilling my promise that I made in the campaign to apply a business approach to this organization." From the first day, the reorganization will eliminate seven supervisory positions and save $150,000, Manfre said, calling it "a small down-payment" on projected raises for line deputies down the road.
But the changes go much further than mere reorganization, with a difference in style that may chafe as well as change a department maneuvered by the less hands-on administrative style of Sheriff Don Fleming over the past eight years.
The chief deputy's position, held until now by David O'Brien and previously by Rick Look, has been eliminated, as have the positions of captain and major. They've been replaced by a layer of "commanders" (including O'Brien, who'll be senior commander at the head of the patrol division), a grade Manfre describes as somewhere between a lieutenant and a captain. Pay is being reduced accordingly in many instances, though not in O'Brien's case. They'll report to Rick Staly, a newcomer to the agency in the newly created position of undersheriff.
Two majors–Steve Clair, the law enforcement services director, and John Plummer, heading the support services division, two men who have about half a century's service in the sheriff's office between them—have been summarily fired. As Manfre put it: "Their services will no longer be required in my term."
Manfre is keeping Becky Quintieri as his jail director and Linda Bolante as the finance director, but other key positions are turning over: his attorney will again be Sid Nowell, a partner at the Flagler Beach firm where Manfre had been of counsel (Nowell had been the sheriff's attorney in his first term between 2001 and 2004). He's bringing in Robert Crouse, a retired associate director of the Southern Police Institute, as director of human resources, and Jack Bisland, the former resident agent in charge of the Florida Department of Law Enforcement's Daytona Beach office, as head of the Investigative Services Division (formerly the Criminal Investigations Division).
Manfre spoke at a news conference held just under 24 hours before his swearing in, at the county's Emergency Operations Center, under conditions that were as unusual as they were indicative of strictly managed if somewhat contradictory operation: Manfre had invited media to meet with him and hear his reorganization plan ahead of the swearing in on the condition that the plan not be revealed until after midnight Tuesday, because the numerous individuals being shifted, demoted or fired—and whose names were included in the media packet—had not yet been informed.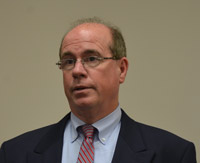 The contradiction was in Manfre's stated aim to be current with new and immediate media, including social media, and to let information flow. He's hired a PR firm and Marketing 2 Go's Cindy Dalecki, the local social media maven, to implement what he sees as an information-age regime. Monday's conditional news conference, he said, would be the exception. And the condition proved untenable: just after 8 p.m., the News-Journal published its story of the overhaul plan. (Manfre also named Lt. Robert Weber, long with the sheriff's office, the new head of media relations, though he has no experience in the field.)
By Monday evening an email had been sent through the sheriff's office outlining the changes, and the individuals affected, including Clair and Plummer, were notified, but not by Manfre. Manfre said Staly, O'Brien and Bob Crouse, the new director of human resources, delivered the news.
Manfre was aware that dismissing individuals of long-standing in the department and reassigning others might affect morale or even lead to litigation. He was asked at the news conference whether the manner and rapidity with which he was implementing the changes might undermine cohesion going in. "Right now, I'm not as concerned about morale, although I am concerned," Manfre said, "but about creating an efficient, streamlined organization that provides effective law enforcement services to the community."
Staly defended the approach: "What the transition team indicated to us was that, from the interviews that they did, the agency was looking for leadership. And in many cases, the line level did not have the respect of the staff, and that's virtually a direct quote. I suspect the majority of the agency reaction will be exciting in a new future for the sheriff's office, especially when they see we're serious in taking the agency to the next level, which is the vision of the sheriff." Staly said Manfre could, politically, "make no changes and just come in as sheriff. He's making some very hard decisions. But it's the right decisions for the agency and for the community and for the taxpayers."
In further reorganizations, the K-9 unit is being disbanded, with K-9 handlers operating within particular squads from now on. The change was significant beyond the reorganization matter: Sgt. Jamie Roster had headed the K-9 unit. Roster was accused by his own men earlier this year of putting in for time he did not work. The case led to an internal investigation and Roster's brief demotion, without a loss of pay. The investigation found that he'd clocked upwards of $8,000 that could not be documented in time worked. But Fleming reinstated Roster in a settlement with Roster's union, with just a one-day suspension.
Manfre is demoting Roster again to deputy, with a cut in pay, and reviving the issue of the investigation: "I intend on my first day of taking office to refer the matter to the Florida Department of Law Enforcement for a criminal investigation," Manfre said, "and anything else that comes out of that investigation, or out of that internal investigation that needs to be pursued, we're asking the Florida Department of Law Enforcement to pursue. That may result in additional actions taken against deputy Roster, depending on what FDLE finds."
As examples of wasted money, Manfre cited a $130,000 armored vehicle that was delivered to the sheriff's office this first week of the year. Manfre said he tried to convince Fleming change his mind on the vehicle, which he says is unnecessary, but Fleming refused. Manfre cited a $100,000 fingerprinting system that's sat unused for three years because the sheriff never hired a fingerprinting analyst. And he cited the $100,000 a year in leases that are being paid for lack of space at the sheriff's headquarters—a problem not quite attributable to Fleming, but to an economic downturn and a slow-moving county commission that only last week finalized plans (but still not financing) to enable the sheriff's office to move to the annex of the old courthouse in Bunnell.
In a prepared statement, Manfre said that "there is no inventory control or supply processes or internal accountability system for taxpayer purchased property. As such, I am ordering an agency-wide audit and inventory to begin immediately." Manfre said the jail issue would also be a top priority of his administration. He will sit in on all future county meetings relating to the proposal to build a new jail or an addition to the jail, and have the existing jail audited as well.
For all the changes afoot, and what may be a few bruising battles ahead as the new administration settles in, Manfre projected a sense of certainty about his administration. "I received a call from a city commissioner this morning, from the city of Bunnell, and what he told me was there's a sense of excitement among the deputies," Manfre said. "They are starved for leadership. That was the word that we got out of the transition."
The reference to a Bunnell commissioner was odd, since none of the commissioners on that government panel have a particularly close relationship with the sheriff's office's rank and file, let alone the sheriff's office itself—an agency the commission summarily rebuffed less than two years ago when it briefly considered a proposal to let the sheriff take over policing in Bunnell.
A swearing-in of some of the department's rank-and-file was scheduled for around midnight, 12 hours before Manfre's swearing in Tuesday, under a big tent that was being set up in front of the sheriff's office Monday afternoon.