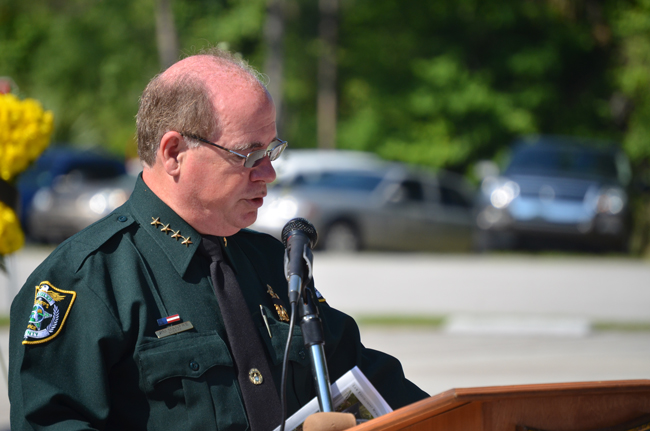 The latest shake-up at the Flagler County Sheriff's Office is almost as consequential–and possibly more so–than the firings and reassignments Sheriff Jim Manfre implemented within hours of taking office in January.
Monday afternoon, Manfre announced the surprise hiring of Jeff Hoffman, the Bunnell Police Chief, as Senior Commander of the agency's Neighborhood Services Division, replacing Paul Bovino, who, according to a sheriff's release, "has requested to return to the Neighborhood Services Division as a Platoon Commander." All lieutenants in the agency have been either fired or given new ranks, as the position of lieutenant no longer exists.
"We're trying to trim what I believe was a very to-heavy organization," Manfre said in an interview late Monday afternoon, "but we also have budgetary constraints. There is a demand by the public that we keep our budget in line, and with the huge increase with retirement requirements"–the sheriff's office took a $1 million hit from required increased contributions to the Florida Retirement System–"we had to find places to cut. And here's one the real problem. Over the past several years, in response to the economic downturn, the previous administration had not filled 11 line deputy positions, so our choice was to continue to eliminate line deputy positions or eliminate middle management positions."
In all, Manfre said, eight middle management positions were replaced with six line deputies, with two of the middle management positions eliminated altogether. But along the way, the sheriff's office has lost a great deal of institutional memory–and experience.
The sheriff fired Lieutenants Greg Weston, Lynne Catoggio and Steven Birdsong, whose combined experience with the sheriff's office exceeds half a century. Their last day was today.
Catoggio had risen to the rank of captain before January's reorganization. She and Bovino had both been briefly demoted, then placed again in positions of higher authority because, Manfre said in March, they'd both responded to the initial demotion by working hard, and were therefore rewarded for it. In March, Bovino was appointed commander of the patrol division–essentially, the chief deputy. Manfre described Bovino as "the past present and future of the organization."
He stood by those words today, but said Bovino had himself chosen to go back to the streets: Bovino, who led the sheriff's SWAT team, is not exactly the paper-pushing type. "Upper management is not for everybody," Manfre said. "A lot of what you do is reactive as opposed to proactive, and Paul feels his strength, and I don't disagree with him, is in being pro-active."
In a release Monday, the sheriff's office described Bovino's re-demotion this way: "Commander Bovino expressed his desire to be
reassigned from his administrative position to one that will afford him the opportunity to play a more active leadership role with the men and women assigned to the Neighborhood Services Division. Commander Bovino's salary will be reduced $6,000 to $77,000."
Nevertheless, Bovino's ideas are influencing the way the department is reorganizing, Manfre said.
Catoggio and Weston had been supporters of former Sheriff Don Fleming, and as with the firing of Maj. Steve Clair in January–another officer with more than 20 years' service at the agency–their firing may not entirely evade the appearance of some some settling of accounts. Manfre dismissed the notion that there was anything political about the moves, claiming he never knew who supported whom in elections.
The latest reorganization, he said, was the result in large part of interviews an oral board held with personnel before the reassignments and firings were carried out. The board included the human resources director, Under-sheriff Rick Staly and, ironically, Hoffman, brought in as an outsider for more objective judgments, Manfre said, before Manfre decided to hire Hoffman, and before Bovino said he wanted to move back to the trenches.
Hoffman's move to the sheriff's office after just 14 months as Bunnell's police chief is the latest wrench in that city's increasingly chaotic machinery: Since the Bunnell City Commission essentially fired Manager Armando Martinez (by refusing to renew his contract, which expires in October), the city has seen its finance director resign in anger, followed by its long-time City Attorney, Sid Nowell (who happens to be the sheriff's attorney), then Nowell's replacement, Lonnie Groot, just last week, and now Hoffman. The city has just hired a new finance director. But that still leaves the city with three of its most critical leadership positions to fill.
Manfre realizes that Hoffman's move to the sheriff's office may create a problem for Bunnell. "We will continue to make him available to the city until they have chosen an appropriate new chief," Manfre said. "Our intent is not at all to leave the city without proper leadership. We will continue to monitor it and if we need to keep Chief Hoffman a little longer to ensure a good transition, we'll do that, and I've communicated that to every city commissioner."
Manfre was asked directly if the hiring of Hoffman was the first step in the sheriff taking over policing in Bunnell. The Bunnell City Commission's current majority may be more inclined than previous majorities to explore contracting with the sheriff for policing services. Manfre said that that would be an entirely politival decision on the Bunnell City Commission's part, and that absent three votes from that commission inviting him to make a proposal, he would not do so.
In other shifts at the sheriff's office, Commanders Mark Carman of the Palm Coast Service District and Stephen Cole of the Investigative Services Division will have their titles changed to the rank of Senior Commander. Their salaries will remain at $83,000. Lt. Jeffrey Stuart, of the Neighborhood Services Division, Lt. Chris Sepe, supervisor of Special Operations and
Lt. Robert Weber, of the Community Outreach and Media Relations Section will remain in their present assignments with additional duties as Section or Platoon Commanders. There will be no change in their annual salaries of $77,000.
Hoffman retired from the Daytona Beach Police Department as a captain after 20 years when he took the police chief's position in Bunnell–a position the sheriff's news release did not allude to, though it edscribed at lenth Huffman's service before that. He'll begin at the sheriff's office on Oct. 7 with a salary of $83,000.
"Sheriff Manfre, in seeking to fulfill his pledge to county residents to reduce the number of upper management positions in the agency, eliminated all law enforcement lieutenant positions and directed Undersheriff Rick Staly to fill four Commander positions," the sheriff's release stated.
[This is a developing story. More soon.]